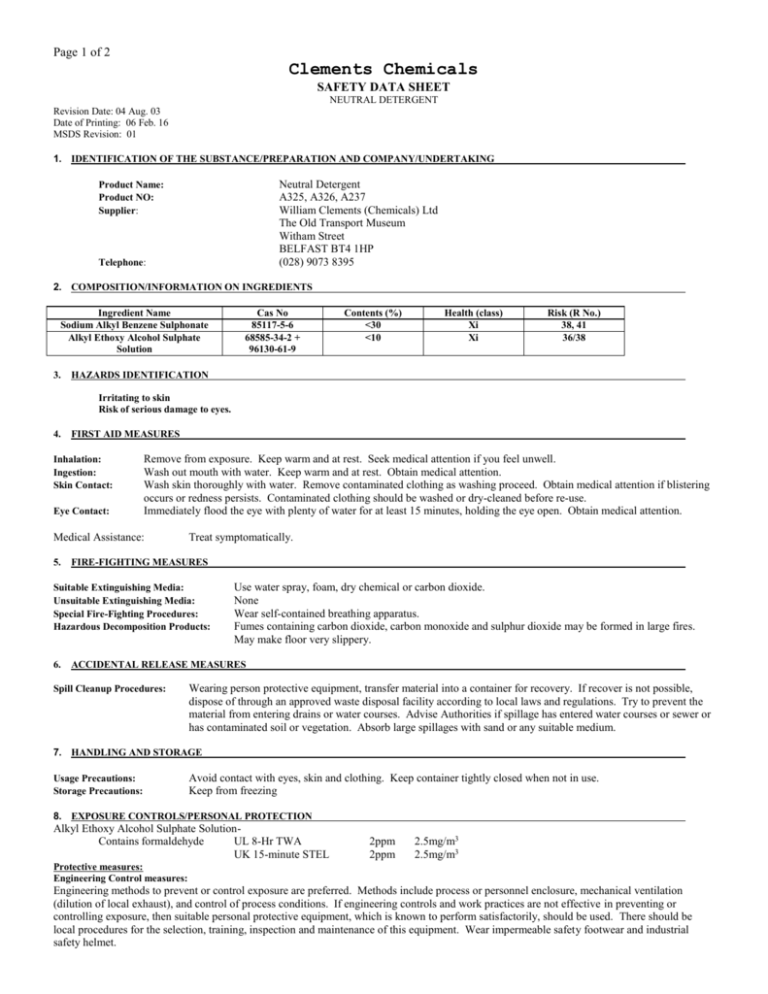 Page 1 of 2
Clements Chemicals
SAFETY DATA SHEET
NEUTRAL DETERGENT
Revision Date: 04 Aug. 03
Date of Printing: 06 Feb. 16
MSDS Revision: 01
1. IDENTIFICATION OF THE SUBSTANCE/PREPARATION AND COMPANY/UNDERTAKING
Neutral Detergent
A325, A326, A237
William Clements (Chemicals) Ltd
The Old Transport Museum
Witham Street
BELFAST BT4 1HP
(028) 9073 8395
Product Name:
Product NO:
Supplier:
Telephone:
2. COMPOSITION/INFORMATION ON INGREDIENTS
Ingredient Name
Sodium Alkyl Benzene Sulphonate
Alkyl Ethoxy Alcohol Sulphate
Solution
3.
Cas No
85117-5-6
68585-34-2 +
96130-61-9
Contents (%)
<30
<10
Health (class)
Xi
Xi
Risk (R No.)
38, 41
36/38
HAZARDS IDENTIFICATION
Irritating to skin
Risk of serious damage to eyes.
4.
FIRST AID MEASURES
Inhalation:
Ingestion:
Skin Contact:
Eye Contact:
Remove from exposure. Keep warm and at rest. Seek medical attention if you feel unwell.
Wash out mouth with water. Keep warm and at rest. Obtain medical attention.
Wash skin thoroughly with water. Remove contaminated clothing as washing proceed. Obtain medical attention if blistering
occurs or redness persists. Contaminated clothing should be washed or dry-cleaned before re-use.
Immediately flood the eye with plenty of water for at least 15 minutes, holding the eye open. Obtain medical attention.
Medical Assistance:
5.
Treat symptomatically.
FIRE-FIGHTING MEASURES
Suitable Extinguishing Media:
Unsuitable Extinguishing Media:
Special Fire-Fighting Procedures:
Hazardous Decomposition Products:
6.
Use water spray, foam, dry chemical or carbon dioxide.
None
Wear self-contained breathing apparatus.
Fumes containing carbon dioxide, carbon monoxide and sulphur dioxide may be formed in large fires.
May make floor very slippery.
ACCIDENTAL RELEASE MEASURES
Spill Cleanup Procedures:
Wearing person protective equipment, transfer material into a container for recovery. If recover is not possible,
dispose of through an approved waste disposal facility according to local laws and regulations. Try to prevent the
material from entering drains or water courses. Advise Authorities if spillage has entered water courses or sewer or
has contaminated soil or vegetation. Absorb large spillages with sand or any suitable medium.
7. HANDLING AND STORAGE
Usage Precautions:
Storage Precautions:
Avoid contact with eyes, skin and clothing. Keep container tightly closed when not in use.
Keep from freezing
8. EXPOSURE CONTROLS/PERSONAL PROTECTION
Alkyl Ethoxy Alcohol Sulphate SolutionContains formaldehyde
UL 8-Hr TWA
UK 15-minute STEL
2ppm
2ppm
2.5mg/m3
2.5mg/m3
Protective measures:
Engineering Control measures:
Engineering methods to prevent or control exposure are preferred. Methods include process or personnel enclosure, mechanical ventilation
(dilution of local exhaust), and control of process conditions. If engineering controls and work practices are not effective in preventing or
controlling exposure, then suitable personal protective equipment, which is known to perform satisfactorily, should be used. There should be
local procedures for the selection, training, inspection and maintenance of this equipment. Wear impermeable safety footwear and industrial
safety helmet.
Page 2 of 2
Facemask with suitable filter or powered respirator.
PVC gauntlets.
Full face visor.
Protective overalls and safety shoes/boots.
Respirators:
Protective Gloves:
Eye Protection:
Other Protection:
9. PHYSICAL AND CHEMICAL PROPERTIES
Appearance:
Mobile green liquid
10. STABILITY AND REACTIVITY
Stable under normal conditions.
Strong oxidisers.
May react with strong oxidants.
Combustion will generate: oxides of sulphur, oxides of carbon.
If pH falls Alkyl Ethoxy Alcohol Sulphate Solution an exothermic reaction may occur releasing sulphuric acid.
Stability:
Materials to Avoid:
Conditions to Avoid:
Hazardous Decomposition Products:
11. TOXICOLOGICAL INFORMATION
Health Warnings: Oral LD50 (rat) > 2000mg/kg
Irritation-Inhalation: May cause irritation to the nose, throat and respiratory tract.
Irritation-Skin:
This material is irritant to the skin.
Irritation-Eyes
Expected to cause serious damage to eye (possibly with irreversible damage).
12. ECOLOGICAL INFORMATION
Ecological Overview:
Mobility:
Persistence/Degradability:
Bio-accumulation:
Ecotoxicity:
Not expected to cause significant environmental impact.
The product will dissolve in water.
The product is readily biodegradable.
Product is surface active; Log Pow inappropriate.
The product is toxic to aquatic organisms.
13. DISPOSAL CONSIDERATIONS
Disposal Methods:
Via an authorised waste disposal contractor to an approved waste disposal site, observing all
local and national regulations
14. TRANSPORT INFORMATION
NOT REGULATED FOR TRANSPORT
15. REGULATORY INFORMATION
NOT CLASSIFIED AS HAZARDOUS
16. OTHER INFORMATION
Text of the R-phrases that are allocated to the ingredients listed in section 2 of this safety data sheet:
R36/38
R41
Irritating to eyes and skin
Risk of serious damage to eyes
The information given in this safety data sheet is based on knowledge available at the time of completion and is intended to describe the product
only in terms of the health and safety requirements. It does not signify any warranty with regard to specific properties or specifications.