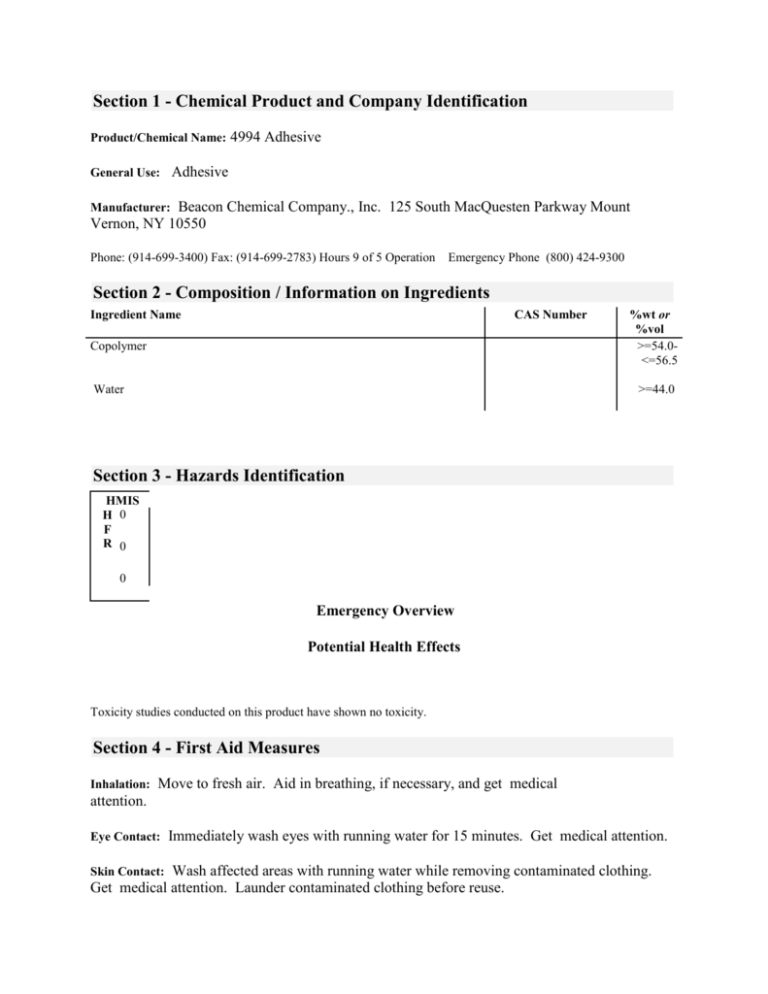 Section 1 - Chemical Product and Company Identification
Product/Chemical Name:
General Use:
4994 Adhesive
Adhesive
Manufacturer:
Beacon Chemical Company., Inc. 125 South MacQuesten Parkway Mount
Vernon, NY 10550
Phone: (914-699-3400) Fax: (914-699-2783) Hours 9 of 5 Operation
Emergency Phone (800) 424-9300
Section 2 - Composition / Information on Ingredients
Ingredient Name
CAS Number
Copolymer
Water
%wt or
%vol
>=54.0<=56.5
>=44.0
Section 3 - Hazards Identification
HMIS
H 0
F
R 0
0
Emergency Overview
Potential Health Effects
Toxicity studies conducted on this product have shown no toxicity.
Section 4 - First Aid Measures
Inhalation:
Move to fresh air. Aid in breathing, if necessary, and get medical
attention.
Eye Contact:
Skin Contact:
Immediately wash eyes with running water for 15 minutes. Get medical attention.
Wash affected areas with running water while removing contaminated clothing.
Get medical attention. Launder contaminated clothing before reuse.
Ingestion:
Dilute by drinking water or milk. Induce vomiting by giving syrup of Ipecac.
After first aid, get appropriate in-plant, paramedic, or community medical support.
Section 5 - Fire-Fighting Measures
Autoignition Temperature:
Flammability Classification:
Extinguishing Media:
N/A
N/A
Use water fog, alcohol foam or dry chemical extinguishing media.
Unusual Fire or Explosion Hazards: None Known.
Hazardous Combustion Materials:
Oxides of carbon.
Fire Fighting Equipment:
Wear positive pressure self-contained breathing apparatus (SCBA).
Personnel not having suitable respiratory protection must leave the area to prevent significant
exposure to toxic combustion gases from any source. In enclosed or poorly ventilated areas,
wear SCBA during cleanup immediately after a fire as well as during the attack phase of
firefighting operations.
Section 6 - Accidental Release Measures
Spill /Leak Procedures:
Spills should be contained. Recover as much as possible for reuse.
Absorb remainder with an inert material. Place into closed container and store in a safe
location to await disposal. Wash the spill area with soap and water. Do not flush liquid into
public sewer or water system. Material is slippery when spilled. Use caution to avoid falls.
Material forms a film when dry.
Waste Disposal Method:
Dispose of waste in accordance with federal, state and local
regulations. For waste disposal purposes, a liquid with a ph between 2.0 -12.5 is not defined
or designated as hazardous by current provisions of the federal resource Conservation and
Recovery act (RCRA, 40CFR261). Products with a ph above or below the range listed above
must be managed as a hazardous waste. Liquid latex or Dry material may be disposed of by
incineration. Most states prohibit disposal of liquids in landfills.
Section 7 - Handling and Storage
Handling Precautions:
Wear appropriate protective equipment when handling material. Avoid skin
and eye contact.
Storage Requirements:
Store at temperatures between 50-100F, ideally at 70¡F
Section 8 - Exposure Controls / Personal Protection
Engineering Controls:
Ventilation: Effective
exhaust ventilation should always be provided to draw mists, fumes and
vapors away from workers to prevent routine inhalation. Ventilation should be adequate to
maintain the ambient workplace atmosphere.
Respiratory Protection:
Seek professional advice prior to respirator selection and use. Follow
OSHA respirator regulations (29 CFR 1910.134) and, if necessary, wear a MSHA/NIOSHapproved respirator. Select respirator based on its suitability to provide adequate worker
protection for given working conditions, level of airborne contamination, and presence of
sufficient oxygen. For emergency or non routine operations (cleaning spills, reactor vessels, or
storage tanks), wear an SCBA. Warning! Air-purifying respirators do not protect workers in
oxygen-deficient atmospheres. If respirators are used, OSHA requires a written respiratory
protection program that includes at least: medical certification, training, fit-testing, periodic
environmental monitoring, maintenance, inspection, cleaning, and convenient, sanitary storage
areas.
Protective Clothing/Equipment:
Wear chemically protective gloves, boots, aprons, and gauntlets to
prevent prolonged or repeated skin contact. Wear protective eyeglasses or chemical safety
goggles, per OSHA eye- and face-protection regulations (29 CFR 1910.133). Contact lenses are
not eye protective devices. Appropriate eye protection must be worn instead of, or in conjunction
with contact lenses.
Safety Stations:
Make emergency eyewash stations, safety/quick-drench showers, and washing
facilities available in work area.
Contaminated Equipment:
Separate contaminated work clothes from street clothes. Launder
before reuse. Remove this material. From your shoes and clean personal protective equipment.
Comments:
Never eat, drink, or smoke in work areas. Practice good personal hygiene after using
this material, especially before eating, drinking, smoking, using the toilet, or applying cosmetics.
Section 9 - Physical and Chemical Properties
Physical
Boiling Point:
State: Liquid
Appearance and Odor: White
Specific Gravity :
pH:
Freezing:
heavy liquid.
212 F (100C)
32F (0 C)
Vapor Pressure:
1.1-1.2
NA
N/A
Section 10 - Stability and Reactivity
Stability:
Product is stable.
Conditions to Avoid:
Freezing temperatures.
Section 11- Toxicological Information
Toxicity Data:*
Eye Effects:
Acute Inhalation Effects:
N/A
N/A
Skin Effects:
Acute Oral Effects:
N/A
N/A
Chronic Effects:
There are no known chronic effects
associated with this material.
Section 12 - Ecological Information
Ecotoxicity:
N/A
Environmental Fate N/A
Environmental Transport:
N/A
Environmental Degradation: N/A
Soil Absorption/Mobility: N/A
Section 13 - Disposal Considerations
Disposal:
Contact your supplier or a licensed contractor for detailed recommendations. Follow
applicable Federal, state, and local regulations.
Disposal Regulatory Requirements:
Incinerate or bury in a licensed facility. Do not discharge into
waterways or sewer systems without proper authority.
Container Cleaning and Disposal: Dispose of in a licensed facility. Recommended crushing or other means to
prevent unauthorized use.
Section 14 - Transport Information
DOT Transportation Data (49 CFR 172.101):
Shipping Name:N/A
Hazard Class: N/A
Shipping Symbols:N/A
NOT REGULATED
Section 15 - Regulatory Information
EPA Regulations:
RCRA Hazardous Waste Number: Not listed (40 CFR 261.33)
RCRA N/A
CERCLA Hazardous Substance (40 CFR 302.4) unlisted
CERCLA Reportable Quantity N/A
OSHA Regulations:
Air Contaminant : Not listed
OSHA Specifically Regulated Substance N/A
T.R.I. Reportable (No)
Section 16 - Other Information
Prepared By:
Pete Ryan
Additional Hazard Rating Systems:
Health:
HMIS
1
Fire:
0
Reactivity:
0
Special:
NA
NFPA
NA
Disclaimer:
0
0
0
The information accumulated herein is based on data which Beacon Chemical Co.,
Inc. considers to be accurate; provided however, that the company makes no warranty as to the
accuracy of the data. Anyone intending to use the information contained herein shall assume
sole and complete responsibility for the results of said use including loss or damage resulting
from the handling of the material.