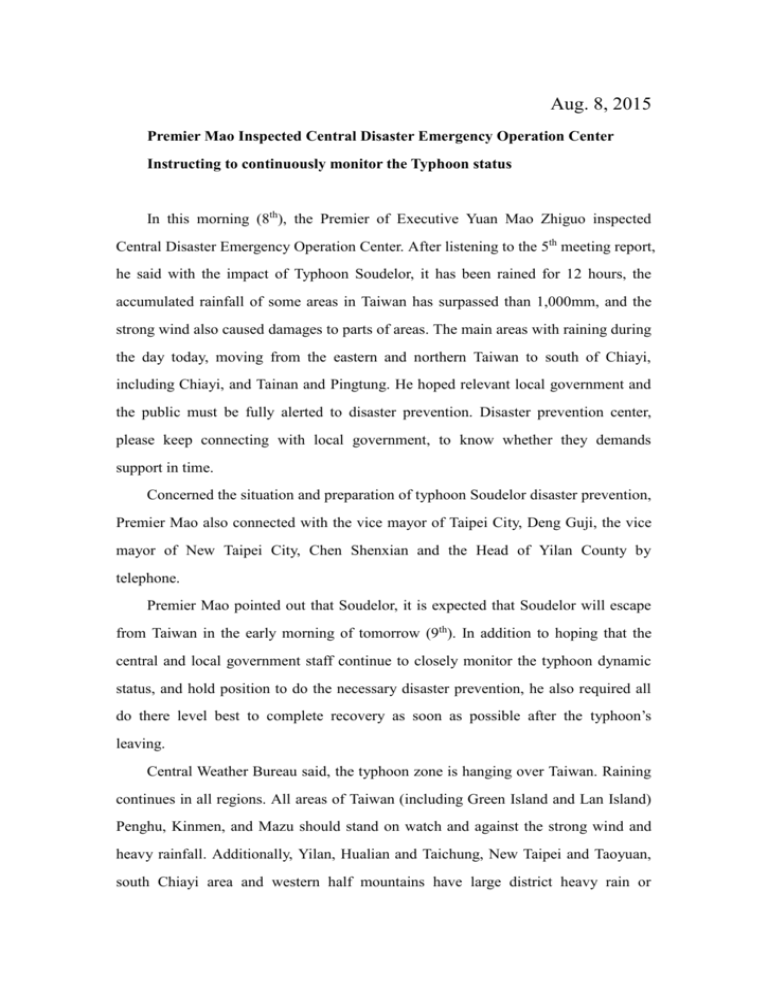 Aug. 8, 2015
Premier Mao Inspected Central Disaster Emergency Operation Center
Instructing to continuously monitor the Typhoon status
In this morning (8th), the Premier of Executive Yuan Mao Zhiguo inspected
Central Disaster Emergency Operation Center. After listening to the 5th meeting report,
he said with the impact of Typhoon Soudelor, it has been rained for 12 hours, the
accumulated rainfall of some areas in Taiwan has surpassed than 1,000mm, and the
strong wind also caused damages to parts of areas. The main areas with raining during
the day today, moving from the eastern and northern Taiwan to south of Chiayi,
including Chiayi, and Tainan and Pingtung. He hoped relevant local government and
the public must be fully alerted to disaster prevention. Disaster prevention center,
please keep connecting with local government, to know whether they demands
support in time.
Concerned the situation and preparation of typhoon Soudelor disaster prevention,
Premier Mao also connected with the vice mayor of Taipei City, Deng Guji, the vice
mayor of New Taipei City, Chen Shenxian and the Head of Yilan County by
telephone.
Premier Mao pointed out that Soudelor, it is expected that Soudelor will escape
from Taiwan in the early morning of tomorrow (9th). In addition to hoping that the
central and local government staff continue to closely monitor the typhoon dynamic
status, and hold position to do the necessary disaster prevention, he also required all
do there level best to complete recovery as soon as possible after the typhoon's
leaving.
Central Weather Bureau said, the typhoon zone is hanging over Taiwan. Raining
continues in all regions. All areas of Taiwan (including Green Island and Lan Island)
Penghu, Kinmen, and Mazu should stand on watch and against the strong wind and
heavy rainfall. Additionally, Yilan, Hualian and Taichung, New Taipei and Taoyuan,
south Chiayi area and western half mountains have large district heavy rain or
torrential rain; The possibility of heavy rain and torrential rain occurs in Penghu,
Kinmen and Mazu. Please pay attention to land slide, rockfalls, debris flow and flash
floods. In low-lying areas, please take precautions against flooding.
The NCDR pointed out, the rainfall today (8th) focuses on Taipei City, New
Taipei City, Taoyuan City, Xinzhu County, Yilan County, Hualian Count, etc. Suggest
pay attention to land slide, rockfalls, debris flow and cut-off roads in the slope areas
and easy cut-off road of all counties (cities). At present, the warning and closed roads
include: line Tai 1, 7B, 4, 16, 21, 18, 3, 29, 27, 24, 9, 9A, 7, 7A, 8, 11, 20. The norther
areas must pay attention to the flooding may caused by short-time delay strong
rainfall. after the typhoon gets out of the sea, attention must be paid to the inwelling
and flooding in low-lying areas of southwest regions. What's more, affected by strong
winds, at present there are many trees outdoors collapse and falling objects, call on
people to avoid going out.
Council of Agriculture said that as of today (8th), 6:00, currently it has issued 38
pieces of debris flow potential stream with red alert, locating in 13 villages, 4
townships and 3 counties and cities; 896 pieces of debris flow potential stream with
yellow alert, locating in 322 villages, 58 townships in 15 counties and cities. Now 154
7537 people been evacuated from 154 villages, 49 townships in 15 counties and cities.
The Interior Ministry said, so far, 822 roadside trees falling, 361 advertising
signs and falling objects, 27 traffic disasters, 54 deposition flooding and water
conservancy facilities, 11 debris flow disasters, 881 power and water outages, 240
building damages, 1838 other disasters, a total of 4234 pieces, all are handled by local
government.