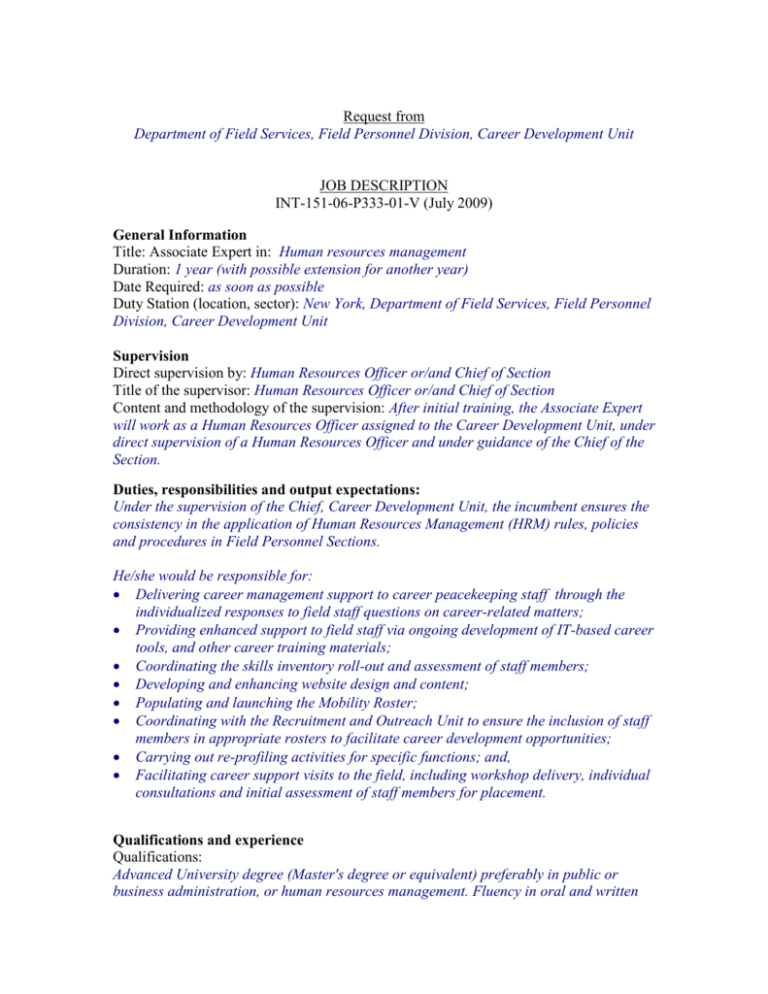 Request from
Department of Field Services, Field Personnel Division, Career Development Unit
JOB DESCRIPTION
INT-151-06-P333-01-V (July 2009)
General Information
Title: Associate Expert in: Human resources management
Duration: 1 year (with possible extension for another year)
Date Required: as soon as possible
Duty Station (location, sector): New York, Department of Field Services, Field Personnel
Division, Career Development Unit
Supervision
Direct supervision by: Human Resources Officer or/and Chief of Section
Title of the supervisor: Human Resources Officer or/and Chief of Section
Content and methodology of the supervision: After initial training, the Associate Expert
will work as a Human Resources Officer assigned to the Career Development Unit, under
direct supervision of a Human Resources Officer and under guidance of the Chief of the
Section.
Duties, responsibilities and output expectations:
Under the supervision of the Chief, Career Development Unit, the incumbent ensures the
consistency in the application of Human Resources Management (HRM) rules, policies
and procedures in Field Personnel Sections.
He/she would be responsible for:
 Delivering career management support to career peacekeeping staff through the
individualized responses to field staff questions on career-related matters;
 Providing enhanced support to field staff via ongoing development of IT-based career
tools, and other career training materials;
 Coordinating the skills inventory roll-out and assessment of staff members;
 Developing and enhancing website design and content;
 Populating and launching the Mobility Roster;
 Coordinating with the Recruitment and Outreach Unit to ensure the inclusion of staff
members in appropriate rosters to facilitate career development opportunities;
 Carrying out re-profiling activities for specific functions; and,
 Facilitating career support visits to the field, including workshop delivery, individual
consultations and initial assessment of staff members for placement.
Qualifications and experience
Qualifications:
Advanced University degree (Master's degree or equivalent) preferably in public or
business administration, or human resources management. Fluency in oral and written
English required; knowledge of a second official UN language, preferably French, highly
desirable.
UN competencies (Refer to OHRM guidelines):
Client orientation: Ability to identify clients' needs and appropriate solutions, ability to
establish and maintain productive partnerships with clients.
Teamwork – Good interpersonal skills; ability to work in a multi-cultural, multi-ethnic
environment with sensitivity and respect for diversity. Demonstrated ability to develop
and maintain effective work relationships with counterparts and client departments.
Planning and Organizing –Ability to establish priorities and to plan, coordinate and
monitor own work plan and those of others.
Communication – Ability to communicate links between DPKO's strategy and the work
unit's goals; and to generate and communicate broad and compelling organizational
direction. Excellent interpersonal and oral and written communication skills. Strong
drafting skills.
Work experience:
Experience in human resources management or related area and in staff development is
desirable. Experience or knowledge of UN peacekeeping mission or humanitarian field
operation is also desirable.
Learning Elements
After the assignment the Associate Expert will be able to
 Have a thorough understanding of all aspects of human resources management as
applicable to UN Peacekeeping Operations;
 Understand complex requirements of UN field operations,
 Interpret and apply relevant UN staff rules and regulations;
 Advise staff members on career development issues;
 Advise staff members on career opportunities in Peacekeeping operations;
 Prepare budget submissions according to UN standards.
Background information
 The mission of the Field Personnel Division is to "recruit and retain high
quality personnel for UN peace operations". In fulfilling this mission, the
Field Personnel Division seeks to apply the following key values:
responsiveness; effectiveness, accountability; transparency; local ownership;
and, diversity.