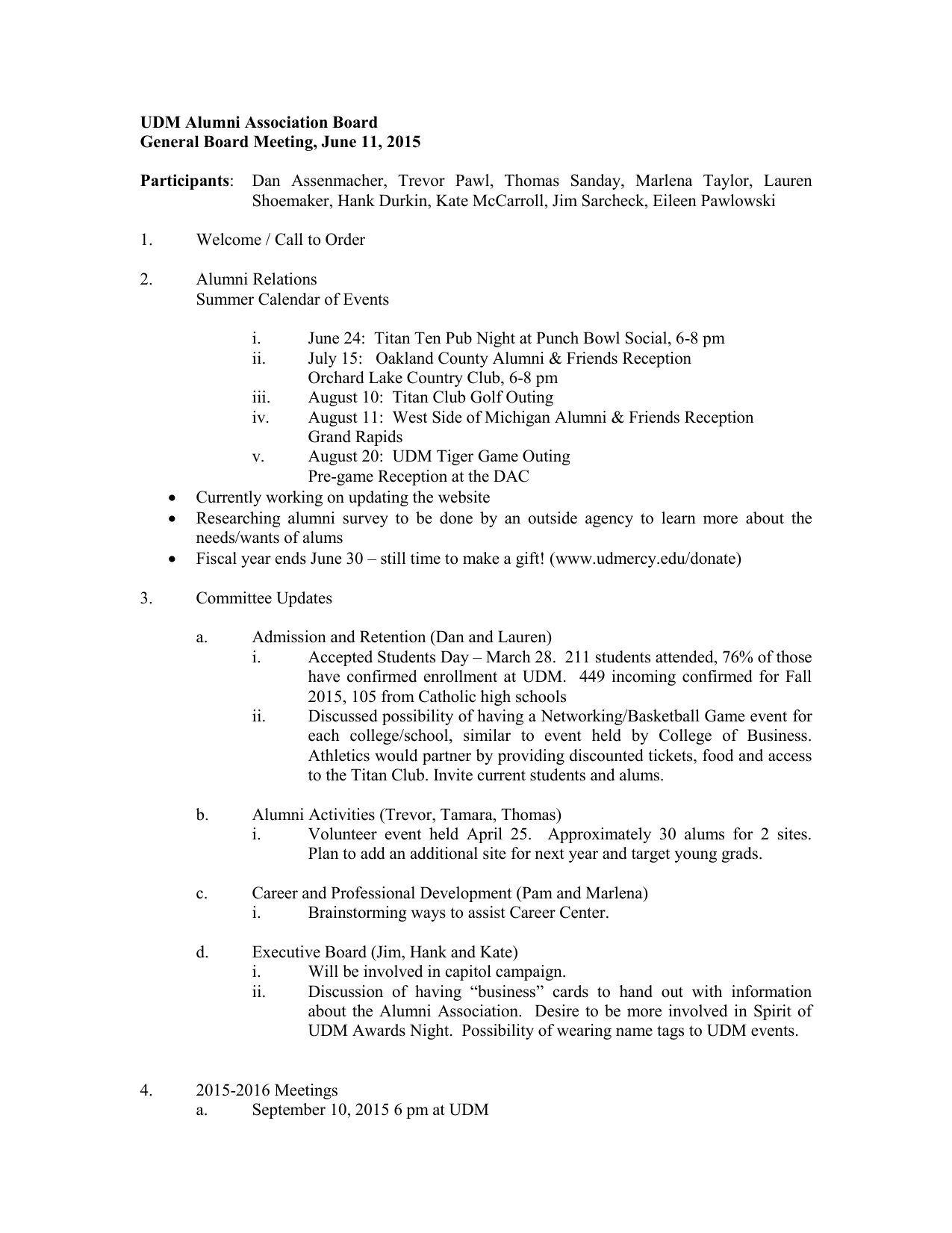 1. 2.
UDM Alumni Association Board General Board Meeting, June 11, 2015 Participants
: Dan Assenmacher, Trevor Pawl, Thomas Sanday, Marlena Taylor, Lauren Shoemaker, Hank Durkin, Kate McCarroll, Jim Sarcheck, Eileen Pawlowski Welcome / Call to Order Alumni Relations Summer Calendar of Events   i. ii. iii. iv. v. June 24: Titan Ten Pub Night at Punch Bowl Social, 6-8 pm July 15: Oakland County Alumni & Friends Reception Orchard Lake Country Club, 6-8 pm August 10: Titan Club Golf Outing August 11: West Side of Michigan Alumni & Friends Reception Grand Rapids August 20: UDM Tiger Game Outing Pre-game Reception at the DAC Currently working on updating the website Researching alumni survey to be done by an outside agency to learn more about the  needs/wants of alums Fiscal year ends June 30 – still time to make a gift! (www.udmercy.edu/donate) 3. Committee Updates a. Admission and Retention (Dan and Lauren) i. Accepted Students Day – March 28. 211 students attended, 76% of those ii. have confirmed enrollment at UDM. 449 incoming confirmed for Fall 2015, 105 from Catholic high schools Discussed possibility of having a Networking/Basketball Game event for each college/school, similar to event held by College of Business. Athletics would partner by providing discounted tickets, food and access to the Titan Club. Invite current students and alums. b. Alumni Activities (Trevor, Tamara, Thomas) i. Volunteer event held April 25. Approximately 30 alums for 2 sites. Plan to add an additional site for next year and target young grads. c. Career and Professional Development (Pam and Marlena) i. Brainstorming ways to assist Career Center. d. Executive Board (Jim, Hank and Kate) i. Will be involved in capitol campaign. ii. Discussion of having "business" cards to hand out with information about the Alumni Association. Desire to be more involved in Spirit of UDM Awards Night. Possibility of wearing name tags to UDM events. 4. 2015-2016 Meetings a. September 10, 2015 6 pm at UDM
b. c. d. December 10, 2015 6 pm at UDM March 10, 2016 6 pm at UDM June 9, 2016 at 6 pm – location to be decided  Committees will have phone conferences by the end of July. Eileen will set-up.