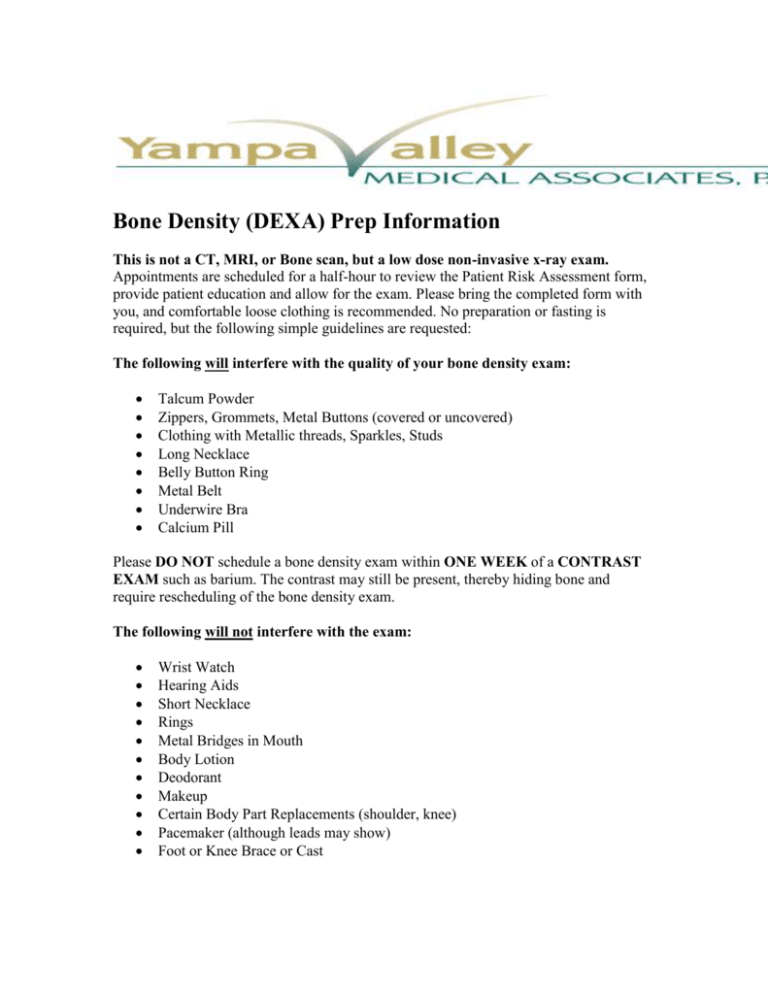 Bone Density (DEXA) Prep Information
This is not a CT, MRI, or Bone scan, but a low dose non-invasive x-ray exam.
Appointments are scheduled for a half-hour to review the Patient Risk Assessment form,
provide patient education and allow for the exam. Please bring the completed form with
you, and comfortable loose clothing is recommended. No preparation or fasting is
required, but the following simple guidelines are requested:
The following will interfere with the quality of your bone density exam:








Talcum Powder
Zippers, Grommets, Metal Buttons (covered or uncovered)
Clothing with Metallic threads, Sparkles, Studs
Long Necklace
Belly Button Ring
Metal Belt
Underwire Bra
Calcium Pill
Please DO NOT schedule a bone density exam within ONE WEEK of a CONTRAST
EXAM such as barium. The contrast may still be present, thereby hiding bone and
require rescheduling of the bone density exam.
The following will not interfere with the exam:











Wrist Watch
Hearing Aids
Short Necklace
Rings
Metal Bridges in Mouth
Body Lotion
Deodorant
Makeup
Certain Body Part Replacements (shoulder, knee)
Pacemaker (although leads may show)
Foot or Knee Brace or Cast
Hopefully this will answer some of your questions and make your bone density scan
(DEXA) a more pleasant and speedy experience. However, please call our office (8793327) if you have any other questions about the exam or require special accommodations.