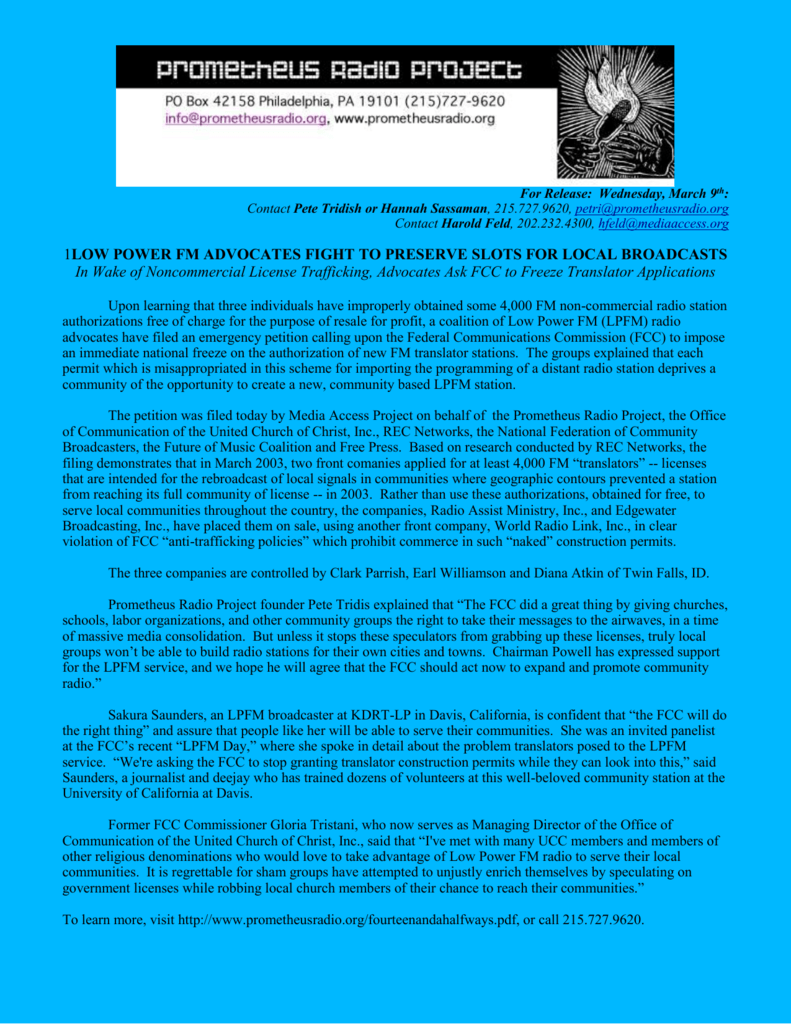 For Release: Wednesday, March 9th:
Contact Pete Tridish or Hannah Sassaman, 215.727.9620, [email protected]
Contact Harold Feld, 202.232.4300, [email protected]
1LOW POWER FM ADVOCATES FIGHT TO PRESERVE SLOTS FOR LOCAL BROADCASTS
In Wake of Noncommercial License Trafficking, Advocates Ask FCC to Freeze Translator Applications
Upon learning that three individuals have improperly obtained some 4,000 FM non-commercial radio station
authorizations free of charge for the purpose of resale for profit, a coalition of Low Power FM (LPFM) radio
advocates have filed an emergency petition calling upon the Federal Communications Commission (FCC) to impose
an immediate national freeze on the authorization of new FM translator stations. The groups explained that each
permit which is misappropriated in this scheme for importing the programming of a distant radio station deprives a
community of the opportunity to create a new, community based LPFM station.
The petition was filed today by Media Access Project on behalf of the Prometheus Radio Project, the Office
of Communication of the United Church of Christ, Inc., REC Networks, the National Federation of Community
Broadcasters, the Future of Music Coalition and Free Press. Based on research conducted by REC Networks, the
filing demonstrates that in March 2003, two front comanies applied for at least 4,000 FM "translators" -- licenses
that are intended for the rebroadcast of local signals in communities where geographic contours prevented a station
from reaching its full community of license -- in 2003. Rather than use these authorizations, obtained for free, to
serve local communities throughout the country, the companies, Radio Assist Ministry, Inc., and Edgewater
Broadcasting, Inc., have placed them on sale, using another front company, World Radio Link, Inc., in clear
violation of FCC "anti-trafficking policies" which prohibit commerce in such "naked" construction permits.
The three companies are controlled by Clark Parrish, Earl Williamson and Diana Atkin of Twin Falls, ID.
Prometheus Radio Project founder Pete Tridis explained that "The FCC did a great thing by giving churches,
schools, labor organizations, and other community groups the right to take their messages to the airwaves, in a time
of massive media consolidation. But unless it stops these speculators from grabbing up these licenses, truly local
groups won't be able to build radio stations for their own cities and towns. Chairman Powell has expressed support
for the LPFM service, and we hope he will agree that the FCC should act now to expand and promote community
radio."
Sakura Saunders, an LPFM broadcaster at KDRT-LP in Davis, California, is confident that "the FCC will do
the right thing" and assure that people like her will be able to serve their communities. She was an invited panelist
at the FCC's recent "LPFM Day," where she spoke in detail about the problem translators posed to the LPFM
service. "We're asking the FCC to stop granting translator construction permits while they can look into this," said
Saunders, a journalist and deejay who has trained dozens of volunteers at this well-beloved community station at the
University of California at Davis.
Former FCC Commissioner Gloria Tristani, who now serves as Managing Director of the Office of
Communication of the United Church of Christ, Inc., said that "I've met with many UCC members and members of
other religious denominations who would love to take advantage of Low Power FM radio to serve their local
communities. It is regrettable for sham groups have attempted to unjustly enrich themselves by speculating on
government licenses while robbing local church members of their chance to reach their communities."
To learn more, visit http://www.prometheusradio.org/fourteenandahalfways.pdf, or call 215.727.9620.