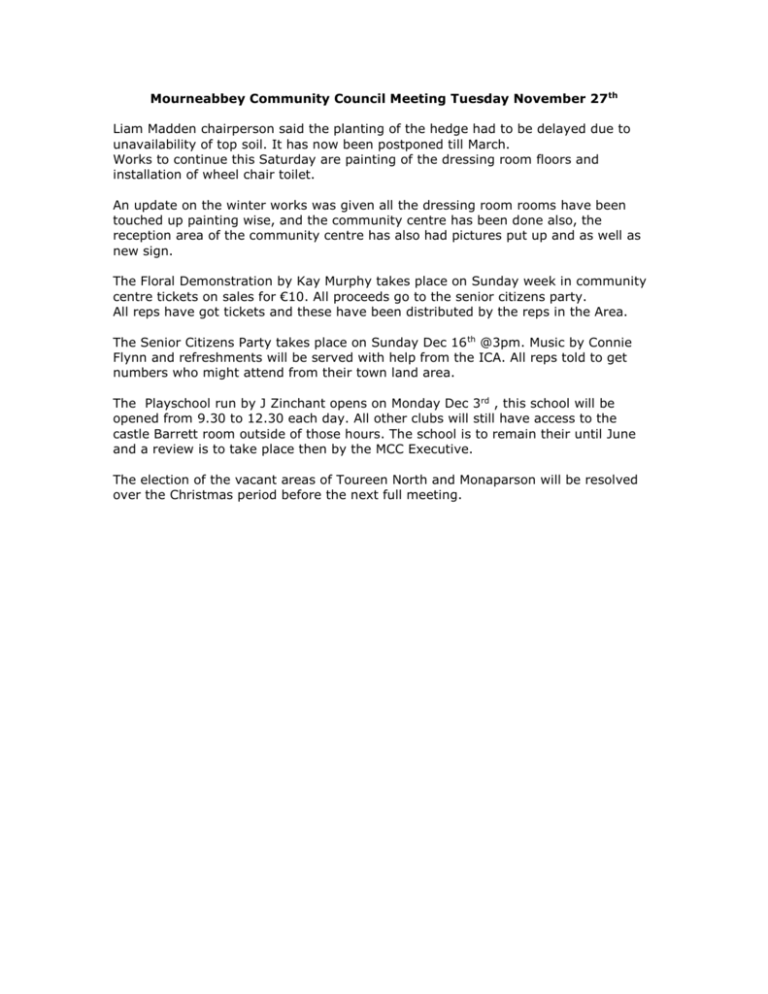 Mourneabbey Community Council Meeting Tuesday November 27th
Liam Madden chairperson said the planting of the hedge had to be delayed due to
unavailability of top soil. It has now been postponed till March.
Works to continue this Saturday are painting of the dressing room floors and
installation of wheel chair toilet.
An update on the winter works was given all the dressing room rooms have been
touched up painting wise, and the community centre has been done also, the
reception area of the community centre has also had pictures put up and as well as
new sign.
The Floral Demonstration by Kay Murphy takes place on Sunday week in community
centre tickets on sales for €10. All proceeds go to the senior citizens party.
All reps have got tickets and these have been distributed by the reps in the Area.
The Senior Citizens Party takes place on Sunday Dec 16 th @3pm. Music by Connie
Flynn and refreshments will be served with help from the ICA. All reps told to get
numbers who might attend from their town land area.
The Playschool run by J Zinchant opens on Monday Dec 3rd , this school will be
opened from 9.30 to 12.30 each day. All other clubs will still have access to the
castle Barrett room outside of those hours. The school is to remain their until June
and a review is to take place then by the MCC Executive.
The election of the vacant areas of Toureen North and Monaparson will be resolved
over the Christmas period before the next full meeting.