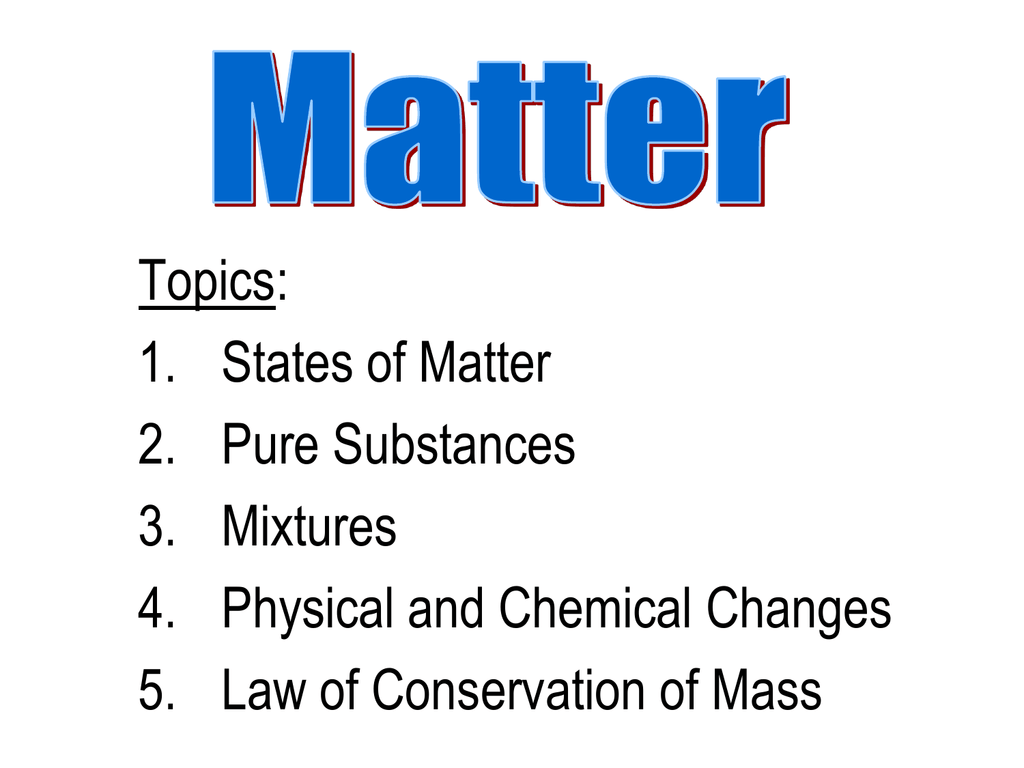 Topics:
1. States of Matter
2. Pure Substances
3. Mixtures
4. Physical and Chemical Changes
5. Law of Conservation of Mass
Everything that has mass
and volume is called matter.
States of Matter
Uses of Plasma
•Computer chips and integrated circuits
•Printing on plastic food containers
•Computer hard drives
•Energy-efficient window coatings
•Electronics
•High-efficiency window coatings
•Machine tools
•Safe drinking water
•Medical implants and prosthetics
•Voice and data communications components
•Audio and video tapes
•Anti-scratch and anti-glare coatings on
eyeglasses and other optics
•Aircraft and automobile engine parts
Classification of Matter
Characteristics of Pure Substances
• Fixed composition
• Cannot be separated into simpler substances by
physical changes
• Only changed chemically
• Properties don't change.
2 Types of Pure Substances –
All use symbols!
•
•
•
•
Elements
Cannot be broken
down by chemical
means
Ex. Gold, Sodium,
Copper, Oxygen
Single symbols,
atoms
Au, Na, Cu, O
•
•
•
•
Compounds
2 or more elements
chemically
combined
Formula, Molecule
Ex. Water, Carbon
Dioxide, Oxygen
gas
H2O, CO2, O2
What is a Mixture?
• 2 or more substances NOT chemically bonded.
•
•
•
•
No formulas or symbols
Variable composition
Parts keep individual properties
Separated into pure substances by physical
methods
Homogeneous VS Heterogeneous
•Look the same throughout
•Examples
•Solutions
•Solute & Solvent
•Don't look the same throughout
or have different size particles
•Examples
•Suspension
•Colloid (liq/solid)
•Emulsion (liq/liq)
Physical Properties – observed &
measured w/o changing substance
•
•
•
•
•
•
Density
Size
Boiling Pt.
Shape
Mass
Texture
•
•
•
•
•
•
Melting Pt.
Strength
Hardness
Magnetism
Color
Volume
What do physical
properties determine?
• Determine uses for item.
–Aluminum for foil
–Isopropyl alcohol for cooling
–Graphite for writing
Methods to separate mixtures
•
•
•
•
•
Filtering
Distillation
Magnets
Evaporation
Chromatography
Chemical Properties
• Describes how substance changes
into a new substance,
– Reactions
– Energy and mass
– Ex. – burning, rusting,
acid/base reactions
rearrange
Chemical Changes
• Used to change pure substances
• 5 signs of chemical change
– Temp change
– Light
– Color change
– Bubbles
– Smell
• Make new substances
Law of Conservation of Mass
Matter cannot be created nor destroyed. It is just
converted from one form to another.