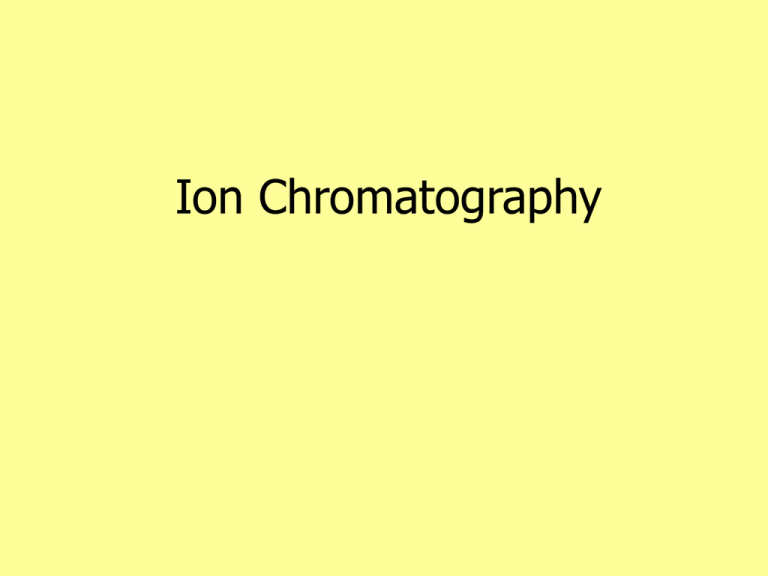 Ion Chromatography
Ion Exchange
Separation is
facilitated
by formation
of ionic bonds
between
charged
samples
and charged
column
packings
Ions
Ions can be characterised as:
organic, inorganic, anion or cation and mono or polyvalent
Chemical Considerations
Anion or Cation exchanger
Strong vs Weak Exchange Materials
Strong exchangers stay ionised as pH varies between 2 and 12.
Weak exchangers can lose ionisation as a function of pH.
Factors Affecting Ion Exchange
Retention
Control of Ion exchange by pH
Changing the pH can eliminate the charge of the column
if the column is weak, or eliminate the charge on the ion if
ion is weak. Either way, the retention is reduced.
Strong ion - Weak Exchanger
Exchange Capacity of Anion Exchanges
Exchange Capacity: Number of functional
groups per unit weight of resin
Exchange Capacity of Anion Exchanges
pH has no effect on capacity of strong cation exchanges.
Weak cation exchanges change dramatically with pH.
Control of Ion exchange by Ionic Strength
As the concentration of the eluent ion increases,
retention tends to decrease
-
+
A
BGE Zone
Sample Zone
BGE Zone
Control of Ion exchange by Eluent
Ion
cations
anions
The equilibrium constant
At pH=pKa
50% is ionised and
50% is neutral
At pH=pKa +1 90%
is ionised
At pH=pKa -1 10%
is ionised
Common Acidic Buffers
Common Basic Buffers
Anion exchange Separation development
Sample: Weak or strong?
Column: weak or strong?
pH ?
Anion exchange Separation development
Anion exchange Separation development
Anion exchange Separation development
Anion exchange Separation development
Anion exchange Separation development
Cation exchange method development
Column: Strong Cation Exchange
Sample: Weak bases
pH: acidic (all compounds are ionised)
Effect of ionic strength
Effect of pH
Compare this separation
at pH=4.55 and 0.05 in the
previous example.
Increasing pH
reduced
retention.
Effect of Temperature
Increasing temperature
increases efficiency,
decreases k', and may
affect .
This is due to improved
mass transfer.
UV Detection
UV detection.
Direct detection
UV transparent eluent
eg, bromide, nitrate, nitrite, thiocyanate,
@214nm
Indirect Detection UV absorbing electrolyte.
Anions are detected via "vacancies" in
background absorbance
universal detection
usually used when other modes of detection are
unavailable.
Very specific
Concentration Changes
UV Detection
Direct UV Detection
Indirect UV Detection
Indirect UV detection
Conductivity Detection
Ohms law V= IR
1
 conductance, G =
R
Non - Suppressed
direct
- low conducting eluent
- high conducting analytes
indirect
- high conducting eluents
- low conducting analytes
Ion Conductances
Conductivity Detection
Direct Conductivity Detection
Waters Ion Analysis Method
Eluent: Borate/Gluconate
Column: IC Pak HR
Flow Rate: 1ml/min
Injection 50 ul
Detection: Direct Conductivity
Background: 274 uS
Indirect Conductivity
Conductivity Detection Suppressed
Conductivity Detection Suppressed
Membrane Suppressor
Autosuppression
Eluent Generation KOH
Eluent Generation MSA
Why the
difference?
Separation of Cations
Practical Sessions
(1) Analysis of Inorganic Anions by direct
conductivity.