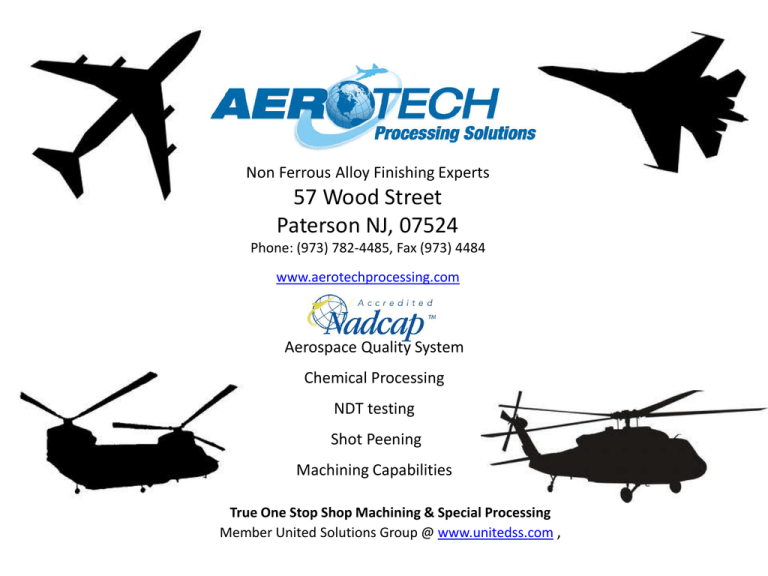 Non Ferrous Alloy Finishing Experts
57 Wood Street
Paterson NJ, 07524
Phone: (973) 782-4485, Fax (973) 4484
www.aerotechprocessing.com
Aerospace Quality System
Chemical Processing
NDT testing
Shot Peening
Machining Capabilities
True One Stop Shop Machining & Special Processing
Member United Solutions Group @ www.unitedss.com ,
Chromic Acid Anodize Type I & Chemical
Conversion
Anodize Type II & Hard Coat Type III Lines
Control System
Mission Control; is an automated control center and the heart of Aerotech's chemical
processing systems control. The systems consisting of computer controlled rectifier,
processing wave form, pulse step ramp capabilities, and PLC tank temperature monitoring.
Quality
• In House DI water system exceeding industry
processing requirements.
• Visual Lab system statistically charting solution
analysis maintaining tight chemistry
• Laboratory testing, titrations, corrosion resistance,
tabor , coating weight & thickness, paint adhesion,
etc.
Masking
From the traditional hand mask cutting techniques to the state
of the art AutoCAD template cutting machine. Expedites
masking patterns and reduces traditional lead times in
expediting product through production
Primers & Top Coat Paints
Accurate paint dispensing and precise viscosity expedites the processes from the very first time.
No more time consuming traditional hand mixing and Zahn cup checks.
Verses
Fluorescent Penetrant Inspection
FPI Booth
Electrostatic Spray System
Racking
Various rack designs to
accommodate product and
production size processing
Shot Peening
Fabrication
•Cutting
•Punching
•Forming
Machining
•3 Axis
•5 Axis
Shipping/Receiving/Packaging
•FOD preventive Designated Packaging
Department
•Pickup and Delivery capabilities
Tracking
Our Visual Shop Bar Code ERP Tracking
System is designed to optimize
production scheduling "thru puts" by
process measurement, evaluation, and
adaptation.