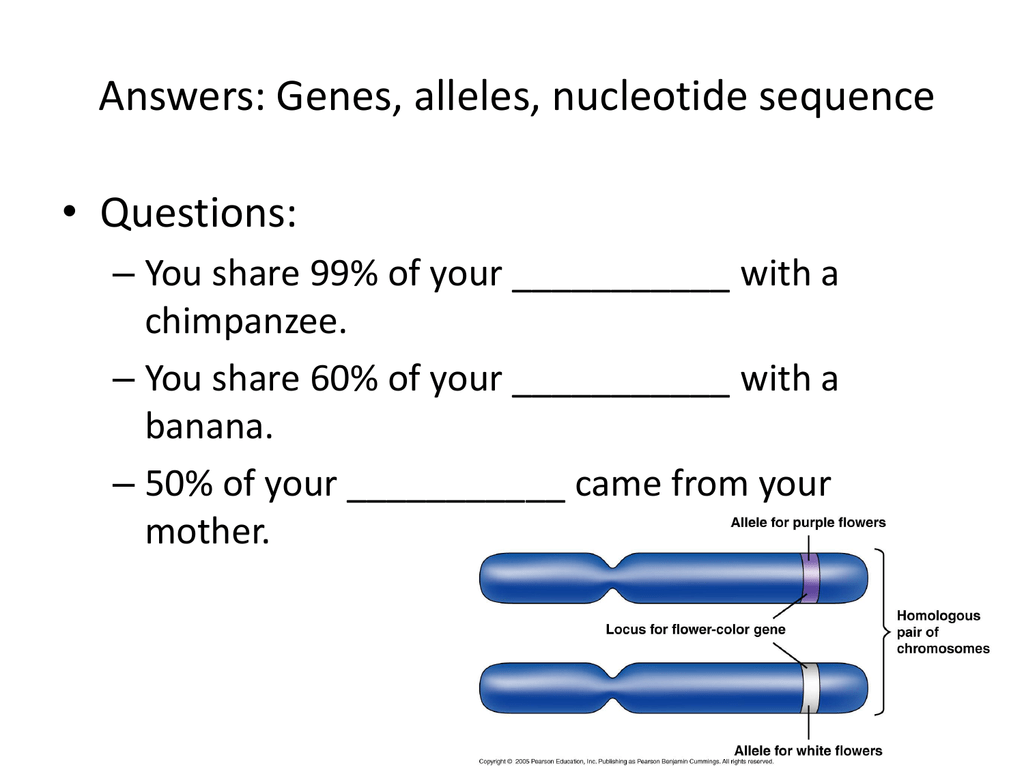 Answers: Genes, alleles, nucleotide sequence
• Questions:
– You share 99% of your ___________ with a
chimpanzee.
– You share 60% of your ___________ with a
banana.
– 50% of your ___________ came from your
mother.
• What is a gene?
Fig. 18.8
• Draw the cell cycle.
• Why does the cell cycle matter?
Fig. 12.5
Mitosis
• Draw a chromosome as it would look at each
stage of the cell cycle.
Fig.
5.28
Fig.
12.4
Centromere
• What is a chromosome made of?
Fig. 16.21
Histones
are
critical for
DNA
structure
What makes the dominant allele
dominant?
Sickle cell?
Cystic fibrosis?
Huntington's disease?
Blood type?
Mendel's wrinkly peas?
• What is the central dogma of genetics?
Fig. 17.4—The Central Dogma of Genetics
Transcription
Analogy
Who is the
scribe?
Translation
Analogy
Who is the
chef?
Fig.
17.25
mRNA's from 5 genes in fruit-fly embryo
Why isn't every gene expressed in every cell?
Fig. 18.6
Gene Regulation=
Controlling if a gene
makes a functional
product (protein) or
not
DNA
methylation
pg. 358
CH3
Euchromatin and Heterochromatin
http://cnx.org/content/m26565/latest/graphics35.jpg
Fig. 18.10
Fig. 18.11
Fig.
18.13
• Diagram meiosis of the X and Y chromosomes
in spermatogenesis… Start with a G1 cell.