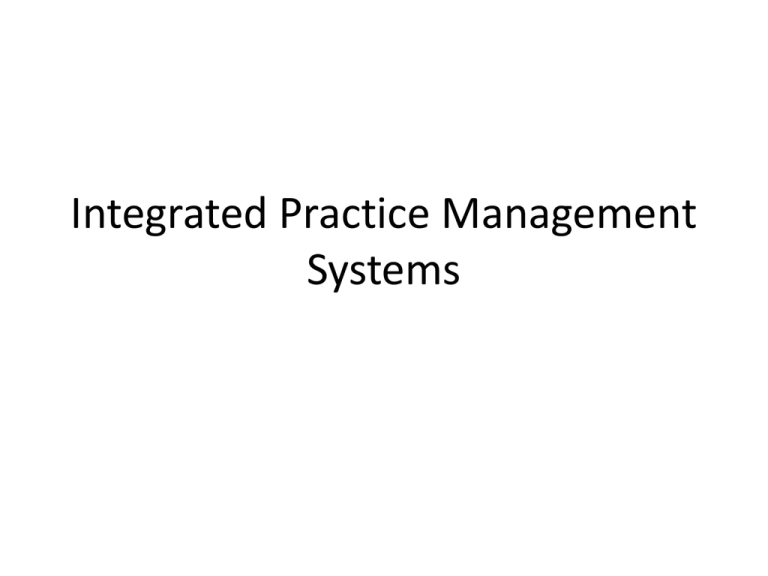 Integrated Practice Management
Systems
Learning Objectives
After reading this chapter the reader should be able to:
• Document the workflow in a medical office that utilizes a practice
management (PM)
system integrated with an electronic health record system
• Compare the functionality of a standalone PM system with fully integrated
PM software as
part of a robust EHR system
• Identify the features of an integrated practice management system
• List the most common integrated PM software packages currently available
• Identify the key advantages and obstacles in converting from paper records
and a standalone
PM system to an integrated PM with EHR system
• Discuss emerging trends in practice management
Definition
Medical practice management software (PMS) is
a category of software that deals with the dayto-day operations of a medical practice. Such
software frequently allows users to capture
patient demographics, schedule appointments,
maintain lists of insurance payers, perform
billing tasks, and generate reports.
A PM system is designed to capture all of the data from a patient encounter
necessary to obtain reimbursement for the services provided. This data is
then used to:
• Generate claims to seek reimbursement from healthcare payers
• Apply payments and denials
• Generate patient statements for any balance that is the patient's
responsibility
• Generate business correspondence
• Build databases for practice and referring physicians, payers, patient
demographics and patient encounter transactions (i.e., date, diagnosis codes,
procedure codes, amount charged, amount paid, date paid, billing messages,
place and type of service codes etc)
Additionally, a PM system provides routine and ad hoc reports so that an
administrator can analyze the trends for a given practice and implement
performance improvement strategies based on the findings.
Clinical and Administrative Workflow
in a Medical Office
demonstrates typical outpatient office workflow.
Examples Clinical and Administrative
Workflow in a Medical Office
Patient Registration.
Patient Encounter.
Clinical Aspects of Patient Encounter.
After the Patient Encounter.
Telephone calls in a Medical Office.
Note: Read the topic from the PDF provided at the
website.
Practice Management Systems and
EHRs
When the administrators of a medical practice
commit to the conversion of paper-based or
hybrid records to an electronic health record
system, they should strongly consider converting
their existing practice management system to
one that is integrated with the EHR they chose.
Many practices report that part of their overall success with
implementing an EHR with a PM system is due to the
increased efficiency and accuracy of the billing process when
the systems are integrated.
One alternative to discontinuing an existing PM system –
especially one that works very well and that everyone in the
office who uses it is comfortable with, is to find a reputable
EHR vendor that offers interface capabilities with your existing
PM system vendor. For example, Eclipsys (formerly
MediNotes), has a list of PM systems with which their EHR
interfaces. One potential setback is anytime a vendor
upgrades its software, the interfaces have to be tested and
both vendors may need to get involved.
Some of the highlights from
implementing EHR with a PM system.
• Chose in-office server over application service
provider (ASP) because it was more
affordable since the practice already had old
computers that could be used as workstations
and they did not already have business-grade
broadband Internet service provider necessary
for an ASP arrangement
• Chose to pay a monthly subscription fee to use
the EHR/PM software because it was less
expensive than purchasing software and
hardware required. Lease agreement was
approximately $400 per month for software and
off-site HIT support.
• Chose the EHR from same vendor as PM
because, "to run an efficient office, the two
systems should be totally compatible and ideally
share the same database."
The PM systems criteria most important to most of
the healthcare practitioners included:
perform the same functions as a paper record only
better; affordability; navigability for all users
between both the EHR and the PM systems;
adaptability -the records and templates for
information were easily modified and customized as
patient information and practice needs changed;
track record of vendor; ease of data entry; tight
security.
The overall assessment considering the
improvement in efficiency, improved patient care
and improved claims coding and submission is that
within one year the system installers had paid off
the cost of the new hardware, the office had
returned to full productivity, and was earning over
$30,000 more than it had the year before, due
primarily to reduced overhead costs, space for
paper records has been converted to an additional
exam room.
Practice Management System
Examples
There are more than 200 practice management
systems on the market with a variety of PM
features to include integration with an EHR and
the availability as both a client server model
and/or an ASP model.