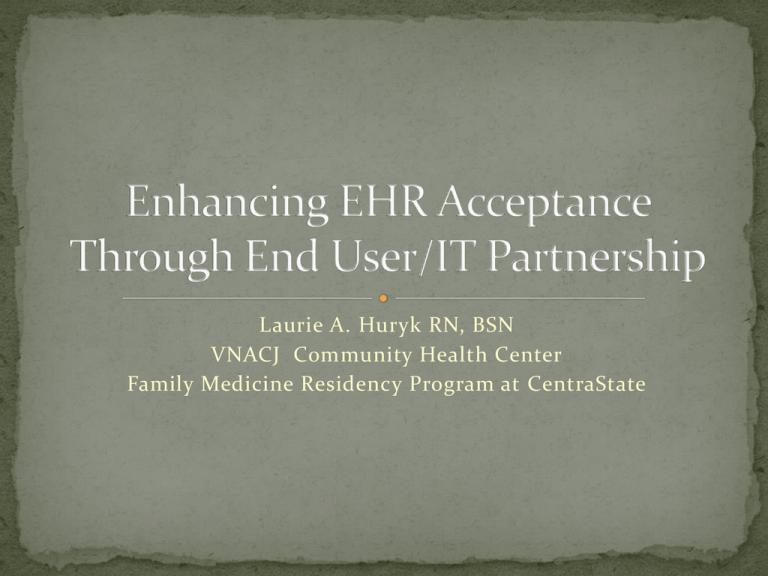 Laurie A. Huryk RN, BSN
VNACJ Community Health Center
Family Medicine Residency Program at CentraState
 Cell phones: Please turn them off or
set them to vibrate
 Questions: Please reserve your
questions until the end of the
presentation
 Determine the level of involvement end
users should have in an IT project.
 Determine an acceptable level of decreased
productivity throughout the development
and implementation process.
 Provide appropriate support for end users
post implementation.
 Modernize our nation's infrastructure
 Enhance energy independence
 Expand educational opportunities
 Provide tax relief
 Preserve and improve affordable health
care.
 Goal: Improve quality and value of
American health care
 Method: Expanded use of health
information technology (HIT)
*2008 only 4% physician offices and 2% hospitals
fully utilize Electronic Health Records (EHR)
 Plan: Accelerate the adoption of HIT
HOW......?
 Eligible Providers and Hospitals who
are Meaningful Users of certified HIT.
 Beginning with financial year 2011 and
ending with financial year 2015.
 Penalties of reduced payments will
begin in financial year 2015.
 Must use certified EHR technology in a
meaningful manner
 Must be able to electronically exchange
information from the certified EHR.
 Must submit clinical quality measures
to the Secretary of the US Department
of Health and Human Services.
 Systems that are fully functional but
inadequate for meeting meaningful use
requirements
 Systems that are not being used to their
full potential
 Upgrades and core functionality
modifications from the vendor
 Perceive problem with current process and
believe that an improved process exists.
 The individual or group must be willing to
learn the new process, and must feel safe in
the learning environment.
 New process must be congruent with
individual's other tasks and responsibilities.
 User must be aware that an innovation
exists and persuaded that the idea is
beneficial.
 A conscious decision must be made to use
the innovation.
 The user must be provided with feedback to
verify that the new innovation is beneficial
in order to sustain change.
 Innovators
 Early Adopters
 Early Majority
 Late Majority
 Laggards
Retrieved from http://en.wikipedia.org/wiki/File:Diffusionofideas.PNG
Reduction in medical errors
Expert support for clinical decisions
Reduction in re-hospitalization
Ability to reach rural patients
Access to experts around the clock
Consistency in documentation
Portability and redundancy of medical records
Ability to create and maintain a complete patient centered
health record
 Enhanced reporting capabilities
 Improved patient follow-up
Where is the evidence?








 Longhurst, C. A., Parast, L., Sandborg, C. I., Widen, E., Sullivan,
J., Hahn, J. S., … Sharek, P. J. (2010). Decrease in hospital-wide
mortality rate after implementation of a commercially sold
computerized physician order entry system. Pediatrics. Advance
online publication. doi: 10.1542/peds.2009-3271
 Poon, E. G., Keohane, C. A., Yoon, C. E., Ditmore, M., Bane, A.,
Levtzion-Korach, O., … Gandhi, T. K. (2010). Effect of bar-coded
technology on the safety of medication administration. New
England Journal of Medicine, 362(18), 1698-1707.
 Chumbler, N. R., Haggstrom, D. A., & Saleem, J. (2010).
Implementation of health information technology in veterans
health administration to support transformational change:
Telehealth and personal health records. Medical Care 48(12),
Advance online publication.
 Evidence-based practice
 Diligent healthcare providers
 Improved quality through focusing on
chronic conditions and other factors
The potential is unimaginable with
paper processes.
 Identify innovators
 Designate specific meeting times
 Develop timeline for project
 Purpose: Allow IT staff the opportunity to
understand the workflow requirements of clinical
operations.
 Methods: Individual key IT personnel observe
 patient encounter through entire visit cycle
 current documentation processes of clinical
staff
 current system report usage
 Purpose: To familiarize IT staff with current forms so
that new system may be analyzed for congruency with
documentation requirements and formatting may be
customized to be similar to current forms whenever
possible.
 Method: IT staff members will analyze
 clinical documentation forms
 external forms (i.e. referral forms for particular
programs)
 reports compiled under current system
 Purpose: Allow clinical staff the opportunity to
further explain and clarify workflow and
documentation needs and to offer suggestions for
process improvement that may be incorporated into
the new system.
 Method: IT Analyst will interview
 clinical staff members
 administrators
 clerical staff
 Thorough testing done in stages
 Involve all staff, not just committee
members
 Be prepared to rework some
components of system
 Encourage constructive criticism
 Onsite vendor support
 Onsite super–user support
 Method depends upon comfort level of
provider
 Plan on decreased productivity
 Emergencies only
 Six month rule
 Utilize the IT Committee
 Thoroughly test all changes
 Train all users on changes
Super-users
Continuing education
IT department
Vendor support
IT Committee
 Required changes to system
 Standards of care
 Medications
 Vaccines
 Patient education documents
 Electronic features
 Electronic standards
ENHANCEMENT REQUEST FORM
NAME:
______________________________
PHONE:
___________________________
DATE:
_______________
TEMPLATE REQUEST
DOCUMENT REQUEST
REPORT REQUEST
DETAILED DESCRIPTION OF ENHANCEMENT REQUEST
________________________________________________________________________
________________________________________________________________________
________________________________________________________________________
________________________________________________________________________
________________________________________________________________________
________________________________________________________________________
______________________________________________________________________
Implementing an EHR is a big
investment. Including your staff and
physicians throughout the planning,
development, and implementation
processes and providing adequate
support post "go-live" enhances the
probability of success.








Leiber, H. S. (2009). Overview of the American Recovery and Reinvestment Act of 2009.
Powerpoint presentation from a virtual conference of the Health Information
Management Systems Society. Retrieved May 1, 2009 from http://www.himss.org/.
Lewin, Kurt (1997). Resolving social conflict/ Field theory in social science. Washington,
D.C.: American Psychological Association.
McGonigle, D., & Mastrian, K. (2009). Nursing Informatics and the Foundation of
Knowledge. Sudbury, MA: Jones and Bartlett Publishers.
Medicare and Medicaid Programs; Electronic Health Record Incentive Program;
Proposed Rule, 75 Fed. Reg . (proposed Jan. 13, 2010) (to be codified at 45 C.F.R. pt. 412,
413, 422, and 495).
Rogers, E. M. (2003). Diffusion of innovations (5th ed.). New York: Simon & Schuster.
Schein, E. H. (1996). Kurt Lewin's change theory in the field and in the classroom:
Notes toward a model of managed learning. Systemic Practice and Action Research 9(1),
27-47.
Shelly, G. B., & Rosenblatt, H. J. (2010). Systems analysis and Design (8th Ed.). Boston,
MA: Course Technology, Cengage Learning.
U.S. Department of Health and Human Services. Health IT Adoption Initiative.
Retrieved June 11, 2009
fromhttp://healthit.hhs.gov/portal/server.pt?open=512&objID=1152&parentname=Comm
unityPage&parentid=11&mode=2&in_hi_userid=10741&cached=true
To be published in the Journal of Nursing Management
within the next 6 months.