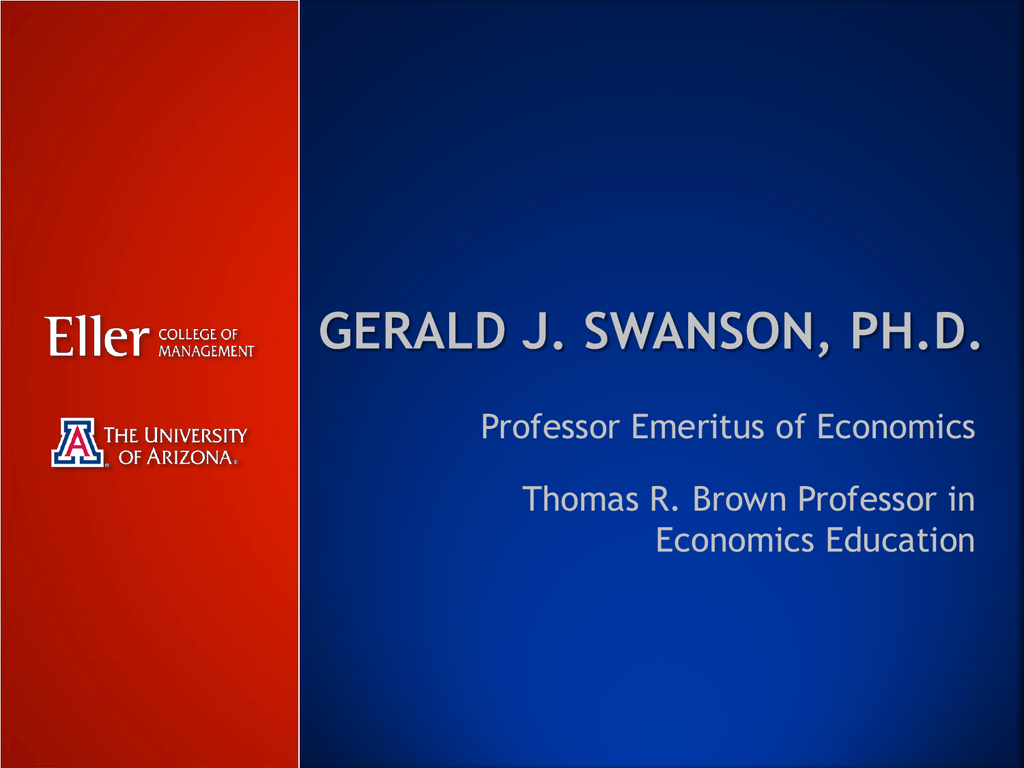 Professor Emeritus of Economics
Thomas R. Brown Professor in
Economics Education
"WHAT MAKES A FAIR TAX?"
Why do we tax?
Tax Equity Rules
HORIZONTAL EQUITY
VERTICAL EQUITY
HORIZONTAL EQUITY
PEOPLE WITH EQUAL ABILITIES TO PAY THE TAX
SHOULD PAY THE SAME AMOUNT OF TAXES
VERTICAL EQUITY
People with different abilities to pay should
pay different amounts of taxes
Acceptable relative treatment of persons in
unequal circumstances
MEASURES OF ABILITY TO PAY:
INCOME
CONSUMPTION
WEALTH
BENEFITS RECEIVED
What is the appropriate relative tax on
persons with different abilities to pay?
 PROGRESSIVE
 REGRESSIVE
 PROPORTIONAL
Tax Rate X Tax Base = Tax Revenue
INCOME TAXES
SALES TAXES
VALUE ADDED TAXES
PROPERTY TAXES
EXCISE TAXES
USE TAXES
ESTATE TAXES
LUXURY TAXES
SUMPTUARY/SIN TAXES
Tax Elasticities
How fast will the tax revenue increase relative
to the growth in the tax base?
Percent change in tax revenue relative to:
a. Percent change in tax base
b. Change in rate structure relative to tax
base
THE TAX REVENUES SHOULD BE SUFFICIENT TO
MAINTAIN THE DESIRED FUNCTIONS OF
GOVERNMENT
A.
The economic impact of the tax should be
neutral unless it is designed to discourage
or encourage a specific action
B.
A broad based tax has less undesirable
economic impacts than a selective tax
A. TAXES SHOULD BE EASY TO ADMINISTER
B. TAXES SHOULD BE VISIBLE
C. MAXIMUM CONVENIENCE IN CALCULATING
TAX LIABILITY - SIMPLE AND STRAIGHT
FORWARD
D. MAXIMUM CONVIENIENCE IN MAKING
PAYMENTS
E. KNOW THE INCIDENCE OF TAX- WHO PAYS IT?
HORIZONTAL EQUITY
DETERMINING WHO IS EQUAL:
EXEMPTIONS
DEDUCTIONS
TYPES OF INCOME
TIMING OF INCOME
EXAMPLES OF DEDUCTIONS USED TO
DETERMINE ABILITY TO PAY INCOME
TAXES
NUMBER OF CHILDREN
MEDICAL EXPENSES
COSTS OF EARNING INCOME
CHARITABLE GIVING
OTHER TAXES PAID
VERTICAL EQUITY:
PROPORTIONAL TAX RATES
PROGRESSIVE TAX RATES
REGRESSIVE TAX RATES
HORIZONTAL EQUITY
WHO IS EQUAL?
EXAMPLES OF EXEMPTIONS:
-FOOD
-PRESCRIPTIONS
-CLOTHING
VERTICAL EQUITY
REGRESSIVE TAX RATE
PROPORTIONAL TAX RATE
PROGRESSIVE TAX RATE
HORIZONTAL EQUITY
TYPES OF PROPERTY
USE OF PROPERTY
AGE OF OWNER
VERTICAL EQUITY
PROPORTIONAL TAX
PROGRESSIVE TAX
TAX AVOIDANCE
CHANGING BEHAVIOR TO AVOID PAYING
TAXES – IT IS LEGAL
TAX EVASION
NOT REPORTING ALL THE TAX BASE
FOR TAX PURPOSES – IT IS ILLEGAL
KEY CRITERIA FOR TAX EVALUATION
1.APPROPRIATE
TAX BASE
2.APPROPRIATE TAX RATE
3.APPROPRIATE TIME PERIOD
DESIGNING A "FAIR" TAX IS TRICKY BUSINESS
IS FAIRNESS IN THE EYE OF:
-THE TAX PAYER?
-THE GOVERNMENT IMPOSING THE TAX?
-THE PUBLIC AT-LARGE?