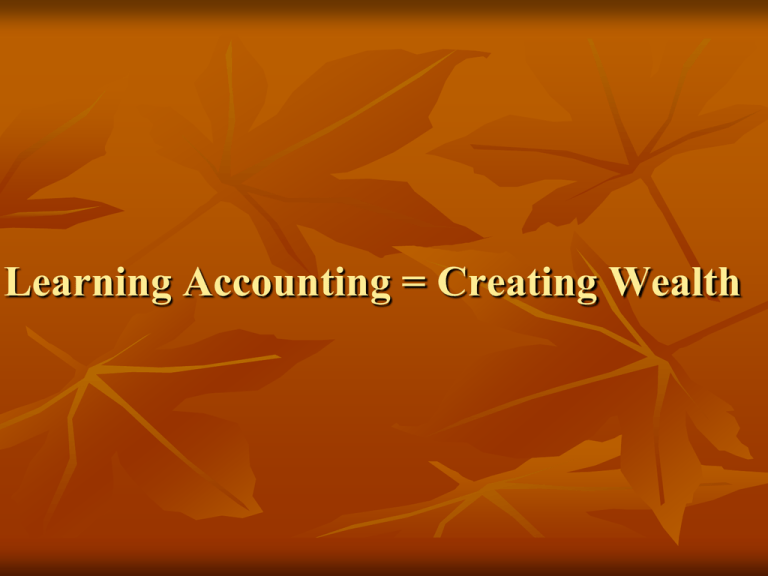 Learning Accounting = Creating Wealth
Accounting Equation
RAHUL JAIN
(Striving for excellence)
BCOM (H), MBA, FCS
Accounting Equation
Assets = Debt + Owners' equity
Debt are the entity's economic
obligations to nonowners.
Owners' equity is the excess
of the assets over the liabilities.
The owners' equity of a corporation
is called stockholders' equity.
Learning Objective
Analyze typical business
transactions using the
Accounting equation.
King Hardware Transactions
1
2
3
4
Initial investment by owners, $100,000 cash.
Acquisition of inventory for $75,000 cash.
Acquisition of inventory for $35,000 on open
account.
Merchandise costing $100,000 was sold on
open account for $120,000.
Balance Sheet

The balance sheet (also called statement of
financial position or statement of financial
condition) is a snapshot of the financial status
of an organization at a point in time.
Balance Sheet
Assets =Liabilities
Assets are economic resources that are expected
to benefit future activities of the organization.
Liabilities are the claims against, or interests in,
the assets of the organization.
Income Statement
The income statement measures
the performance of an organization
by matching its accomplishments
(revenue from customers, which
is usually called sales) and its
efforts (cost of goods sold and
other expenses).
Accrual Basis versus Cash Basis
The accrual basis of accounting recognizes
revenues and expenses when they occur
instead of when cash is received or disbursed.
The cash basis of accounting recognizes
revenue and expense when cash is
received and disbursed.