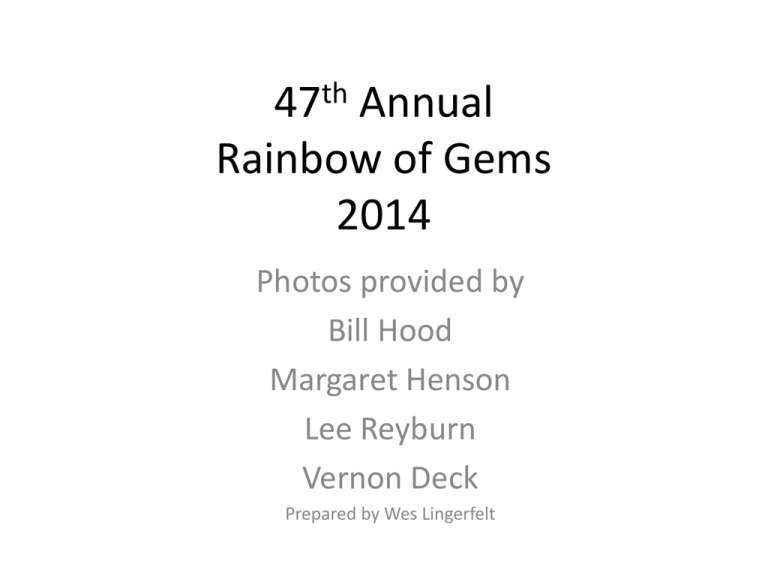 47th Annual
Rainbow of Gems
2014
Photos provided by
Bill Hood
Margaret Henson
Lee Reyburn
Vernon Deck
Prepared by Wes Lingerfelt
Another great success due to hard work and dedication.
Only a couple of incidents this year (That I know of)!
The show was well attended and the weather was fantastic.
The Snack Bar was more successful this year.
The Treasure Chest did better than last year.
The BBQ was less successful this year (only 78 tickets were sold;
1 was used but not paid for).
The Hospitality Booth and the Kids Booth did very well.
There were fewer Inside dealers and more outside dealers
over last year. The number of outside dealers grew to 50 while
the inside dealers fell to 10 from 12 last year.
Diamond Pacific demonstrated a new grinder/polisher with 8
eight inch wheels. Once again the displays were phenomenal.
#########
###########
#############
111111111111
############
#############
############
IT ONLY COMES ONCE EACH
YEAR – PLANNING FOR NEXT
YEAR STARTS NOW! WE NEED
MORE PARTICIPATION TO
KEEP THE SHOW ON A SOUND
FOOTING! WON'T YOU HELP?