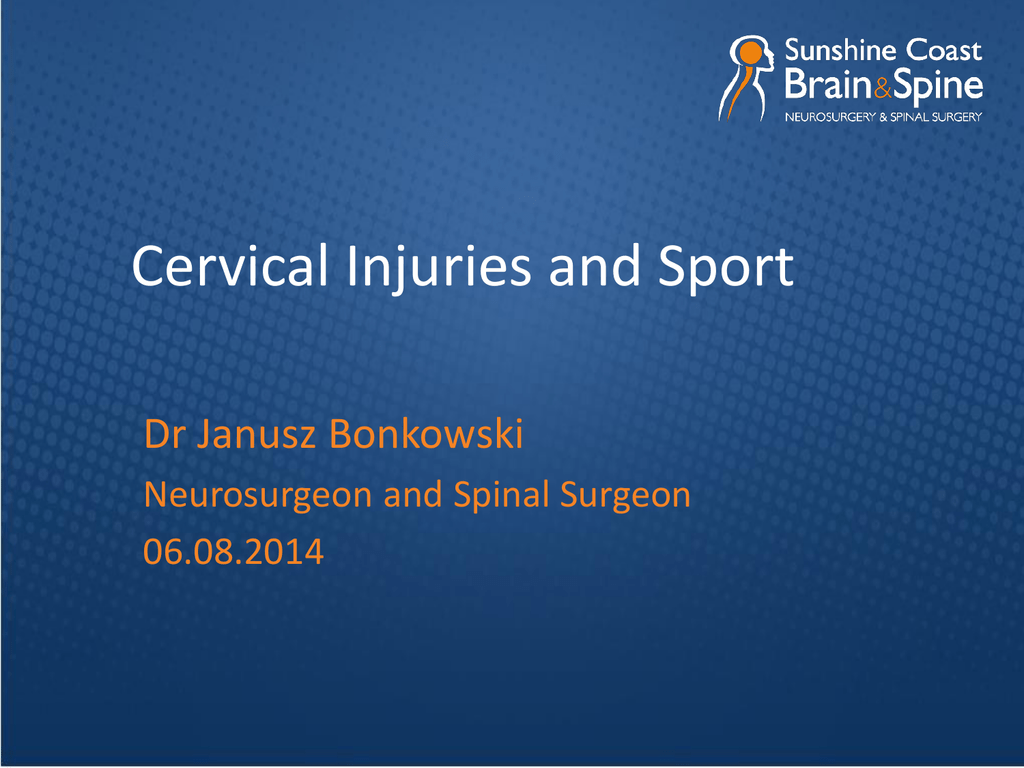 Cervical Injuries and Sport
Dr Janusz Bonkowski
Neurosurgeon and Spinal Surgeon
06.08.2014
Cervical Injuries and Sport
•
•
•
•
•
•
•
•
29 yr old male, otherwise fit and healthy.
Keen rugby player.
Left arm "Stinger" during rugby training late 2007, subsequent MR (report only available)
suggested narrowing of L C6 and L C7 nerve root channels.
Further more acute and protracted L arm pain after training mid-January 2008.
Pain, paraesthesiae into L index finger, slightly into L thumb.
Mild weakness L Triceps with Dec L Triceps Reflex.
Marked Spurling sign into L arm,restricted neck movements.
Repeat MR before referral
Central
L parasagittal
C 5/6
C 5/6
C 6/7
Surgical alternatives for Radiculopathic pain at one level,
one side with adjacent segment changes on MR
•
•
•
•
•
•
•
Posterior cervical foramenotomy: one or two level
Anterior cervical foramenotomy: one or two level
Anterior cervical discectomy
Anterior cervical fusion: at symptomatic level only
Anterior cervical fusion: at both (radiologically abnormal ) levels.
Cervical arthroplasty at symptomatic level
2 level cervical arthroplasty
Scenario #1
•
•
•
•
29 year old.
Insurance agent.
Keen rugby player, local club level.
Would like to keep playing, but has alternative sports interests.
Scenario #2
•
•
•
•
•
29 year old.
Heavy manual work.
Plays at senior club level.
Has been in 2nd grade NPC squad and still has potential at rep level.
Desperate to continue playing.
Scenario #3
•
•
•
•
•
•
29 year old.
Professional rugby has been career for 10 years.
NPC 1st division.
Super 14 current player.
All-Black.
Being headhunted by overseas clubs.
Cervical Cord Neuropraxia
Torg J et al J Neurosurg 1997
•
•
•
•
•
•
•
•
•
110 cases of transient neurological phenomena in sports related activities.
96 in footballers (US)
12 underwent surgery: 9 had one level ACDF
5/9 returned to sports activities with no adverse effects (15 mo av f/u)
-----------------------------------------------------------------------------------------Plain x-ray:7 Kippel-Feil
29 had "degenerative changes"
52 had osteophytic ridging
89 (86%) had canal stenosis
Return to Contact Sport after Spinal Injury
Sontag V et al Neurosurg Focus 2006
•
•
o
o
•
o
o
•
o
o
•
o
Recommendation:
?Return to sport
Posterior foramenotomy
single level
yes
multiple level
yes
Laminectomy/laminoplasty
less then or up to 2 level
yes
more than 2 level
no
Anterior discectomy/fusion/arthro
single/ 2 level
yes
more than 2 level
no
Anterior foramenotomy
single/multi level
yes
Cervical Cord Neuropraxia in Elite Athletes
Maroon J C et al Neurosurg Spine 2007
•
•
•
•
•
5 Footballers age range 20-32, 4 pro, one college
All underwent 1 level ACDF with plates/ allogfaft
All 5 resumed playing
3 continue playing( 3 years, 2 years, one retired after 3 years)
One developed recurrent symptoms after 7 games: adjacent level bulge,
stopped playing.
• One developed recurrent symptoms after 28 games: adjacent level
prolapse; has stopped playing and undergone further ACDF
Rugby Union Injuries to the Cervical Spine and Spinal Cord
Quarrie et al Sports Med 2002
Cite Berge (1999) 35 senior & veteran players c/w age-matched
controls studied with MRI
71% had disc space narrowing (controls 17%)
31% had disc prolapses (controls 3%)
Cite Hughes (2000) 85 Pt with cervical spine injuries treated Burwood Spinal
Unit 1979-1999.
7 had congenital fusions of cervical vertebrae.
Usual incidence of congenital fusion 7/1000.
1: Degenerative changes/ disc prolapses are common in
Professional rugby players and do not require treatment
unless symptomatic.
2: Fusions or stiffened segments of the spine probably
predispose to further damage, either adjacent segment
failure or neuropraxias and are a relative contraindication
to continued playing
3: Theraputic fusions are associated with a high attrition
rate on return to play, may share the same risk profile as
other causes of cervical inelasticity and are best avoided
if surgery becomes necessary.
4: If a player needs for career or personal reasons to
continue to play at a competitive level motion preserving
surgery may be preferrable.
Alex McKinnon
James Tamou
James Tamou
• "Pins and needles affecting one arm"
• "…diagnosed he had aggrevated a previous injury."
• "Our medical staff believe he re-aggrevated a previous condition in the
incident…."
STINGERS
• Painful sensation radiates from neck to fingers after extension impact to
neck.
• May be associated with prolonged or transient motor and sensory
symptoms.
• Mechanism is nerve root compression in intervertebral foramen (85%).
• Alternative mechanism is Brachial Plexus stretch (15%).
STINGERS
• 45% will have recurrent episodes.
• Most patients with recurrent stingers have either cervical spinal stenosis
or foramenal encroachment by osteophytes/disc bulges.
• Needs to be differentiated from "burning hands syndrome" which is
bilateral and a form of central cord syndrome and an absolute
contraindication to return to contact sport.
Transient Quadraparesis
•
•
•
•
•
Occurs with Hyperxtension injuries.
Is a form of Central Cord Syndrome.
Usually affects upper limbs more than lower limbs.
Can last from 10 min. to 36 hrs.
High association with radiological changes; cervical stenosis, Klippel-Feil,
disc prolapse, kyphotic deformity.
Absolute Contraindications on RTP
•
•
•
•
•
•
Previous transient Quadriparesis:
2 or more previous episodes
Evidence of cervical myelopathy
Continued cervical discomfort
Decreased ROM
Neurological deficit.
Vaccaro, AR et al Curr Reviews MS Med 2008
Absolute Contraindications on RTP
•
•
•
•
•
•
Postsurgical patients:
C1-2 fusion
Cervical laminectomy
Anterior cervial fusion more than 2 levels
Posterior cervical fusion more than 2 levels
Cervical arthroplasty more than one level
Absolute Contraindications on RTP
• Soft tissue injuries:
• Asymptomatic ligamentous laxity ( more than 11% kyphotic
deformity)
• C1-2 hypermobility (Atlantodens interval more than (3.5mm.)
• Radiology suggesting distraction-extension injury.
• Symptomatic cervical disc herniation
Absolute Contraindications on RTP
•
•
•
•
•
Radiological Findings:
Multilevel Klippel-Feil
Spear-tacklers spine ( kyphotic spine with stenosis)
Healed subaxial fracture with sagittal or coronal plane deformity
Ankylosing Spondylitis or Diffuse Idiopathic Skeletal Hyperostosis or
Rheumtoid Arthritis.
Absolute Contraindications on RTP
•
•
•
•
•
•
MR/CT Findings:
Basilar invagination
Fixed Atlanto-Axial rotatory subluxation
Occipital-C1 assimilation
Residual cord encroachment after healed subaxial spine fracture
Any cord abnormality or cord signal change.
Relative Contraindications to RTP
• Prolonged symptomatic stinger/burner or transient quadriparesis more
then 24 hr.
• More than 3 prior episodes of stinger/burner
• Failure to return to baseline ROM, neurological status or increasing neck
discomfort.
• Healed 2 level anterior or posterior fusion surgery.
On-field assessment
Zahir U et al Seminars in Spine Surgery 2010
Conclusion: Get him/her of the field!
Conclusion
All data is based on Grade III evidence
or worse, no consensus even amongst
experts on RTP criteria or management.