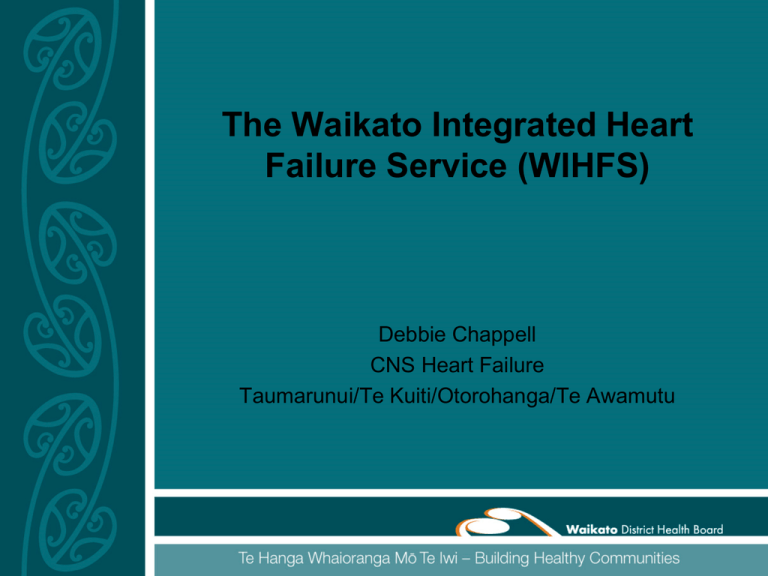 The Waikato Integrated Heart
Failure Service (WIHFS)
Debbie Chappell
CNS Heart Failure
Taumarunui/Te Kuiti/Otorohanga/Te Awamutu
The Waikato Integrated Heart Failure Service Team
HF CNSs:
• Julie Jay, Eileen Gibbons, Karyn Haeata,Debbie Chappell,
Simona Inkrot, Catherine Callagher
Cardiologists:
• Mark Davis, Gerry Devlin, Raewyn Fisher
Sonographers
HF in Aotearoa/NZ
2 % Heart Failure prevalence in Western societies
HF Incidence is rising with an ageing population and the
improved treatment and survival of heart disease
Median survival of 3.5 years after initial HF admission in
NZ
One-year HF mortality rates after initial hospital admission
are between 25 and 35%
Maori patients admitted with HF are significantly younger
than NZ European: mean age 62 vs. 78 years
McMurray et al., 2012; Wasywich et al, 2010; Schaufelberger et al., 2004; Wall et al., 2012
Refresher A&P
Definition
Heart Failure is a clinical syndrome where the heart is unable to
pump blood at a rate required by the body, patients present with
some or all of the following features:
Symptoms typical of heart failure
(breathlessness at rest or on exercise, fatigue, tiredness, ankle swelling)
AND
Signs typical of heart failure
(tachycardia, tachypnoea, pulmonary rales, pleural effusion, raised jugular
venous pressure, peripheral oedema, hepatomegaly)
AND
Objective evidence of structural or functional abnormality of the heart at
rest
(cardiomegaly, third heart sound, cardiac murmurs, abnormality on the
echocardiogram, raised natriuetic peptide concentration)
Normal
HF-REF
HF-PEF
Some causes of heart failure
•
•
•
•
•
•
•
•
•
Coronary artery disease
Hypertension
Valvular heart disease
Cardiomyopathies
Endocrine disorders-thyrotoxicosis
Genetic conditions
Congenital heart disease
Inflammatory
Chronic arrhythmias
• Also think of co morbidities – diabetes, obesity, COPD
Pathophysiology
Compensatory mechanisms of acute heart failure
• Sympathetic nervous system activation
• Renin-angiotensin system activation
• LV remodelling
OUTCOME:
• Vasoconstriction – Increased HR, SV leads to increased CO
• Attempt to maintain cardiac output and vital organ perfusion –
heart, brain, kidneys
Maladaptation
• Compensatory mechanisms become "maladaptive"
in chronic heart failure
OUTCOME:
- Excessive vasoconstriction
- Increased afterload
- Excessive salt and water retention
- Electrolyte abnormalities
- Arrhythmias
Investigations
• Observations – TPR BP (lying/standing), weight, height BMI
• ECG – old and new changes
• Bloods – CBC, U&E, Cardiac enzymes, NT-pro BNP, LFT,
Cholesterol, TFT
• CXRay – old and new
• ECHO- normal EF >55%, moderate – severe HF<40%
Treatment Options – medical vs intervention
Pharmacological
- Diuretics
-ACEi
-Beta-blockers
-Other drugs
Non pharmacological
-fluid management
-nutrition
-physical activity
-smoking
-psychosocial support
-other factors
Case studies
• 75 year old female
• History incr SOBOE (getting
worse)
• Bilateral pitting oedema
• JVP +2, chest clear
•
•
•
•
History hypertension
Dip stick, LFT, U&E
NT pro BNP 400 pg/mL
Refer - ECHO normal LV,
elevated filling pressures, HFpEF
• Treatment options
•
•
•
•
49 year old male
Bilateral oedema, pants tight
Appetite depressed
JVP normal, ascites, ? pulsatile
liver
• Jaundiced
•
•
•
•
•
Dip stick (bilirubin)
LFT - abnormal
NT pro BNP – normal
Renal – normal
Check ? Hepatitis, alcohol, blood
transfusion
Aims of treatment / nursing role
• Improve symptoms – fluid restrict, daily weigh, medication
• Improve LV function – medication, medical intervention
• Improve exercise tolerance – moving, pacing themselves
• Improve patient education & self-management – HF booklet
• Decrease hospital admissions - improve survival
• End of life care
CNS led interventions for HF patients
Decreased hospitalisation, decreased number of
events, readmissions and days in hospital
Improved survival
Cost effective
Improved self-care behaviour
Stromberg et al., 2003; Phillips et al., 2005
Referral Criteria
Inclusion:
• Patients with possible heart failure and/or at high risk for heart failure in the community, e.g.
previous MI, family history of cardiomyopathy
• Patients readmitted for heart failure within 3 months
• Heart failure patients with significant co-morbidities affecting optimisation of treatment
• "Shared care" for end stage/palliative care
Exclusion:
• Lack of consent from patient
• Acute coronary syndrome
• Patients already under the care of a cardiologist, unless referred by this cardiologist
(inclusion criteria must be satisfied)
COMPONENTS OF WIHFS
• Specialist clinics (CNS and cardiologists), Home visits, Telephone care
– Patient and family/whanau education: heart failure knowledge and self-care
– Clinical monitoring
– Titration of heart failure medications in consultation with GP and/or cardiologist
• Professional education/CME for other health professionals and community teams
Thank you
Debbie Chappell – Taumarunui
Te Kuiti/Otorohanga/Te Awamutu
0212419452
07 8785192
Questions?