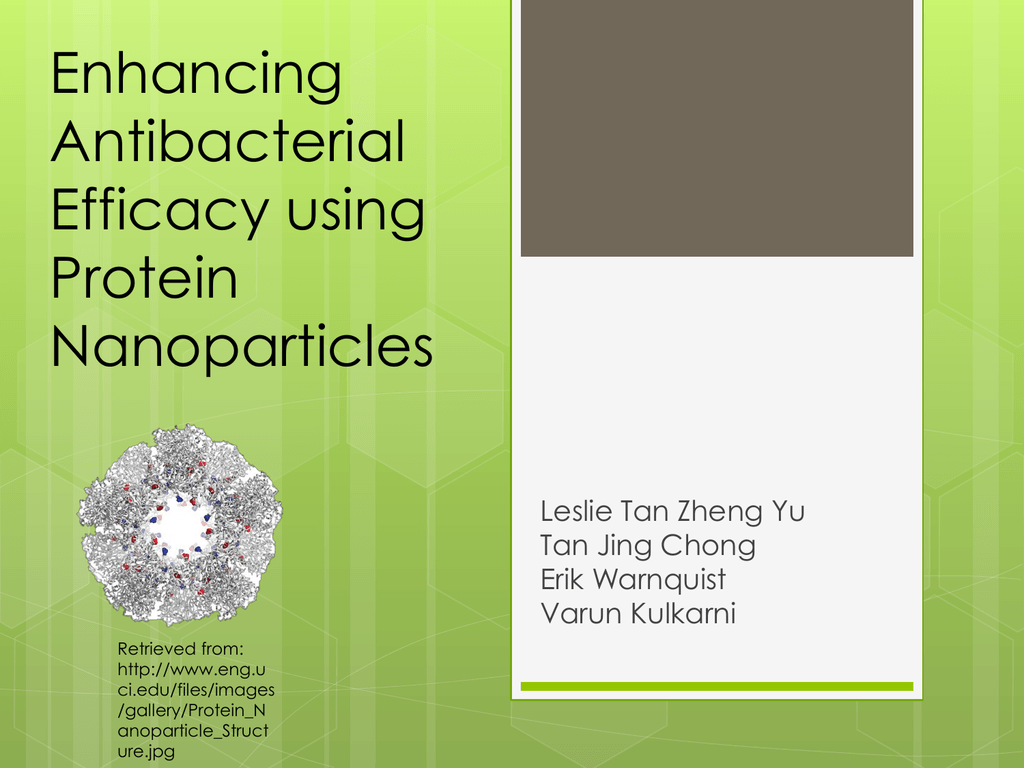 Enhancing
Antibacterial
Efficacy using
Protein
Nanoparticles
Leslie Tan Zheng Yu
Tan Jing Chong
Erik Warnquist
Varun Kulkarni
Retrieved from:
http://www.eng.u
ci.edu/files/images
/gallery/Protein_N
anoparticle_Struct
ure.jpg
Introduction
 Pesticides
are used to eradicate
Agrobacterium tumefaciens
 High percentage of pesticide does not
reach the target species.
 Result in water and soil pollution.
 Threatens biodiversity.
Introduction
 Usage
of nanoparticles as drug carrier for
pesticides
 Increase in therapeutic efficacy
 Increasing localisation to diseased sites
 Decrease in side effect
 Protein Nanoparticle are biodegradable,
metabolisable and non-antigenic
 Does not accumulate in tissue
Objective
 To
compare the effectiveness of
antibiotic loaded albumin nanodroplets
against antibiotic loaded albumin
nanofibre on A. tumefaciens, grown both
in vitro and in vivo.
Hypothesis
 The
two delivery techniques will be
comparable, through both qualitative
and quantitative means
Variables
Independent
• Method of drug delivery
Dependent
• Efficacy of drug delivery
system
Controlled /
constant
• Type of bacteria
(A.tumefaciens)
• Volume and types of antibiotic
- tetracycline and ampicillin
• Agrobacterium volume
• Sizes of potato strips
• Temperature and humidity
Equipment
 Electrospinning
apparatus
 Scanning electron microscope (SEM)
 Homogenizer
 Incubator
 Environmental chamber
 Spectrophotometer
Materials
•
•
•
•
•
•
Bovine Serum Albumin
Alcohol
A. tumefacians
Potato strips
Diffusion assays
tetracycline and ampicillin
Preparation of albumin
nanodroplets
Emulsification
• Aqueous Bovine Serum Albumin is turned into
an emulsion at room temperature and in oil
• A homogenizer is used to make the emulsion
homogeneous. There is a high dispersion of
particles
• Emulsion is added to pre-heated oil
• Albumin nanoparticles are separated by
desolvating agent eg. Alcohol
Preparation of albumin
nanofibers
Electrospinning
• Solution inside a syringe exposed to initial
electric field
• Electric field increases in charge
• Point is reached where attractive forces
of charges exceeds surface tension
• The fibers are projected onto a
grounded collector
Antibiotic loading nanodroplets
•
•
•
Incubating nanoparticles in antibiotic
solution
Antibiotic contained in nanoparticles
Done at protein's isoelectric point


•
•
Minimum solubility and maximum absorption
BSA: pH of 4.4
Larger amount of antibiotic loaded
Antibiotic entrapment efficacy
measured
Antibiotic loading
- nanofibres
 Antibiotics
mixed in albumin solution
 Homogenous
solution
 Hypothesis that spinning solution will
result in the non polymer antibiotics also
being spun
Effectiveness of antibioticloaded nanoparticles
•
•
•
•
Protein nanoparticles digested by
proteases to release antibiotics
Antibiotic-loaded nanoparticles are
subjected to:
A.tumefacians agar plates discs
A.tumefacians-potato strips
Timeline (HCI)
Form droplets
w/ specific
concentration
and temp.
Examine results
and modify
original solution
Send for
characterization
Load droplets
with antibiotics
Test droplets
Timeline (AOS)
Form solution
with specific
concentration
Examine results
and modify
original solution
Send for
characterization
Spin solution
Test fibers
References


Buschle-Diller, G., Cooper, J., Xie, Z., Wu,
Y., Waldrup, J., & Ren, X. (2007). Release
of antibiotics from electrospun
bicomponent fibers. Cellulose, 14(6), 553562
Collins, A. (2001). Agrobacterium
tumefaciens. Department of Plant
Pathology, University of North Carolina
State. Retrieved September 19, 2010 from:
http:/www.cals.ncsu.edu/course/pp728/
Agrobacterium/Alyssa_Collins_profile.htm



Frenot, A., & Chronakis, I.S. (2003). Polymer
nanofibers assembled by
electrospinning. Current Opinion in
Colloid and Interface Science, 8(1),
64-75.
Hyuk, Y.S., Taek, G.K., & Park, T.G. (2009).
Surface-functionalized electrospun
nanofibers for tissue engineering and
drug delivery. Advanced Drug Delivery
Reviews, 61(12), 1033-1042.
Jahanshahi, M. & Babaei, Z. (2008).
Protein nanoparticle: A unique system
as drug delivery vehicles. African Journal
of Biotechnology, 7(25), 4926-4934.

Knee, M., & Nameth, S. (2007). Horticulture
and Crop Science: Bacteria. The Ohio
State University, Horticulture Department.
Retrieved September 12, 2010 from :
http://www.hcs.ohiostate.edu/hcs300/bact.htm

Kratz, F. (2008). Albumin as a drug carrier:
Design of prodrugs, drug conjugates
and nanoparticles. Journal of
Controlled Release, 132(3), 171-183.

McManus, P. (2007). Antibiotic Use in Plant
Disease Control. Fruit Pathology:
University of Wisconsin-Madison.
Retrieved September 13, 2010 from:
http://www.plantpath.wisc.edu/fpath
/antibiotic-use.htm
 M.R.,
Jahanshahi, M., & Najafpour, G.D.
(2006). Production of biological
nanoparticles from bovine serum
albumin for drug delivery. African
Journal of Biotechnology, 5(20), 19181923.