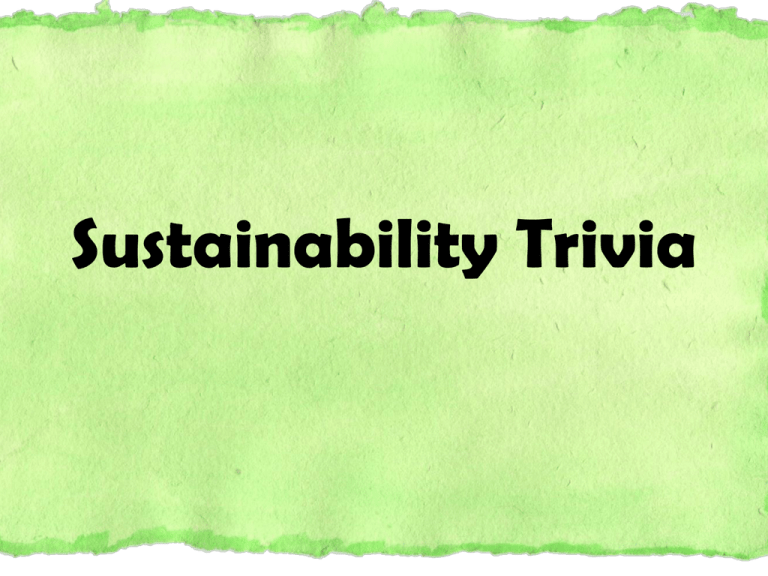 Sustainability Trivia
Which one of the following is not a fossil fuel?
a)
b)
c)
d)
Coal
Wood
Oil
Natural Gas
Which of these energy sources is not
renewable?
a)
b)
c)
d)
Petroleum
Geothermal
Solar
Wind
Burning fossil fuels releases what harmful gas?
a)
b)
c)
d)
Hydrogen
Helium
Mustard Gas
Carbon Dioxide
Which of these energy sources is renewable?
a)
b)
c)
d)
Coal
Natural Gas
Wind
Uranium
A photovoltaic panel collects what type of
renewable energy?
a) Hydro energy
b) Solar Energy
c) Wind Energy
What is the name of the Fayette County
AgriScience Farm for high school students?
a)
b)
c)
d)
Wellington
Lansdowne
Henry Clay
Locust Trace
Renewable energy sources:
a)
b)
c)
d)
Do not pollute the environment
Protect the ozone layer
Are constantly re-produced by nature
Don't cost money
Which of the following is a way to save energy?
a)
b)
c)
d)
Buy local food
Reduce water waste
Turn off the lights
All of the above
Where does Kentucky get the majority of its
energy from?
a)
b)
c)
d)
Burning Coal
Solar Panels
Wind Turbines
Burning wood
Which of the following is not recyclable in
Lexington?
a)
b)
c)
d)
Plastic Milk Jugs
Plastic Soda Bottle Lids
Paper Chick-Fil-A bags
Aluminum Cans
In Canada there are approximately 3900 of
these:
a)
b)
c)
d)
e)
Nuclear generators
Organic Farms
Recycling plants
Landfills
People
What recent book-turned-movie looks at the
problems facing the environment?
a)
b)
c)
d)
Twilight: Breaking Dawn
Dr. Seuss' The Lorax
The Hunger Games
Harry Potter & The Deathly Hallows, Part 2
Which is more efficient, meaning it uses less
energy?
a) One 60-watt incandescent bulb
b) Two 15-watt CFL bulbs
c) They are the same
What is the unit of measure for electricity used?
a)
b)
c)
d)
Kilowatt-hours
Amps
Volts
Degrees
Approximately how much money does Fayette
County Public Schools spend on electricity in
one year?
a)
b)
c)
d)
$6,000,000,000
$6,000,000
$600,000
$60
Who invented the light bulb?
a)
b)
c)
d)
Mrs. Logsdon
Tom Shelton
Thomas Edison
John Calipari
What percent of energy used around the world
comes from fossil fuels?
a)
b)
c)
d)
None
40%
90%
100%
What percentage of the world's water supply is
saltwater or otherwise undrinkable?
a)
b)
c)
d)
14%
29%
50%
97%
What is a substance that dirties the air, water, or
ground – thereby harming the living
organisms called?
a)
b)
c)
d)
Pesticides
Non-biodegradable
Pollutant
Environmentally Friendly
Great Job!