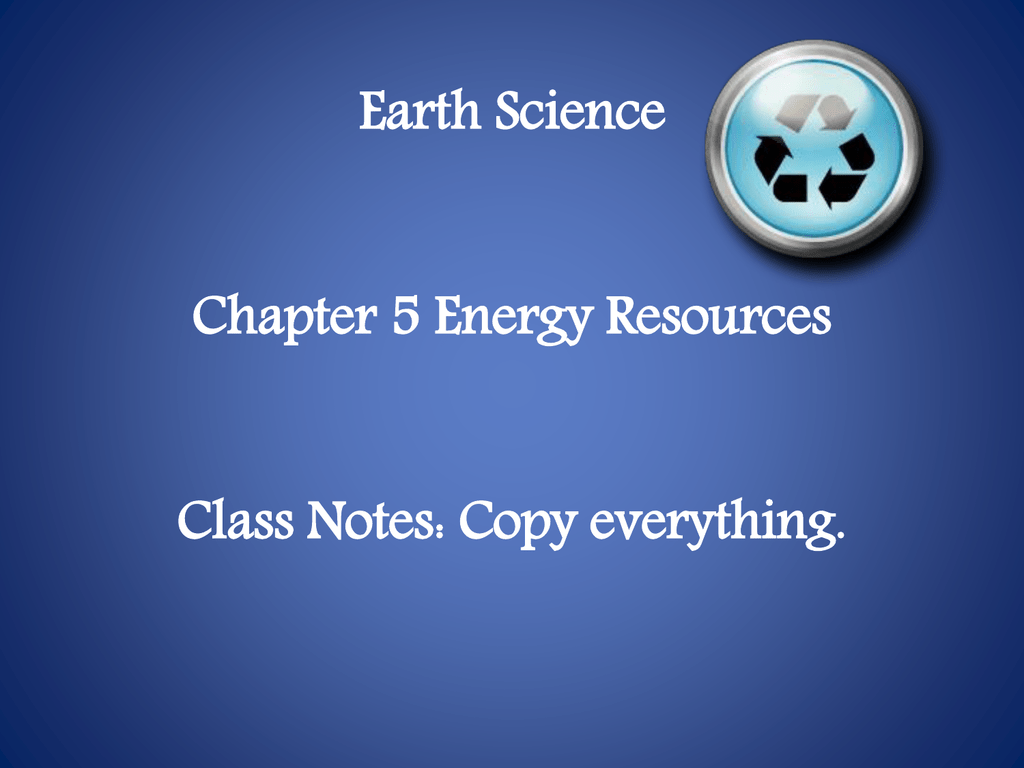 Earth Science
Chapter 5 Energy Resources
Class Notes: Copy everything.
Ch.5 Section 1 Summary
• Renewable
resources can be replaced
within a relatively short
period of time.
• Nonrenewable resources
may take thousands or
MILLIONS of years!
Ch. 5 Section 2 Summary
• Petroleum is a liquid fossil
fuel that is made of
hydrocarbon compounds.
• Natural gas is a gaseous
fossil fuel that forms from
the remains of swamp
plants.
Ch. 5 Section 2 Summary Continued
• Fossil fuels are obtained by
drilling oil wells, mining below
Earths surface, and strip mining.
• America imports half of the
petroleum it uses from the Middle
East, South America, Africa,
Mexico, and Canada.
Ch. 5 Sec. 3 Summary
• For Fusion to take place,
high temperatures are necessary.
• Fuel cells combine hydrogen and
oxygen to produce electrical energy.
• Fuel cells release WATER as a
byproduct.
Question
• What is the difference between fusion and
fission? Write the answer in your notes.
• Energy released by fission or fusion reactions
is NUCLEAR ENERGY.
Ch. 5 Section 3 Summary
• Wind power is a renewable
resource that doesn't emit
pollution.
• Solar energy is a
renewable resource that doesn't
emit pollution, but solar panels
are expensive.
Continued
• Geothermal Energy comes from
Earth, but its only available in
certain areas.