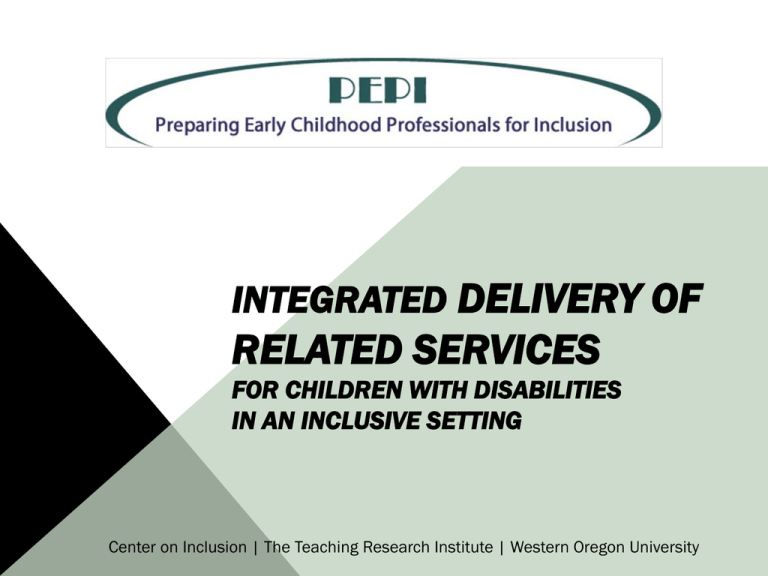 INTEGRATED DELIVERY OF
RELATED SERVICES
FOR CHILDREN WITH DISABILITIES
IN AN INCLUSIVE SETTING
Center on Inclusion | The Teaching Research Institute | Western Oregon University
LEARNING OBJECTIVE
Collaboration Objective 2:
Students will understand the integrated delivery of
services and the roles and responsibilities of related
service providers serving children with disabilities in
inclusive settings.
WHAT IS INCLUSION?
Early childhood inclusion embodies the values, policies, and
practices that support the right of every infant and young child
and his or her family, regardless of ability, to participate in a
broad range of activities and contexts as full members of
families, communities, and society. The desired results of
inclusive experiences for children with and without disabilities
and their families include a sense of belonging and
membership, positive social relationships and friendships, and
development and learning to reach their full potential. The
defining features of inclusion that can be used to identify high
quality early childhood programs and services are access,
participation, and supports.
DEC/NAEYC joint position statement, 2009
WHAT IS AN INCLUSIVE SETTING?
An inclusive early childhood setting is one in which ALL
children have access to ALL age appropriate activities and
learning opportunities.
To have full access, children with
disabilities will require access to a wide
range of learning opportunities and
environments, participation through
individual accommodations and
supports, and supports for all personnel
to insure high quality early childhood
inclusion.
UNIVERSAL DESIGN
FOR LEARNING
Universal Design for Learning is a framework for supporting all young
learners
The universal design of early learning "suggests that instead of
creating a curriculum and then adapting it to meet the needs of
individual children in the program, it is better to start off with an
instructional design which provides learners with a variety of ways to
access and process information and demonstrate what they have
learned" (Blagojevic, Twomey, & Labas 2002).
Resources:
The Universal Design of Early Education
National Center on Universal Design for Learning
WHAT IS INTEGRATED DELIVERY OF RELATED SERVICES?
Related services are provided as a part of the day to day instructional
design of the child care program and are delivered within the regular
classroom setting rather than in isolation.
Targeted skills are woven into the child's daily schedule as
functional skills within naturally occurring activities.
Early childhood educators work side-by side with the
related service providers and learn to embed the
instructional techniques into every part of the child's day.
Services are delivered in an integrated manner,
maximizing the sharing of knowledge and methods
across disciplines.
WHAT ARE RELATED SERVICES?
Related services are those supports for children with special needs that may be provided by
people with specific training. Within the Individuals with Disabilities Education Act (IDEA) there
are many related services representing different disciplines, including:
Psychological
Services
Recreation
and
Therapeutic
Recreation
Speech
Language
Audiology
School
Health
Rehabilitative
counseling
Interpreting
Services
Medical
Transportation
Social
Services
Nursing
Physical &
Occupational
Therapy
Nutrition
Early
Identification
& Assessment
Assistive
Technology
Health
Parent
Counseling
Orientation
& Mobility
Related Service Providers
Related Service Providers
collaborate with Early
Childhood Education
personnel to provide those
services in early childhood
settings.
COMMON RELATED SERVICES
Within Early Childhood Educational settings,
some of the most common related services
are:
• Speech-language therapy
• Occupational therapy
• Physical therapy
OTHER RELATED SERVICES PERSONNEL
Low Incidence Disabilities:
There are related service providers who specialize in very low
incident disabilities, for example, children who have:
Vision impairment
Hearing impairment
deaf-blindness
brain injury
or autism
EARLY INTERVENTION/EARLY CHILDHOOD
SPECIAL EDUCATION (EI/ECSE) SERVICES
EI/ECSE specialists collaborate
with the primary adults in the
child's life, including ECE
teachers, related service
personnel, and parents or legal
guardians.
Related
Services
Family
EI/ECSE
Consultant
Instructional
Assistants
ECE
teachers
Through collaborative
consultation and coaching, the
EI/ECSE consultant supports the
adults involved in planning,
implementing and evaluating the
child's Individual Family Support
Plan (IFSP) goals and outcomes.
INTEGRATED DELIVERY OF RELATED SERVICES
On the following slides, you will hear from
some of the individuals who make up a
child's IFSP team, including the EI/ECSE
consultant and a variety of related service
providers who will discuss:
• The services they provide
• How they work with families and ECE staff
• The benefits of working in an inclusive
setting
EI/ECSE Specialist
The EI/ECSE specialist typically coordinates and consults with
the child's team of educators, related services and family
members.
This role is crucial in terms of bringing everyone together from
the point of initial assessment to determine eligibility for
Special Education services and developing and implementing
the child's Individualized Family Service Plan (IFSP), through
monitoring child progress and making program changes.
Ellen Dockery-Reger – EI/ECSE Specialist (8:33)
Click above link to view in YouTube.
The EI/ECSE Consultant's Role
• Schedules and facilitates IFSP meetings
• Provides service coordination of the child's IFSP and related
services
• Ensures services are provided
• Observes and provides feedback about the classroom
environment and staff
• Consults with and models individualized, intervention
strategies for ECE providers
• Facilitates or conducts evaluation and data collection
• Makes program changes based on child progress
S p e e c h a n d L a n g u a g e P a t h o l o g i s t ' s Ro l e
Identify children with speech or language
impairments
Counsel and guide parents and teachers
Provide speech and language services that address
typical and atypical communication and swallowing
issues in the following areas:
Speech sound production
Resonance (airflow for speech)
Comprehension also know as receptive language
Expression including sounds, words and sentences within appropriate
context
• Feeding and swallowing
•
•
•
•
Resources:
American Speech-Language-Hearing Association
Sharon de Laveaga – Speech-Language Specialist (9:34)
O c c u p a t i o n a l T h e r a p i s t ' s Ro l e :
address fine motor skills and sensory integration
such as:
• Self-help skills such as eating snack or putting
on a jacket
• Fine motor skills such as holding a crayon and drawing, or
cutting with a pair of scissors
• Sensory-motor processing – using their senses and muscles
• Functional mobility (moving safely around the classroom)
• Positioning (sitting in a chair at snack time or sitting at circle)
Resources:
American Occupational Therapy Association
Minaz Chauthani – Occupational Therapist (8:34)
P hy s i c a l T h e r a p i s t ' s Ro l e :
• Provide treatment to increase joint function, muscle
strength, mobility and endurance
• Address gross motor skills that rely on the large muscle of
the body involved in physical movement and range of motion
• Help improve the student's posture, gait and body
awareness
• Monitor the function, fit and proper use of mobility aids and
devices
Resource:
American Physical Therapy Association
Section on Pediatrics
The OT and PT are highly trained professionals who are important team members
when a child has significant delays in feeding, fine or gross motor or sensory
concerns.
It is important to learn techniques and methods of handling young children directly
from these therapist before trying them in the classroom.
It is also important to realize that methods of sensory integration are not
considered evidenced-based practices because more research is needed as to
their effectiveness. Therefore the use of sensory integration techniques or sensory
diets should be used with caution and under the direct supervision of an
experienced therapist.
Sensory Specialist's Role
• Observing and evaluating the child in
his environment.
• Meeting and brainstorming with the child's team including
family members.
• Providing support for the child in the preschool environment
or family home.
• Conducting training, modeling and follow up assistance for
teams.
• Observing and discussing implementation of strategies.
Resources:
Oregon Deafblind Project
National Center on Deaf-Blindness
Lyn Ayer – Director, Oregon Deafblind Project (7:22)
INTEGRATED DELIVERY OF RELATED SERVICES
Key features of integrated (across disciplines) delivery of related
services include:
Collective responsibility
Functional Practices and Interventions
Practical
Integrated
Collective Responsibility
DO put it all together
DON'T think "yours" versus "mine"
Different perspectives make for better decisions
Team members include individuals (EI/ECSE consultants,
early childhood educators, related service personnel,
family members) who engage in the assessment and
program planning process to implement evidenced-based
practices and interventions services.
Functional
Practices and interventions should:
• promote child engagement, independence, and social
relationships
• occur in the context in which the child lives and plays
• be purposeful and useful to the child and family
• be delivered during natural opportunities and within
daily routines.
Practical
All practitioners and family members can implement
these practices and interventions.
Activities and strategies are meaningful in the context of
the caregivers daily routines
Practices and interventions focus on the goals the team
has created for the child.
BENEFITS OF INTEGRATION OF RELATED SERVICES
Practices and interventions are:
 More holistic and complete
 More efficient
 More cost effective
 Benefit both children with disabilities as well as their typically
developing peers
 Help to support families who will be life long teachers for their
child.
 Children view each other as equals
 Children learn to support one another from peer to peer.
Center on Inclusion | The Teaching Research Institute | Western Oregon University
This enhancement was developed under a grant from the U.S. Department of
Education, Office of Special Education Programs (#H325N100017). The
contents do not necessarily represent the policy of the Teaching Research
Institute or the US Department of Education, nor do they in any way
constitute an endorsement by the funding agency .