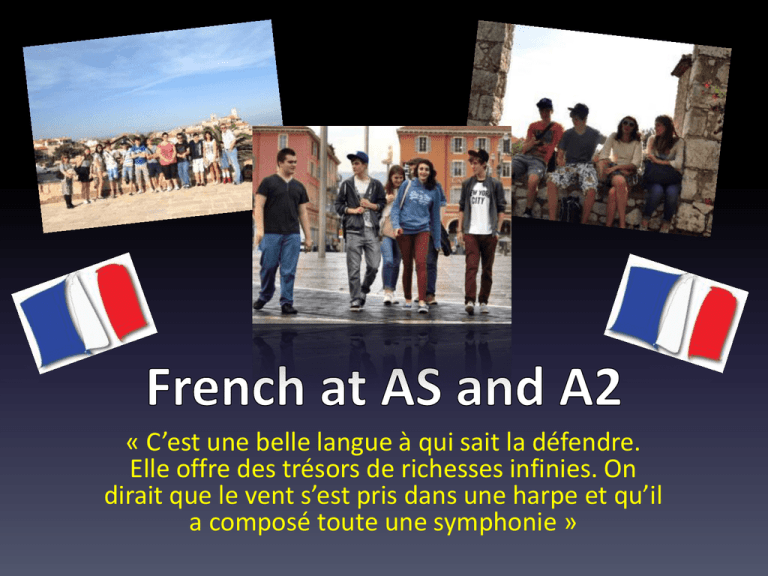 « C'est une belle langue à qui sait la défendre.
Elle offre des trésors de richesses infinies. On
dirait que le vent s'est pris dans une harpe et qu'il
a composé toute une symphonie »
French: Facts and Figures
• 200 million speakers
• 2nd most learned language
• Official language of 32 states
• Spoken in 50 countries over 5 continents
• French speaking Africa is bigger than the USA
• 3rd most used language on the Internet
5th
largest GDP
(France)
UN, EU and
Red Cross
Olympics
So, why learn French?
"Facilitating Subject"
(Russell Group)
i.e. on which increases students' chances of
gaining a place on the most competitive courses
From GCSE to AS
• At GCSE, French is all about 'me' : my life, my
family, my hobbies, my ambitions…
• At AS you study the focus is 'me and society' :
how everyday life and decisions affect me –
still using familiar topics
From AS to A2
• A2 is about 'The Wider Society' at looks at
bigger issues affecting the world today
• Your control of grammar will grow. No more
moving parts of grids around but instead using
language you want to use in order to say what
you want to say
The Course – AQA French
AS Level
A2 Level
Unit 1
Listening, Reading and Writing
2 hours exam
70% of AS (35% of A2)
Unit 3
Listening, Reading and Writing
2 ½ hours exam
35% of A2
Unit 2
Speaking
15 minute exam
30% of AS (15% of A2)
Unit 4
Speaking
15 minute exam
15% of A2
AS Level
• Topics: Media (TV, advertising, Internet) Popular
Culture (music, film, fashion), Healthy Living (sport,
health, holidays) and Family and Relationships
(family, friendship, marriage)
• Exam: Listening and reading comprehensions,
grammar exercise, essay on a sub-topic of the above
• Oral: Stimulus card, general discussion on various
sub-topics
A2 Level
• General Topics: Environment, The Multi-Cultural Society,
Contemporary Social Issues
• Cultural Topics (2012-13)
• Film - Entre Les Murs
• Historical Period – La France sous l'Occupation
• Exam: Listening and reading comprehensions, translation
exercise, essay on one of the cultural topics
• Oral: Discussion of general topics (argument), discussion of
both cultural topics
Grade Boundaires
• UMS out of 400
(200 at AS)
•A
340/400
(160/200)
•B
240/400
(140/200)
•C
200/400
(120/200)
• A* grade requires 180/200 in the A2 units
Our Results
• A2 Results:
2013 – 83% A*, 100% A* - B
2012 – 100 A, 100% A – B,
• AS Results
2013 – 75% A to B
2012 – 73% A to B
In the last 2 years,
we have sent 4
students to study
French at Oxbridge
colleges
Teaching at AS and A2
• 8 periods a week
• 4 teachers (VCS, REM, AXS, TJD)
• Plus 1 period a week conversation lesson
• Paired at AS / 1-2-1 at A2
• 1 timetabled DLL slot a fortnight (often more)
• Revision Day
Resources
• Elan 1 and Elan 2 course book
• Kerboodle online learning
platform
• 'In-house' and online native
speaker resources
• Magazines, books and DVDs
Outside the Classroom
• Nice study trip
• Trips to Institut Français
• Film workshop at BFI
• Guest speakers and seminars
• Senior French Society
• Student led initiatives
An Ideal Student…
• ENTHUSIASTIC!
• Participates fully in lessons
• Makes the most of conversation lessons
• Independent – learning vocab, practising grammar
• Goes beyond the classroom – websites, newspapers,
TV, DVDs, magazines
• Gets involved in all the department has to offer –
trips, visits, French Society…
Beyond AS and A2
• Most students follow on some aspect of their
language learning into Higher Education
• Language courses
• Joint honours courses
• Years abroad, Erasmus exchanges, semester
overseas…
Graduate Unemployment Rates
Medicine etc.
Education
Law
0.44%
3.31%
3.76%
French, Spanish & German 4.14%
English
Business / Administration
Biological Sciences
Physical Sciences
Engineering / Technology
Computing
Media Studies
6.57%
6.76%
6.81%
6.96%
7.56%
8.36%
9.76%
Language Graduate Destinations
Business Services
Banking / Finance
Wholesale / Retail
Manufacturing
Public Administration
Community / Social Services
Education
Transport / Communications
Hotels & Restaurants
Other Areas
26.9%
13.1%
11.8%
10.1%
7.9%
7.7%
6.5%
5.7%
3.7%
2.7%
Don't just take our word for it….