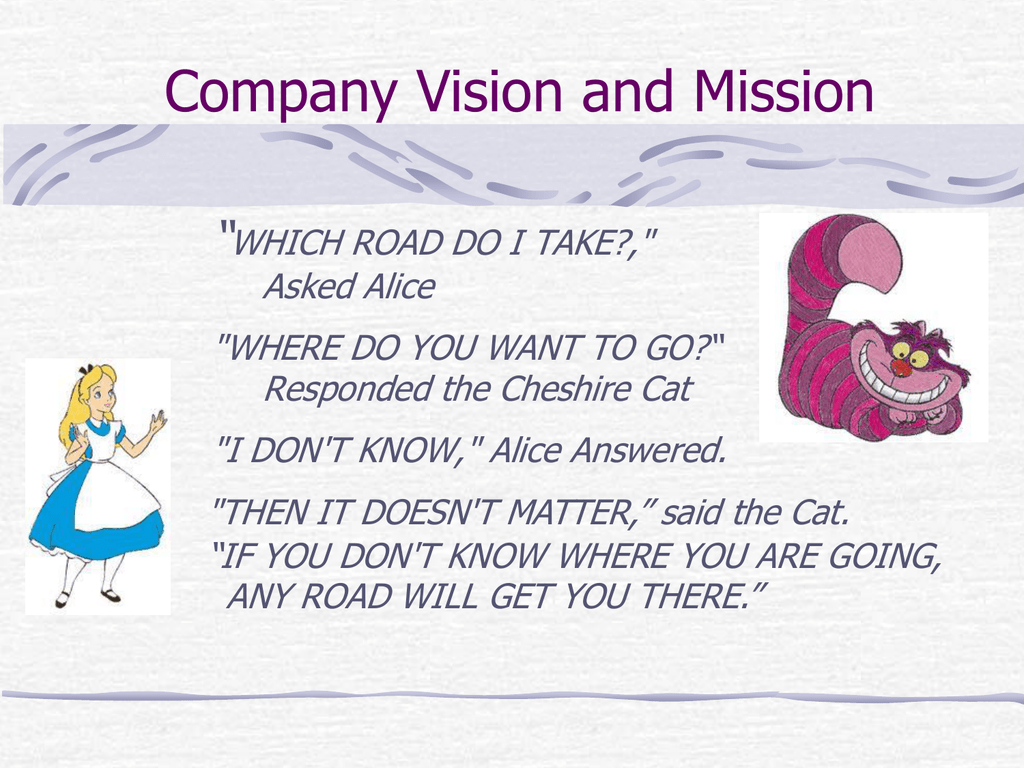 Company Vision and Mission
"WHICH ROAD DO I TAKE?,"
Asked Alice
"WHERE DO YOU WANT TO GO?"
Responded the Cheshire Cat
"I DON'T KNOW," Alice Answered.
"THEN IT DOESN'T MATTER," said the Cat.
"IF YOU DON'T KNOW WHERE YOU ARE GOING,
ANY ROAD WILL GET YOU THERE."
Vision Statement
Why does the company exist?
Inspiring
Long-term
Driven by and evokes passion
Broad; Overarching; Brief
Fundamental statement of the
organization's
Values
Aspiration
Goals
3M: To solve unsolved problems innovatively
Cargill: To improve the standard of living around the world
Hewlett-Packard: To make technical contributions for the
advancement and welfare of humanity
Lost Arrow Corp: To be a role model and a tool for social change
Mary Kay Cosmetics: To give unlimited opportunity to women
Merck: To preserve and improve human life
Nike: To experience the emotion of competition, winning, and
crushing competitors
Wal-Mart: To give ordinary folk the chance to buy the same
things as rich people
Walt Disney: To make people happy
Mission Statement
What does the company do?
Unique purpose of the company
Basis of competition and
competitive advantages
More specific than vision
Focused on the means by which
the company will compete
It is the mission of Advance Auto Parts to provide personal vehicle
owners and enthusiasts with the vehicle related products and
knowledge that fulfill their wants and needs at the right price. Our
friendly, knowledgeable and professional staff will help inspire,
educate and problem-solve for our customers.
Ecolab's mission is to be the leading global innovator, developer
and provider of cleaning, sanitation and maintenance products,
systems, and services. As a team, we will achieve aggressive
growth and fair return for our shareholders. We will accomplish this
by exceeding the expectations of our customers while conserving
resources and preserving the quality of the environment.
CVS will be the easiest pharmacy retailer for customers to use.
To nourish and delight everyone we serve. (Darden Restaurants)
The purpose of the Cooper Tire & Rubber Company is to earn
money for its shareholders and increase the value of their
investment. We will do that through growing the company,
controlling assets and properly structuring the balance sheet,
thereby increasing EPS, cash flow, and return on invested
capital.
We will provide branded products and services of superior
quality and value that improve the lives of the world's
consumers. As a result, consumers will reward us with
leadership sales, profit, and value creation, allowing our
people, our shareholders, and the communities in which we
live and work to prosper.
Values Statement
How do we behave?
• Statement of ethical priorities
• Guidelines for norms and
decision making
• Standards of behavior and
practices
• Basis for moral courage
Strategic Objectives
What will we strive for?
Operationalize the
mission statement
SMART(S)
Indicates strategic intent
– BHAG
Strategic v Financial
S
Long-term v short-term
stretch
Hierarchy of Goals
Values Statement
Corporate Governance
Management – "Agents"
Shareholders – "Principals"
Board of Directors
Corporate Governance
The relationship among various participants in
determining the direction and performance of the
company
Mechanisms to ensure that management fulfills
its basic purpose: to promote the long-term
interests of the shareholders
Primary Participants:
Shareholders
Board of Directors
Senior Management
Agency Problem
Arises because of separation of ownership
(principals) and management (agents)
Management may act to promote their own
interests at the expense of the interests of
stockholders (opportunistically)
Control Mechanisms
 Internal
 Responsible BOD
 Active shareholders
Management Compensation
 External





Takeover constraint
Auditors
Banks and investment analysts
Regulations
Media and public activists
Corporate Social Responsibility
• Corporate social responsibility encompasses not
only what companies do with their profits, but also
how they make them. It addresses how companies
manage their economic, social, and environmental
impacts.
• Corporate social responsibility generally applies to
company efforts that go beyond what may be
required by regulators or environmental protection
groups.
• Corporate social responsibility may involve
incurring short-term costs that do not provide an
immediate financial benefit to the company, but
instead promote positive social and environmental
change.
The Purpose of Business
Few Trends could so thoroughly undermine the very
foundations of our free society as the acceptance of
a [corporate] social responsibility other than to make
as much money for the stockholders as possible
(within the rules of the game). Milton Friedman
A group of people get together and exist as an
institution that we call a company so that they are
able to accomplish something collectively that they
could not accomplish separately – they make a
contribution to society.
David Packard
Approaches to Corporate Social
Responsibility
Economic/Legal View
Businesses are legal entities and have no
social or moral purpose
Purpose of business is to maximize owner's
wealth within the limits of the law
Compliance-based ethics encourages
meeting legal obligations.
Corporate Governance
Approaches to Corporate Social
Responsibility
The Stakeholder View
Businesses are social entities and have
social and ethical impact on society
Purpose of business is to satisfy the needs
of multiple stakeholders including the
financial interests of stockholders
Integrity-based ethics encourages morally
responsible behavior
Corporate Governance
Stakeholders
Firm
Stakeholders
Any individual or group who can influence or is
influenced by the operations of a firm
Types of Stakeholders
 Primary – participation and support required for
survival of the firm
Inside: Stockholders, Board of Directors, Managers,
Employees, …
 Outside: Customers, Suppliers, Creditors, Competitors,
Governments, Community, …

 Secondary – not directly involved in the activities of
the firm but can have influence over its operations
Media, Special Interests, Investment & Rating Firms,
Unions, …
Stakeholder Analysis
1. Identify
Inside
Outside
Secondary
Stakeholders
2. Identify Stakeholder Interests
Potential impact of the firm on the stakeholder
3. Identify Stakeholder Power and Influence
Potential impact of the stakeholder on the firm
4. Prioritize Stakeholder Interests
Rank stakeholders in terms of importance to the firm
5. Identify Stakeholder Management
Actions taken to satisfy stakeholder needs
Stakeholder Analysis
Stakeholder
Inside
……
Outside
……..
Secondary
…….
Interest
Power
Consequences Importance
Stakeholder Management
Stakeholder 1
Interest and Consequences
Actions taken to address needs
Assessment of continued support
Stakeholder 2
..
..
.