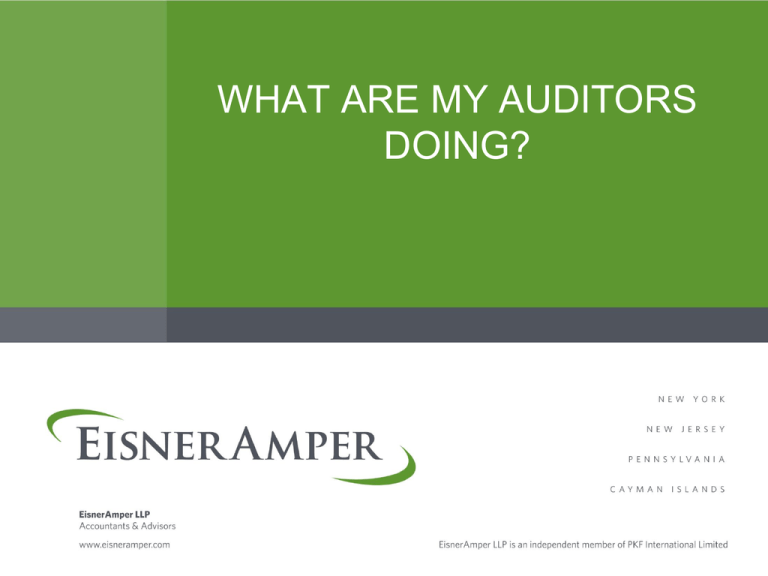 WHAT ARE MY AUDITORS
DOING?
Your Presenter
• Dianne Batistoni, CPA
– EisnerAmper Insurance Group Audit Partner –
Bridgewater, NJ
– 908-218-5002, ext. 2239
– Dianne.batistoni@eisneramper.com
Agenda
•
•
•
•
•
The Audit Environment Today
The Audit Process and Audit Efficiency
Management Oversight
Year-round Relationships
Value-Added Service
The Audit Environment Today
Today's Audit Environment
• Political Environment
• 37 Governors' races
• Insurance Industry "bad" reputation
• Healthcare Reform
• MLR's
• Dodd-Frank
• Financial Stability Oversight Council
• Federal Insurance Office (FIO)
• Missouri commissioner – John Huff
5
Today's Audit Environment – Cont'd
•
Regulatory Changes
•
RBC
•
SSAP 10R
•
Solvency II
•
•
•
•
Capital Requirements
Governance, Risk Management and Supervision
Disclosure and Transparency
Company Failures/Liquidations
6
Today's Audit Environment - Cont'd
• FASB & SAS
– Codification
– Record number of new pronouncements
• IFRS Conversion
– Fair Market Value
– Principles vs. Rules Based
• SSAP Impact?
7
Today's Audit Environment – Cont'd
• Other Factors
– PCAOB
– Peer Review
– State Examinations
– Audit Risk Alerts
8
Today's Audit Environment – Cont'd
• Changes in the Audit Environment require the
auditor to change how they audit
– Evaluate the environment
– Evaluate the impact on audit client
– Evaluate the clients' assessment of risk and actions
taken to remediate/mitigate
– Design audit tests
The Audit Process and
Audit Efficiency
The Audit Process and Audit Efficiency
Audit Requirements:
•
Audit Risk
–
Environmental Risk
–
Directional Risk
–
8- Hour Risk
–
"What keeps you up at night?"
–
Historical Issues
The Audit Process and Audit Efficiency
• Fraud Risk
– Who's responsibility is it?
• Reputational Risk
• Regulator Risk
• Design Procedures to Respond to Risk
The Audit Process and Audit Efficiency
• Audit Approach
– Balance Sheet Approach?
– Leverage Existing Controls
• Documented vs.
• Undocumented
– Materiality Concepts
– Risk-Linked Procedures
– Regulation Impact Considerations (Market
Conduct)
– Actuarial Reviews
The Audit Process and Audit Efficiency
• Audit Reporting
– Financial Statements
– Report to Audit Committee (SAS 61)
– Independence
– Qualifications
– Internal Controls (115)
– Awareness Letters
– Audit Adjustments
Audit Efficiency
Audit Efficiency
• Know your auditor's audit approach and be ready
• Understand the risks facing your company and have
a plan
• Avoid the "dump and run"
• Planning meetings
• Schedule regular status meetings
• Prepare financial statements
• Computer Assisted Audit
• Ask for budget information
15
Audit Efficiency – Cont'd
• Using a "Schedule of Schedules"
– Target Dates
– Responsible Persons
– Processes and Controls Documentation
– FTP Sites
• Auditor Focused Schedules
• Analytics
• MD&A
• Staff Availability
• On-site Technical Reviews
MANAGEMENT OVERSIGHT
17
Management Oversight
• The role of management and owners
– Depth of understanding of business
– Control environment
– "Tone at the Top"
• The role of financial managers
– More than just financial planning
Management Oversight – cont'd
• Board of Directors
– Understanding of financial statements
– Understanding of Insurance Environment
• Audit Committees
– Audit committee charter
– Financial Statement Oversight
– Statutory accounting concepts
• IT IS IMPORTANT TO MANAGE EXPECTATIONS
Management Oversight – Cont'd
• Model Audit Rule Considerations
– Audit Partner Rotation Requirements
– Audit Committee Independence Rules
– Internal Control Assessment
Year-Round Relationships with
your Audit Team
Year-Round Relationships with your Audit Team
• Include your auditors on distribution lists
– Regulatory filings
– Board packages
• Ask your auditors' advice before making critical
decisions
• Keep auditors informed regarding business changes
• Schedule interim meetings
• Have a closing meeting, ask the "how am I doing
questions"
Value Added Service
Value Added Services
•
Leverage your relationship with your auditor
–
Ask for auditor advice (Are they industry experts?)
–
Ask for input
–
Continuing communication
–
Tax planning
•
Make management recommendation letters a positive rather than
a negative
•
Keeping informed regarding industry trends and technical
pronouncements
•
Training
•
IT reviews
Value Added Services
• State Examinations
– Risk-focused exam approach relies heavily on
Auditor Workpapers
– Encourage a meeting
– Make sure audit team fully cooperates with
exam team
– Examinations now require prospective risk
analysis
25
Questions?
EisnerAmper LLP is an independent member firm of PKF International Limited
Any tax advice in this communication is not intended or written by EisnerAmper LLP to be used, and cannot be
used, by a client or any other person or entity for purposes of (i) avoiding penalties that may be imposed on any
taxpayer or (ii) promoting, marketing or recommending to another party any matters addressed herein.
All information provided is of general nature and is not intended to address the circumstances of any particular
individual or entity. Although we endeavor to provide accurate and timely information, there can be no
guarantee that such information is accurate as of the date it is received or that it will continue to be accurate in
the future. No one should act upon such information without appropriate professional advice after a thorough
examination of the particular situation.