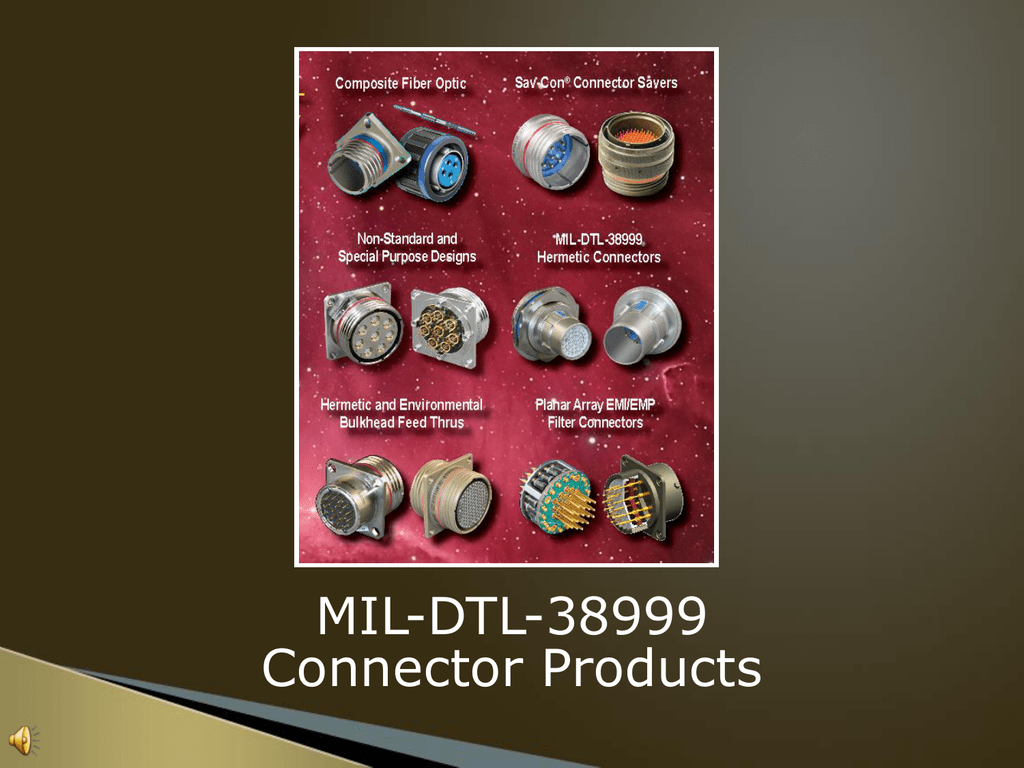 MIL-DTL-38999
Connector Products
One-Stop-Shopping for Mission
Critical D38999 Type Connectors
 Our focus is on the supply of highperformance versions of D38999.
 We are able to respond quickly without
dollar and quantity minimums.
 We are the go-to company for all the
associated connector accessories.
 We are experts at hybrid fiber/copper
configurations.
 Our Sav-Con® and Feed-thru expertise is
unmatched in the industry.
 Ditto for hermetics and EMI filters.
Small Quantity Custom Packaging
 Specialty shell materials and platings.
 All D38999 configurations - bayonet,
breach-lock and threaded.
 Hybrid contact integration.
 In-house hermetic and EMI filtering
capabilities.
 Testing and qualification capabilities.
 Broad coverage of available contact
layout densities and sizes.
Standard Catalog Products
 Catalog organized by D38999
Series: hermetic receptacles,
Filters, Environmental Class,
feed-throughs, and Sav-Cons®
 Easy to Understand part numbers.
 "No Gaps" approach: every shell
style, termination type and
layout.
 Expanded contact, tool and
38999 connector accessory
offerings.
Overview: MIL-DTL-38999
Connectors
 MIL-DTL-38999 specifies four series of connectors.
 Standard bayonet, low-profile bayonet, triple-start thread and BreachLock w/ anti-rotation coupling.
 Mainly used as I/O connectors – cable to panel.
 High density – up to 128 contacts.
 9 shell sizes with ~ 64 contact layouts
 Mainly signal (size 22 AWG) – RF, signal, power, and fiber.
 Crimp removable, PC tail, and solder (hermetic).
 Very durable/rugged (machined); best for shock and vibration.
 Up to 200° C, Sealed (IP67) via interfacial/peripheral seal and
grommet seal on rear; resistant to several fuels/solvents.
 5 keys/keyways and up to 10 polarizations.
 Superior EMI shielding.
Series Quick Reference Guide
MIL-C-38999
Series I
MIL-C-38999
Series II
MIL-C-38999
Series III
Coupling
Scoop
Proof
Durability
Series I
Standard Bayonet
Yes
Series ll
Low-Profile Bayonet
MIL-C-38999
Series IV
High Impact Shock
Bend
Moment
Price
500
Yes
650/In lbs
$
No
250
No
150/In lbs
$
Series lll
Triple Start
Threaded
Yes
500
Yes
1000/In lbs
$$
Series lV
Breach Lock
Yes
500
Yes - Heavy
1000/In lbs
$$$
38999
Series lll is most common for new Mil/Aero designs
D38999 Hermetic Connector
Overview
Hermetic = Airtight
Glenair is Qualified to MIL-DTL-38999
Series I, II, III and IV
Definition of a Hermetic
Connector
 Permanently sealed by fusion or other means to prevent the
transmission of air, moisture vapor, and all other gases. (Made
airtight by fusion or sealing)
 Hermeticity is usually expressed as the rate of leakage volume
of helium per second in time
 Glass-to-metal seal technology is used to provide a robust
hermetic seal between a metal conductor and a metal body. The
glass also acts as an insulator between the body and the pins.
 Complete isolation of all elements between two environments
How to Order: MS Hermetic Connectors
(Example Shown: Series III /25 Solder Mount)
How to Order: Glenair Commercial
Hermetic (Example Shown: Series III
H5 Solder Mount)
MIL-DTL-38999 Series III Type
Environmental Plugs and Receptacles
Glenair 233-105 Series Environmental Connector
Series for M39029 Electrical Contacts
 Composite, Aluminum and
Stainless Steel Shells.
 Environmental Jam Nut,
Wall Mount, In-Line and
Plug Configurations
 Standard M39029 Contacts
 Designed to intermate with
other industry-standard
Series III products.
Other Environmental Class
Configurations
Special Purpose Environmental Class
D38999 Type Connectors
 Series 257-455 and 257459 Quadrax
 Series 947-050 and 250005 Shorting Plugs and
Receptacles
 Series 947-150 and 233101-G6 Quick Release
Lanyard Plug Connectors
Quick Disconnect
Swivel Lanyard Designs
New Plating Solution for
Environmental/EMI Applications
How to Order: 233-105 Series III Type
Environmental Class Connector
(Example Shown: 05 In-Line Receptacle)
®
Glenair D38999 Type Sav-Cons
Rugged Connector Go-Betweens
 Available for D38999 Series I, II and III
 One-piece feed-through contact
 Pin/Socket, Pin/Pin, and Socket/Socket
Suitable for flight use - meets the same
specifications as the mating connector
 Easily installed into existing systems
 Filter and/or environmental
 Aluminum, Stainless, or other material
 Always specify optional locking
mechanism for Series I and II
®
D38999 Type Sav-Con Applications








Space Station
Satellites
Aircraft/Shipboard/Submarine
Missiles and Systems
Avionics
Hydraulic Controls
Gender changer/Adapter
Weapon interface/launchers
How to Order:
®
Sav-Con Connector Savers
(Example Shown: Series III)
D38999 Type Bulkhead Feed-Throughs
 Jam nut, flange mount
 Pin/Socket, Pin/Pin, and
Socket/Socket
 Suitable for flight use - meets the
same specifications as the mating
connector
 Hermetic or environmental
 Aluminum, Stainless, Titanium
 38999 Series I, II, and III
 Accommodates several panel
thicknesses
D38999 Type
Bulkhead Feed Thru Applications






Aircraft/Shipboard/Submarine
Sensors
Space and Satellites/Systems
Vacuum Chambers
Nuclear Industry
Geophysical – Drilling and Sub
Sea
 Under water electronics – Geo
Marine
 Ground Vehicles
 Many others
D38999 Type Bulkhead Feed-thru
Thick Panel Specials
D38999 Type Bulkhead Feed-Thru
Plug/Receptacle
How to Order:
Bulkhead Feed-Thru Connectors
(Example Shown: Series I Jam Nut)
D38999 EMI/EMP Filter Connectors
Glenair's Filter Connector Team is Now Among
the Best in the Business
 Available in D38999 Series I through IV
 Aluminum, composite, and stainless
 C, LC, PI, HEMP and/or feed through
w/ various capacitance within connector
 Solder-free designs now available
 Hermetic Filtered Connectors
 Significant technical and manufacturing
resources
 Rapid turnaround of custom designs
 In house Planar Array 2008
Basic Filter Array Module Elements
D38999 EMI/EMP Filter
Connector Applications
EMI/HEMP Filtered Connector Opportunities are Everywhere!





Avionics
Satellites
Sensor and Control Systems
Mission Computers
Communication Systems – Hand
Held Radios
 Aircraft Control Systems
 Missile Systems
How to Order:
EMI/EMP Filter Connectors
(Example Shown: Series I Jam Nut)
Glenair Also Supplies All the
Backshells, Tools and EMI/RFI
Connector Accessories
 All AS85049 backshell slash sheets for D38999 Series I, II, III and IV
 Complete range of EMI/RFI shielding accessories for D38999 cable
assemblies.
 All harness assembly tools including connector-to-backshell holding
tools, banding tools, etc. for D38999 systems.