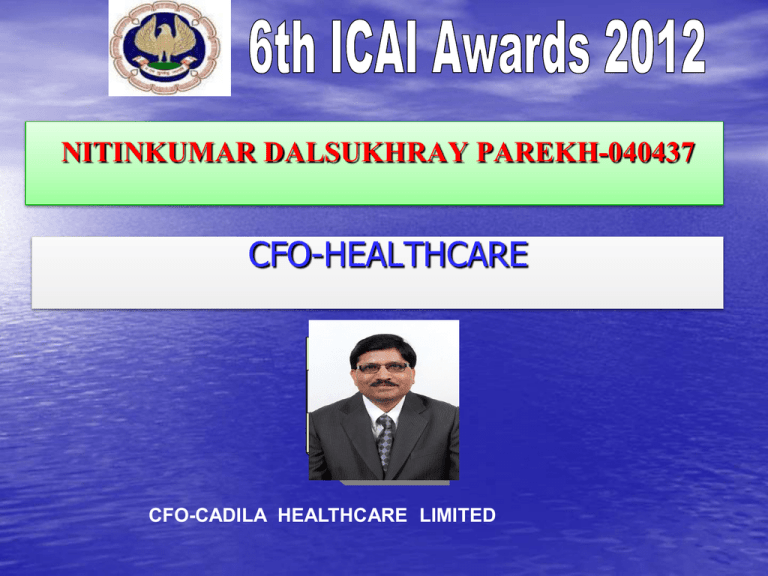 NITINKUMAR DALSUKHRAY PAREKH-040437
CFO-HEALTHCARE
CFO-CADILA HEALTHCARE LIMITED
•
•
•
•
Turnover (Sales) of the Company in Rupees:
Consolidated sales of Rs. 5090 crores for the year
ended 31st March,2012
Net worth of the Company: Rs. 2483 crores as on 31st
March, 2012
Market Capitalization of the Organization: Rs.18200
crores based on market price of Rs.889 on 5th
November, 2012
Details of individual companies is available in annual
report
Note: Please give details of the company where the person is located. For CA Business Achiever or CFO
where person is handling multiple companies within a group, please give composite details of all
companies under the domain of nominee. Details of Individual companies may be given separately. The
applicants of CA Professional Achiever should give details only of the company where they are working.
KEY ROLE IN THE ORGANIZATION
•
•
•
•
•
I am a member of the Zydus Management Council which is the top management
body. I am on the Board of Directors of group companies like Biochem
Pharmaceutical and Liva Healthcare.
My role and responsibilities include functions like Accounts, Banking,
Budgeting, Costing, Corporate Governance, Direct & Indirect Taxes, Forex
Management, MIS, M&A, Management Audit, Risk Management , Secretarial
maters and Treasury
The group has currently embarked upon the journey of achieving its vision of
USD 3 billion turnover by 2015. I am entrusted with the responsibility of
'Collaboration' which is important pillar of growth.
The group is implementing a project called 'PRISM-II' with annual cost savings
target of Rs.188 crores with help of McKinsey. I am handling the responsibility
of institutionalization of this cost saving process and creating cost
consciousness as a DNA of group.
I directly report to Chairman and Managing Director of the company, Shri
Pankaj Patel
MAJOR ACHIEVEMENTS
•
•
•
•
•
During the accounting year 2011-12, three acquisition deals were executed successfully. The first
was acquisition of 100% share capital of Mumbai based Biochem Pharmaceutical Industries Ltd.
Second was asset acquisition of US based Nesher Pharma and third was acquisition of 100% share
capital of Germany based Bremer Pharma. These three deals in aggregate amount to Rs. 900
crores. The role was as a member of the team which consisted of Business Head, Finance Head
(me) and Legal Head. My role included due diligence of the target entities, negotiation of
commercial terms, structuring of the deal, negotiation of the legal documents like share purchase
agreement, asset purchase agreement, escrow agreement etc., presentation of acquisition rationale
to the Board of Directors of Cadila, innovative and cost effective funding of the deal and ultimate
closure including intimation to statutory authorities and clearances.
For financial leverage, I have convinced the management to adopt and also publicly announce the
debt equity ratio guideline. Accordingly, we have declared that our consolidated net debt equity
ratio would be within the band of 0.5: 1 to maximum 1:1.
Considering my unique and important contribution in risk management category, CFO Institute has
given me CFO100 roll of honour for 2012. The annual report of Cadila for 2011-12 contains this
information with my photograph.
Finance department has created web based portal for legal compliances. I am responsible for
corporate governance aspects and have created elaborate systems and processes.
Recently we carried out study through the help of one Big 4 firm for best practices followed by
Pharma and other industries for foreign exchange management and thus decided to go for put
option for managing the forex risk.
MAJOR ACHIEVEMENTS
•
•
•
•
•
I also periodically meet various investors and participate in Investors' meet. Recently in September,
2012 I had one to one meetings with various international investors in Hong Kong and Singapore.
Zydus Cadila has been currently working on the cost savings project called 'PRISM-II'. This project
is targeted to have annual cost savings of Rs. 188 crores to be achieved by March-2014. I am
sponsor of this project and also in charge of institutionalization of this process.
All M&A deals involve substantial legal documentation work. Though we have our in house
legal department, I am the main person responsible for all commercial terms and very actively
involved in negotiation and finalisation of legal documents. Apart from this I am responsible
for compliance of all corporate laws and provide a detailed compliance report and a booklet of
compliance under clause 49 of listing requirements.
I possess other qualifications which supplement my professional capabilities to discharge my
role. I have done MBA from Indian Institute of Management, Ahmedabad and also possess
qualifications like CFA and LL.B. I have attended leadership training programs conducted by
internationally acclaimed personalities like Prof. Ram Charan and Prof. Steven Sonsino.
I am very good orator and give lectures at various forums on topics ranging from educational,
social to religious segments. My interviews have been taken by CNBC and I am often
interviewed and quoted by newspapers like Times of India, Economic Times etc.. I have given
lectures after Union Budget on budget impact.
Note- Please specify exact role whether the achievement is as a member of
team or team leader or in any other capacity.