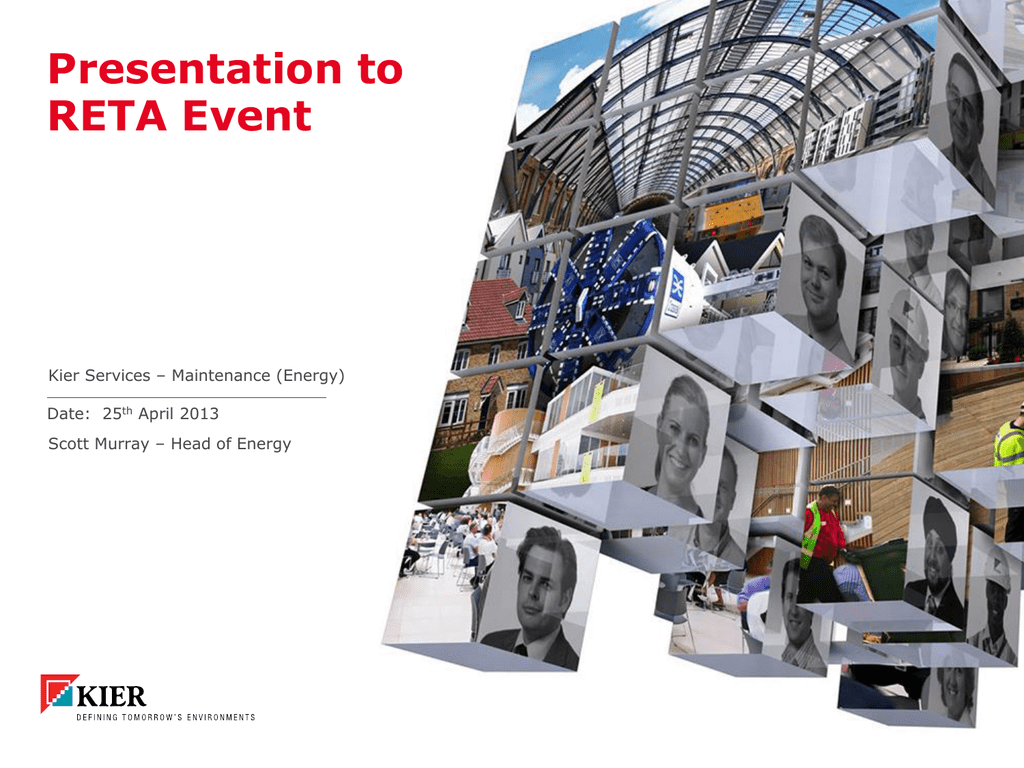 Presentation to
RETA Event
Kier Services – Maintenance (Energy)
Date: 25th April 2013
Scott Murray – Head of Energy
Kier Group is a leading construction, services and property group specialising in:
•
•
•
•
Building and civil engineering
Support services
Public and private house building
Property development and structured property financing
Kier employ employs over 10,000 people worldwide and has an annual revenue of £2.1bn.
Kier Services – Maintenance (Energy)
Kier Energy Offer:
◼
Specialist 'Energy Team'
◼
National coverage
◼
Large client base
◼
We design, procure, install and
maintain energy solutions, delivering
reductions in energy bills and carbon
emissions.
SCAPE
Scape National Minor Works
Framework:
◼
Runs to September 2015
◼
Designed to deliver all public
sector projects up to £2m
◼
Ideally suited to rapid delivery
of programmes of small works,
where there is a known need
for building work
Coventry City Council (DECC)
Project Programme
Delivery Strategy
Kier Delivery Strategy:
◼
Local employment and skills
through RETA
◼
Robust compliance
◼
Consideration of customer
vulnerability
◼
H&S management
Key Success Factors
◼
Deliver in line with ECO
principles and standards
◼
Quality/ customer satisfaction
◼
Maximum value for money
Next Steps
Questions?