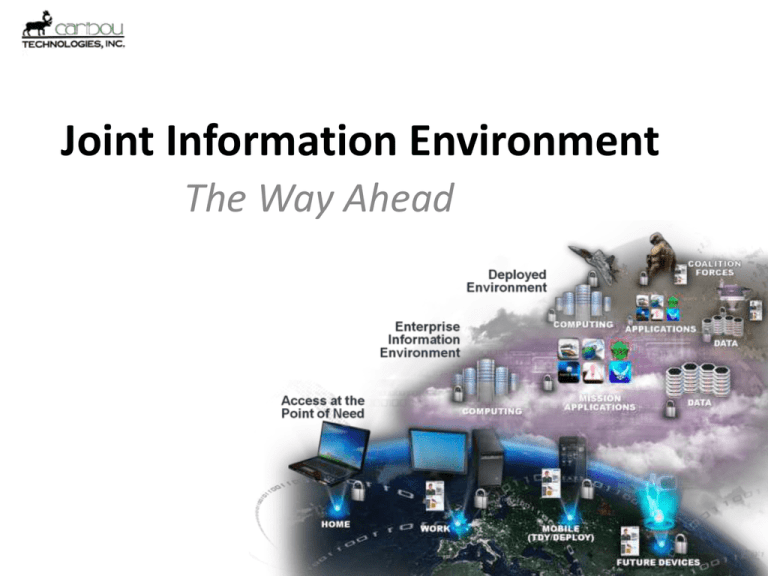 Joint Information Environment
The Way Ahead
Joint Information Environment
What is it, anyways!?
•
•
•
•
Joint information environment
Shared IT infrastructure
Enterprise services
Single Security Architecture
• JIE is NOT a Program of Record
• JIE is NOT a turn-key solution
• JIE is NOT an independent "way of doing
things"
– Uses existing architectures and services
JIE Core Principles – the BIG Rocks
• Joint Governance
–
"IT Task Force"
• Network Normalization
–
Standardization
• Data Center Consolidation
–
Reduced IT Footprint
• Identity and Access Management
–
Trusted authentication
• Enterprise Services
–
Email, collaboration, file storage,
etc.
JIE – What are we trying to achieve?
• Improved Mission Effectiveness/Operational Flexibility
– AGILE
– Includes mobile, deployed
– Works in Disconnected, Intermittent and Low Bandwidth
• Increased Cyber Security
– Confidentiality, integrity and availability
– Works with ALL Mission Partners
• IT Efficiencies/Joint Information Services
– Interoperable
– Maximum performance, reliability and extensibility
JIE's Three Lines of Operation
1. Governance
2. Operations
3. Technical Synchronization
JIE
JIERelationships
Relationships
DMAG
Overall
JIE Lead
DoD
JCS TANK
3 Star Programmers
OPSDEPS
JROC
DAB/CIMB
JCB
OIPT/CCT
CIO EB
C4/Cyber FCB
JIE EXCOM (Tri-chair: DoD CIO, JS/J6, CYBERCOM) USA, USMC, USN, USAF, NGB, USCG, USD/AT&L, CAPE, DISA, USD(I), USD(C),
(AFRICOM, CENTCOM, EUCOM, NORTHCOM, PACOM, SOCOM, SOUTHCOM, STRATCOM, TRANSCOM)
Planning/Coordination Cell (Tri-chair: DoD CIO, JS/J6, CYBERCOM) USA, USMC, USN, USAF, NGB, USCG, USD/AT&L, CAPE,
DISA, USD(I), USD(C) - Ensure synchronization of the Department'sl JIE p an in coordination w/ Component activities
Governance Task
Governance Artifact
C2 Cyber Task
C2 Cyber Artifact
Governance Lead
Operational Sponsor
- Develop, integrate, and
synchronize JIE
governance models &
processes
-Develop, integrate, and
synchronize Operational
procedures ISO JIE
DoD CIO
Engineering Task
Engineering Artifact
Implementation Task
JIE Technical Synchronization Office
Technical & Implementation Lead - Develop, integrate and
synchronize JIE technical plans, programs, and capabilities and Execute JIE tasks
Key Functions:
USCC Supported
Commander
Governance Artifact
C2 Cyber Artifact
C/S/A Elements
C/S/A Elements
S/A Elements
Implementation Task
Develops DoD technical architectures
Updates EXCOM via Planning/Coord Cell
Synchronizes implementation activities
with Transition Managers (C/S/A)
Recommends solutions for fiscal shortfalls
USA
USMC
USN
USAF
Synchronizes new capabilities &
legacy IT sunsets
Assesses transition Risk
Synchronizes w/ IC Technology
Enterprise
USCG
IC
DISA
NGB
JIE Increment I
EUCOM
– Builds on existing network consolidation efforts
– Heavily reliant on cloud architectures
– Move Massive Application Silo's to more flexible,
responsive infrastructure
Enterprise Operations Center
Stuttgart, Germany
JIE Increment 2 - PACOM
As of 24 Apr 2013
JIE Increment 2 Approach Concept
An integration strategy to achieve information capabilities that
maximize mission effectiveness across the full spectrum of
military operations with the full complement of mission partners.
Information Products
Information Consumers
CHANNEL
Information Miscreants
Container
Community
MULTIPLE SECURITY DOMAINS
SINGLE NETWORK INFRASTRUCTURE
BY ALIGNING
Information Producers
Information Sharing
Community
Network and
Enclave Channels
COI Authorized
Information Set
Community of
Interest (COI)
Network Security
Enclave (NSE)
Information Control
Domain (ICD)
ACCESS
CONNECT
SHARE
Common Core Services and Mission Partner Network
7
JIE Increment 2 - PACOM
• Coalition capability "built-in" and not "added-on"
• Common Mission Network Transport must support
network security enclaves to accommodate many
communities-of-interest to support user-to-user
coalition connectivity
• A wide-area neutral network is needed to connect the
networks of sovereign nations
• Robust identity authentication and authorization
management for each nation to maintain trust in the
system
http://www.afcea.org/events/asiapacific/13/documents/JI
E-Coalition-CIESLAK-131205Bv2.pdf
•
•
•
•
•
Discretionary
Information Sharing
Trusted personnel
Identification and
authorization service
Agile virtual enclaves
Information
conditioning
Strength of separation
required
http://www.referentia.com/ace/in
dex.html
JIE Challenges
• Multiple Enterprises
– Military Services, Intelligence Community, Agencies, CCDRS
Multiple Partners, Allies, Coalitions, States, NGAs, OGAs,
PVOs, etc.
• Multiple Data Types
– Public, Releasable, Private, Controlled, and Classified
Information
• Austere Connectivity Over Very Large Distances
– Not just robust high-capacity public infrastructure
• Mobile Forces & People
• Huge Populations & Communities
• Partners with varying levels of trust
Upcoming JIE Event
• JIE Mission Partner Symposium 2014 at the
Baltimore Convention Center, Baltimore,
Maryland from May 12 to May 14, 2014.
Jesse Adams
Chief Architect – US NAVY NGEN/NMCI, HP
Enterprise Services
• Jesse has been with HP (EDS) since 2007.
• Jesse started as a Solutions Architect on the
NMCI account, then became HP's Chief
Architect for the account in early 2010.
• Responsible for working with the Echelon II
commands to understand their objectives and
help shape strategies.
• He joins us from the Dallas Fort Worth area.
JIE Challenges under NGEN
• Not a Program – perceived as an "unfunded
mandate"
– Program Office may pick-and-choose elements of JIE
to be adopted
• LPTA Limits Innovation
– Technology Refresh and Insertion Program will be
largely responsible for moving existing designs into
compliance with JIE, extending timeline for adoption
over several years.
• "Not Designed Here" Syndrome
– Must minimize the "drift" likely to occur from differing
opinions on how to apply JIE
JIE Opportunities under NGEN
• Adoption of SSA will help mitigate ever-increasing
circuit strains
– The introduction of the SSA at primary site boundaries
will enable NMCI to stand down their Boundary 1's,
which are overloaded today largely due to media-rich
Internet traffic.
• On average, up to 90% of Internet traffic crossing the NMCI
Boundary 1's is MWR-related.
– By facilitating Internet access closer to the users, the
volume of traffic can be distributed across more
points, reducing its impact on any individual WAN
circuit.
JIE Opportunities under NGEN
• Server Farm Consolidation revisited
– Move from a simple fork-lift approach to a modernization /
transformation strategy
• Consolidate to standardized platforms
• Maximize virtualization for greatest service density
– Move to a common reference architecture – potentially
enable seamless migration of services between various
data centers to meet evolving mission requirements.
• Introduction of "XaaS"
– Technologies reviewed/revised to better enable
"confederation" of services and data, in order to better
position them to best support the users.
Jerry Bass
Customer Solutions Architect –
CISCO Federal
• Jerry has been with CISCO since 1999.
• Primary focus is Air Force.
• He is an expert in network security and
information assurance.
• He joins us from the Boston area.