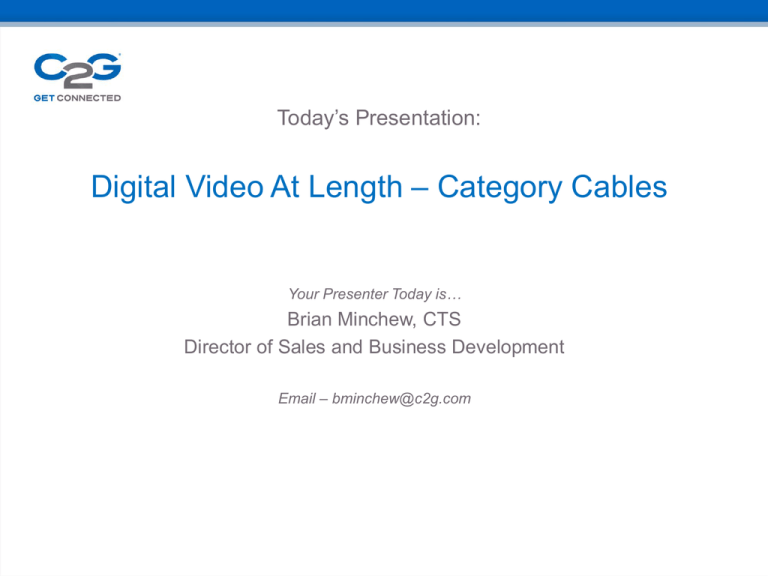 Today's Presentation:
Digital Video At Length – Category Cables
Your Presenter Today is…
Brian Minchew, CTS
Director of Sales and Business Development
Email – bminchew@c2g.com
Our Learning Objectives
• Signals Important To
Extended DV
Connectivity?
• Technical Challenges
Of Long Connections
• Basic Extension Of DV
Using Category Cables
• Understanding
HDBaseT Technology
And Applications
"For a successful technology, reality must take precedence over public relations, for
Nature cannot be fooled." - Richard Feynman
WHAT ARE THE SIGNALS BEING SENT?
Digital Video
•
Color In Uncompressed Digital Video
–
–
–
–
•
Detail In Uncompressed Digital Video
–
–
–
•
8-Bit Per RGB Component Minimum
Up To 4:4:4 Color Space With Up To 16-Bits
Per sRGB Component
YCbCr 4:4:4 "Deep Color"
xvYCC Extended Gamut Color Space
Support
Luminance Figure Sets Detail Level
D2K Is 2,000 Pixel Horizontal Measure
D4K Is 4,000 Horizontal Pixel Count By 2,000
Vertical Pixel Count
High-Bandwidth Digital Content
Protection
–
Digital Copy Protection Developed By Intel
Corporation To Prevent Copying Of Digital
Audio And Video Content As It Travels Across
Connections
Digital Audio
•
HDMI Sources Support PCM And
Other, Optional, Audio Formats
–
–
–
•
Up To 8-Channels Coded At 24-bits
And 192khz Linear PCM
Up To 8-Channels Lossless
Compressed DTS-HD
Up To 8-Channels 1-Bit DSD (Delta
Sigma) Super Audio
Digital Audio Content Is
Embedded Within The TMDS 10Bit Data Stream
–
Audio Is "Embedded" Within The RGB
Stream
Consumer Electronics Control
•
CEC Is An HDMI Feature
Designed To Allow The User To
Control CEC-Enabled Devices
–
–
•
Via Device's Remote Control(s)
Allows For Individual CEC-Enabled
Devices To Command And Control
Each Other Without User Intervention
One-Wire Bidirectional Serial Bus
That Uses The Industry-Standard
AV.Link Protocol
–
–
CEC Implementation Is Optional At The
Product Level
CEC Standards Allow For USB-To-CEC
Adapters For Custom Control
Applications
Display Data Channel
•
DDC Enables The Display To
Communicate Its Supported
Display Modes To The Source
Using Inter IC Bus Protocol
–
•
Extended Display Identification
Data (EDID) Is A Companion
Standard
–
–
•
I2C, Or Sometimes IIC
Defines A Compact Binary File
Format Describing The Monitor's
Capabilities And Supported Graphics
Modes
Stored In A Read-only Memory
(EEPROM) Chip Programmed By
The Manufacturer Of The Monitor
DDC/EDID Flows From The Sink
To The Source
Transition Minimized Differential Signalling
•
TMDS Transmits HighSpeed Serial Data
–
•
•
Transmitter Incorporates An
Advanced Coding Algorithm
Which Reduces EMI Over
Copper Cables And Enables
Clock Recovery At The Rx To
Achieve High Skew Tolerance
Uses 4 Channels: Red,
Green, Blue, Clock
TMDS Is Natively
Differential (Balanced)
–
–
Current Mode Logic (CML), DC
Coupled And Terminated To 3.3
Volts.
4 Twisted Pairs Are Used To
Transfer Video And Clock Data
"The shortest distance between two points is under construction." - Noelie Altito
THE CHALLENGES OF DISTANCE
The Physics Of Wire
•
Longer Wire = More Resistance
–
–
–
•
Capacitance and Inductance Are
Proportional To Wire
Length/Construction
–
–
–
•
Cross-Sectional Area Of The Wires Affect
Resistance
Material Composition Affects Resistance
Pure Resistance Causes A Frequency
Independent Voltage Drop
Impedance Is Defined As The Frequency
Domain Ratio Of The Voltage To The
Current
Parallel Conductors In Wire Express A
Reactance That Is Inversely Proportional To
Frequency
Capacitance and Inductance Cause A
Frequency Dependent Voltage Drop
Skin Effect Becomes Relevant At High
Frequencies Over Longer Runs
UTP Minimizes Induced Noise
•
UTP (Unshielded Twisted Pair)
Can Be Optimized For Specific
Tasks
–
–
–
–
Differential (Balanced) Signaling
Ensures Environmental Noise
Rejection
Differing Twist Rates Minimize
Crosstalk Between Pairs
Twist Pitch Is Vital In Fixing The 100Ω
Characteristic Impedance
Bandwidth Up To 250MHz Per Pair
(Cat6)
•
•
100MHz Per Pair Cat5e
10Base-T, 100Base-TX,
1000Base-T
"It is difficult to get a man to understand something when his job depends on not
understanding it." - Upton Sinclair
WHAT DOES "BASE-T" MEAN?
From StarLAN To HDBase-T
•
Local Area Network Technology
Standards Of The 1980's Included
StarLAN and LattisNet
–
–
•
BASE Denotes Baseband
Transmission
–
•
IEEE Worked To Standardize Physical
Layer Attributes Of 10 Mb/s Networks
Names Derived From Physical Media
Signals And Systems Whose Range Of
Frequencies Is Measured From Close
To 0 Hz To A Cut-off Frequency, A
Maximum Bandwidth Or Highest Signal
Frequency
T Denotes Twisted-Pair Carriage
"All truths are easy to understand once they are discovered; the point is to discover
them." - Galileo Galilei
HDMI BEYOND 50-FEET
TMDS Over Dual UTP
•
Dual Cat-x Connectivity
–
–
•
No Fundamental Changes Are Made To The Signal
–
–
•
One For TMDS – RGB and Clock
One For SCL/SCA I2C, Hot Plug, 5V Power, 5V Ground
Equalization And Clock Reconstruction
Impedance Matching And Voltage Amplification
Carriage Distance Is Inversely Proportional To Signal Bandwidth
–
–
–
60 Meters For 720P Content
25 Meters For 1080p/60
20 Meters For 1080p With 10 Or 12 Bit Color Depth Content
"Our main business is not to see what lies dimly at a distance but to do what lies
clearly at hand." - Thomas Carlyle
HDMI BEYOND IMAGINATION
HDBaseT Alliance And Standard
•
Established In 2010 By LG
Electronics, Samsung Electronics,
Sony Pictures, Valens
Semiconductor
–
–
–
–
–
Working Openly To Create A Global
Standard For Advanced Digital Media
Distribution
HDBaseT 1.0 Standard Finalized In June
2010
Deals With Video Control Signals And
The Reconstruction Of Video Clocks.
HDBaseT Standard Includes Provisions
For Power
HDBaseT Standard Will Support Up To 8
"Hops" Of 100 Meters Each
Designed For 5Play
"HDBaseT Is A Connectivity Standard Which Consolidates High Throughput,
Unidirectional, HDCP Protected, Uncompressed High Definition Digital Multimedia With
Bidirectional Data Networking Over Standard Cat5e/6 Structured Cabling."
Breaking Down HDBaseT
•
Asymmetrical Design Supports Up To 10.2GBs Downstream and
100MBs Upstream Data Transfer
–
•
Scales To 20GBs For Future D4K Applications
Allows For Support, Over A Single Cabling Infrastructure Of:
–
–
Uncompressed AV With High Bandwidth Downstream Throughput, Characterized
By Low Latency Service Time for Mesochronous Streams, Complete With
Associated Controls
Bi-Directional Data Exchange At 100MBs
HDBaseT And Power - POH
•
Enables Transfer Of Up To 100
Watts (DC) Power
–
•
Eliminates The Need For AC/DC
Conversion In Display Power
Supply
–
•
Based On The IEEE 802.3at Standard
With The Appropriate Modifications To
Increase Power Handling From 60w
(Over All 4 Pairs) To 100w
Minimize Power Supply Costs
ENERGY STAR Product V 6.0
Specifications Require Maximum
98.7 Watts Consumption For 60
Inch Display
–
HDBaseT 100 Watt Specification Will
Be Able To Power Displays Up To 60
Inches Diagonal
HDBaseT And Network Control
•
•
CEC Is Embedded In HDMI Standard And Allows For One Initiator To Communicate
With One Follower Via 9-Bit Commands Plus 1-Bit EOM (Downstream) With 1-Bit
Acknowledge (Upstream)
Ethernet Is Supported As A "Standard" 100Base-T Network
–
•
Ethernet Data Is Encoded In 65-Bit Blocks, Sent Over HDBaseT Link, Then Decoded To
MII Or RMII (Reduced Media Independent Interface) Before Connection With PHY Chip
(Physical Layer Interface)
RS232 Protocols And Connections May Supplant Ethernet In Device Configuration
"Only by seeking challenges can we hope to find the best in ourselves." - Robert Rodriguez
ADDITIONAL DTV CONNECTION SYSTEMS
More To Come!
Wireless And Wired Solutions
•
Future Training Opportunities Will
Include:
– HDMI Over Coax
• Baseband Solutions
• Bandpass Solutions – DTV
Modulation And Distribution
– HDMI Over Wireless
• 5Ghz RF
• 60GHz Ultra-Wideband RF
– HDMI Over Fiber
In Conclusion…
•
•
•
•
•
HD Video Signals Include Control I the
Form Of CEC, Audio, HDCP And
Communication In The Form Of IP Or
RS232/USB
Transporting These Complex Signals
Over Distances Greater Than 100Feet Demands A Thorough
Understanding Of The Desired
Outcome And The Technologies
Inherent Strengths
HDBaseT Support 5Play And Includes
IP, Audio, Control, HD Video And
Power Over A Single Category
Connection
HDBaseT Can Support Ethernet Or
RS232 Communication
HDBaseT Is Designed To Operate In A
UTP Environment Over Cat5e Or Cat6
Cabling At Distances To 100-Meters
Questions?
Thank You!