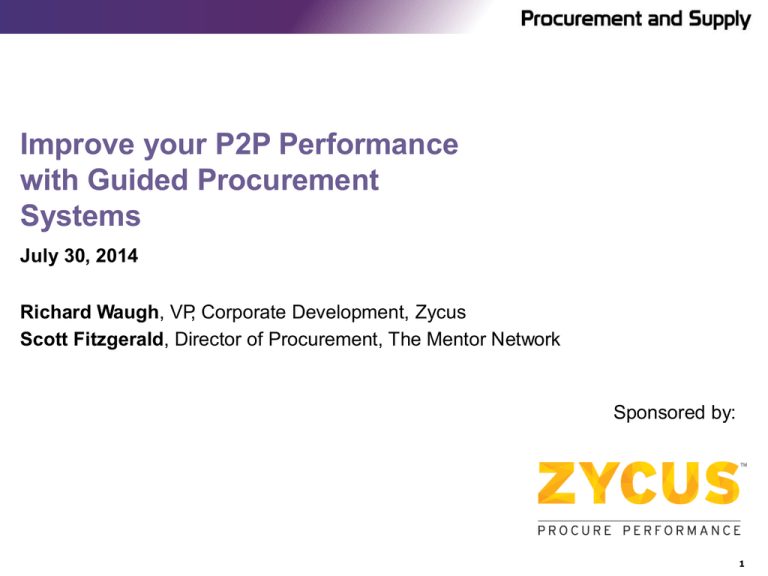 Improve your P2P Performance
with Guided Procurement
Systems
July 30, 2014
Richard Waugh, VP, Corporate Development, Zycus
Scott Fitzgerald, Director of Procurement, The Mentor Network
Sponsored by:
1
Presenter Bio – Richard Waugh
VP Corporate Development
Zycus Inc.
Richard Waugh, VP Corporate Development at Zycus,
has an extensive background in B2B E-Commerce, going
back to his early career at GE, where he helped launch
GE'S Trading Process Network (TPN), the first on-line
Marketplace for Sourcing and Procurement in the mid
1990's. He was Co-Founder of B2eMarkets, one of the
first SaaS (Software as a Service) Sourcing Suite
providers and later covered the Supply Management
market as an Industry Analyst for the Aberdeen Group..
Presenter Bio – Scott Fitzgerald
Director, Procurement
The Mentor Network
As Director of Procurement for The MENTOR Network, Scott
overseas the Procurement organization and all third party
supplier relationships for MENTOR's 27,000 employees and
2,700 locations across 34 states. Since joining the Network in
2012, Scott has been reengineering and reorganizing the
Procurement function from a historically transactional based
compliance function to a strategic business partner to all of
Mentor's operating units.
Scott has over 20 years' experience as a professional
procurement and business leader. His expertise includes
strategic sourcing, cost control and containment, supplier
management, contract management, process improvements,
organizational development, training and technology/best
practices. Scott has held Procurement and Strategic Sourcing
leadership positions at Bank of America, Leerink-Swann,
Houghton-Mifflin, MetLife, Pioneer Investments, Genzyme
Corporation and Fidelity Investments.
Scott holds a BS in Industrial Management from Georgia Tech,
an MBA from Suffolk University and an MS in International
Economics from Suffolk University. In addition, Scott is a
Lifetime Certified Purchasing Manager (C.P.M.) and holds a Six
Sigma Green Belt with Lean certification.
Agenda
 P2P Goals: A Balancing Act

A GPS (Guided Procurement System) for P2P

Happy Path Detours

The Case for Guided Buying

P2P Case Study and Interview - The Mentor Network

Q&A
P2P Goals: A Balancing Act
Objectives
Requisitioner
• Right
items/services
from right
suppliers
From
'Preferred
Supply'
Get What You
Need
P2P
• Right
processes
Procurement
Supplier
• Right resources
and operating
model
Efficiently
(for all)
• Right tools
'Safely' (i.e.,
with controls)
Finance, IT
5
Make P2P More Like a GPS – Guided
Procurement System
•
•
•
GPS enables mobile, social, Internet of Things (IoT), etc.
An Amazon experience is "necessary, but not sufficient"
So, how to apply to B2B? Some common traits:
–
–
–
–
–
•
•
•
Mobile. (Android, iOS, etc… 'App' or browser-based)
Global. Multi-lingual, multi-protocol (e.g., GSM vs. CDMA)
Intuitive. Simple walk-up UI, and engaging (maybe even fun )
Multi-channel (or 'omni channel'). Tied to the physical world
Smart. Keeps getting smarter, more relevant, more predictive
Know who you are: Personalization (tracking; third-party
content; metadata)
Predicts what you are looking for and/or trying to do
Tries to help/guide you with relevant recommendations
6
Applying B2C to a GPS-enabled P2P
"Moment of Truth"…
SOURCE
(strategic or
tactical)
•
•
•
Employee
Needs
Something
Search for
Supply
BUY
(Req/PO/Re
ceipt)
PAY
(invoicing &
payments)
Knows who you are: Roles, permissions (items,
categories, suppliers, $ limits, functionality, etc.)
Predicts: Starts with auto classifying your need and type
of supply/spend, and then not just pushing you to catalog,
but to suppliers, existing supply, internal/external
resources (e.g., 'buying desk')…via the right tool
Tries to help and guide you, with relevant
recommendations. If not relevant, the System (big S) must
learn why to improve the Supply itself - or the guiding
process/technology that takes you there
7
P2P Process – The Happy Path
Requisition
Buy
Transmit
Catalog
Auto Workflow
"Touchless" PO
xCML/EDI/Port
al
Pay
Approve
Invoice
Receive
EFT/P-Card
Auto Match
(3 or 2 Way)
E-Invoice
Goods
Receipt
P2P Process – Happy Path Detours
The Guided Path
Top Performers - On Catalog
50%
Off-Catalog/On-Contract
40%

30%

77% Off-Catalog Spend for Top
Performers
94% Off-Catalog Spend for Others
20%
Transaction
s
42%
23%
10%
0%
Transactions
% Negotiated Cost Reduction Lost
Due to Maverick Buying
The (Buyer) Guided Path
Off-Catalog/Off-Contract


Spend
Significant Maverick Buy Potential
6x More Lost Savings for Worst
Performers
Bottom
Quartile
Peer Group
1.6%
Top Quartile
3.9%
World-Class
4.6%
Peer Group
9.6%
Bottom Quartile
World-Class
0.0% 2.0% 4.0% 6.0% 8.0% 10.0%
The Bread Crumb Path
No PO Invoices


Higher Non-PO Indicates Less
Control
1 in 5 are Non-PO for Even Top
Performers
% Non-PO Transactions
38%
40%
30%
21%
20%
World-Class
10%
Peer Group
0%
World-Class
Peer Group
Source: Hackett Group Procurement Benchmarks
The Case for Guided Buying

Drive Compliant Spend and Process for Total Indirect
Spend

Steer Users to Approved Suppliers and Buy/Pay
Channel

Simplify User Experience to Increase Adoption

Achieve World-Class P2P Performance

Leverage Accurate Item-Level Spend Visibility
The Mentor Network Case Study
Building Relationships. Enhancing Lives.
Founded in 1980, The MENTOR Network is a national network of local
health and human services providers.
We proudly serve people with intellectual and developmental disabilities,
children with emotional and behavioral challenges, people with medically
complex conditions, and individuals with brain and spinal cord injury. Our
services are designed to help people facing a range of challenges lead full
lives in the community and include:
Local Touch, National Reach
With programs located throughout the country, we are able to provide
personalized supports to individuals in the communities they call home.
States with The
MENTOR
Network
programs
Our Partners
Partners of The MENTOR Network work together to provide a
continuum of care and include:
Our Commitment
We are dedicated to helping people of all
abilities reach their full potential.
To learn more about The MENTOR Network and
how you can make a difference, visit us at:
www.MakeaDifferenceatHome.com
About
Background
•
No assigned commodities
•
30 Contracts Under Mgmt
•
$200M Addressable Spend
o $36M Spend Under Management
(SUM) – 16%
o $2.5M Savings
•
24,000 Purchase Orders processed
annually
o 18,000 Requisitions
•
528,818 Accounts Payable payment
transactions annually
•
6,000 P-Cards
Yr1 Strategy
•
Reorganized staff by commodity,
LOB
•
110 Contracts Under Mgmt
o New contract database
•
$200M Addressable Spend
o Currently $60M Spend Under
Management (SUM) – 40%
o $3M Savings Target
– Actual: $7M
o Target incremental 45% SUM
(25% Catalog and 20% offcatalog)
Next Phase: P2P Replacement
First Generation P2P Challenge
CURRENT ORACLE IPROCUREMENT ENVIRONMENT
•
Server Based - Network
A structured
feedback loop is not
in place to generate
valuable inputs to the
category strategy
reevaluation process.
access required
•
Lacks Ease of UseFormal Training Required,
Not intuitive
•
Long lead times (2 mos.)
for catalog on-boarding -
IT Resources Required
•
Licenses based on
company revenue
o
Contractors do not
have access to
Oracle
•
It has been estimated
that about 20% of total
spend is coded with
incorrect GL accounting
codes, resulting in
inaccurate spend
categorization.
Workflow changes
require formal IT SERF
There are no
tools in place to
actively monitor
spend trending
over time.
Pain Points
The current spend
analysis process
does not include
vendor name
normalization prior
to categorization.
Quarterly business
reviews appear to be
focused on a review of
statistical information
rather than measuring
supplier performance and
value-add opportunities.
Poll Question
What is the greatest challenge your organization has
faced with P2P?
a) Low user adoption
b) Inability to gain compliance on majority of spend
c) Lack visibility to accurate spend transactions
d) Long lead times for supplier onboarding
e) P2P model not scalable
Guided Buying – Search
What Users
Want?
Search
One
Stop
Shop
Auto-classifies search
term and suggests
relevant category to
ensure proper
categorization and
relevant search results
Multiple Search
Options
(Category,
Keyword,
Supplier, Part #)
View Item
details
with rich
product
images
Guided Buying – Selection
What Users
Want?
Selection
Filter results
by price,
supplier,
manufacturer,
etc.
Steers users to preferred,
approved vendors and
highlights diverse, or green
vendors & products.
Compare products
side-by-side with
long descriptions,
attachments and
specifications,
ratings and
reviews or
certifications
Guided Buying – Navigation
What Users
Want?
Navigation
Guidance to find and
order services or nonstandard products not
available in catalogs
Menu of guided e-Forms for off-catalog
requisitions instead of blank, free-form
requisitions
Guided Buying – Specification
What Users
Want?
Specification
Remove
guesswork
and eliminate
keystrokes
for catalog
AND "free
form"
requisitions
Guided form, wizard interface to prompt for
required attributes and specifications if "offcatalog" service or configurable product
Eliminate back
and forth with
buyer which
delays process
for getting the
required
service or
product
Guided Buying – Express Checkout
Default accounting, category,
shipping/billing from user profile
Allow editing at line item level to update
default values on exception basis or split
accounting or delivery
What Users
Want?
Express
Checkout
Auto-classify to correct category
code, invoke category-specific
workflow, map to GL account and
default ship to/bill to from profile
Guided Buying – Visibility
Budget*:
$371K
Overall
consumption:
Your consumption:
Split across budgets
Acme Aviation > Microchips
What Users
Want?
$606,000
(61%)
Details
$ 1,500
$ 950
Visibility
Preview
workflow
approval
process
Display graphical workflow
process and dynamically update if
cart changes trigger spend or
category-specific approval
thresholds
Budget
utilization
feedback
In-process
approval
status updates
Guided Buying – Mobility
What Users
Want?
Mobility
Provide feedback if rejected or
comments if more information is
needed for approval
Review, approve or
reject requisitions from
e-mail on smart phone
device without logging
into e-Procurement
application
Current Status
• Phase I: "Soft Launch"
o90 Users/Approvers from all LOB's
o40 Suppliers – 3 punch-out catalogs o
Payment Methods: Check, EFT, Card o
Oracle Integration
 Payment feed to Oracle
 Cost Center feed from Oracle
o Full workflow
o Custom Reporting
• Full Rollout Q4 2014
Q&A/Contact Info
For more information, please contact:
Scott Fitzgerald
Director of Procurement
The MENTOR Network
scott.fitzgerald@thementornetwork.com
Richard Waugh,
VP Corporate Development
Zycus Inc.
Richard.Waugh@zycus.com
Thank You for attending this Web Seminar!