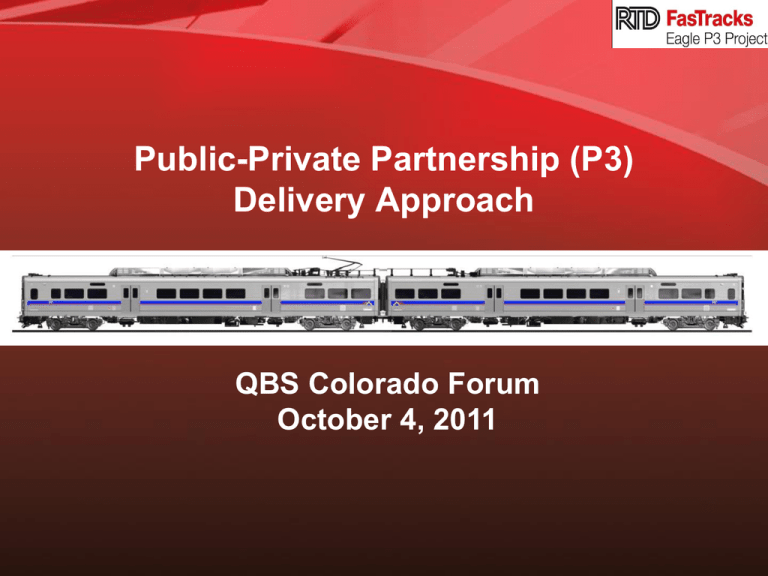 Presentation Overview
• Eagle Project Overview
• Key Participants & Organizational Structure
•
Public-Private Partnership (P3)
Project Status, Approvals and Schedule
Delivery Approach
• Questions?
QBS Colorado Forum
October 4, 2011
Agenda
Damian Carey – RTD – Design/Integration Manager
• Overview of RTD Public Private Partnership (P3)
• Overview of the Eagle P3 Project
• Concessionaire Solicitation Process
Michael Lipinski – DTP – Design/Build Project Manager
• Eagle P3 Project Status
• Procurement Process
Damian Carey
Regional Transportation District
Design/Integration Manager
The RTD FasTracks Plan
• 122 miles of new commuter rail
and light rail
• 18 miles of Bus Rapid Transit
(BRT) service
• 31 new park-n-Rides; 21,000
new spaces
• Enhanced Bus Network &
Transit Hubs (FastConnects)
• Redevelopment of Denver
Union Station
Public Private Partnership (P3)
What Is A Public Private Partnership (P3)?
• A contract wherein a single private entity,
typically a consortium of private companies, is
responsible and financially liable for performing
all or a significant number of functions in
connection with a project
Public Private Partnership (Cont'd)
What Are the Advantages of a Public Private
Partnership (Eagle P3)?
•
Accelerated project deliver (firm fixed date with penalties
for delay)
•
Risk transferred to private sector, away from taxpayers
•
Cost ($2 billion, Lump Sum, Fixed); allow Regional
Transportation District (RTD) to spread out large upfront
costs over approximately 30 years
•
In return, RTD will make service (availability) payments to
Denver Transit Partners (DTP) over the life of the project
Public Private Partnership (Cont'd)
• First full transit P3 in the United States
• Project is part of FTA's Public-Private-Partnership-Pilot
Program (Penta P)
• DBFOM – design-build-finance-operate-maintain
• 34-year term (5 years design/build; 29 years O&M)
• Availability payment model
• Includes incentives and penalties
• RTD retains ownership of assets
• Performance requirements
• Appropriate risk sharing
Eagle P3 Project Overview
• East Rail Line offers 35-minute travel time to DIA
• Gold Line offers 25-minute travel time to Ward Road
• First segment of Northwest Rail: Station at 71st/Lowell (4 miles
shared with Gold Line) offers 11-minute travel time to Westminster
• Commuter Rail Maintenance Facility
• Project Capital Budget - $2.1 Billion
East Rail Line
• 22.8 miles commuter rail
– Electric Multiple Units
• Connects downtown
Denver to DIA
• Complete in 2016
Gold Line
• 11.2 miles commuter
rail – Electrical
Multiple Units
• Connects downtown
Denver, Arvada and
Wheat Ridge
• Complete in 2016
Northwest Rail Line – First Segment
• 5.8 miles Commuter
Rail – Electric Multiple
Units
• Connects downtown
Denver with South
Westminster
• Complete in 2016
Commuter Rail Maintenance Facility
• Located on 30
acres at 48th
and Fox
Streets on the
Gold Line and
Northwest Rail
• Connected to
other rail lines
via Denver
Union Station
• Complete in
2014
Procurement Team
• Combination of RTD staff, consultants and
advisors
• High level of support and active involvement from
the RTD Board and General Manager
• Team included:
–
–
–
Jacobs Engineering: Overall management services
and P3 expertise
Goldman Sachs/JP Morgan: Financial advisors
Freshfields: Legal advisors
Procurement Process
• Approximately three years from concept to
contract
• Major steps include RFQ, draft RFP, final RFP
(issued in September 2009 with subsequent
addendums)
• Extensive industry review
• Numerous briefings with Board of Directors
• Best value selection (price and technical factors)
• Stipends ($2.5 million)
• Compensation Agreement ($20 million)
Other Key Procurement Aspects
• Each team proposed
Alternative Technical
Concepts (ATCs)
• RTD reviewed and
approved or rejected
ATCs
• ATCs were unique to
each team and were kept
confidential
• Importance of
confidentiality
Eagle P3 Financial Aspects
• Project Capital Budget: $2.1 Billion
– Private Debt and Equity: $455 million
– RTD Financial Pledge (i.e. TABOR commitment)
– Full Funding Grant Agreement from FTA: $1.03 billion
• Project Divided into Two Phases
– Phase I: Design, East Corridor, Maintenance Facility,
Vehicles
– Phase II: Gold Line, Northwest Rail Segment
– Phase II was awarded upon receipt of FFGA
Eagle P3 Project Proposals
• Two excellent submitted proposals
– Denver Transit Partners
• Fluor/ Macquarie Capital (Fluor/ Ames/ Balfour
Beatty/ HDR)
– Mountain-Air Transit Partners
• HSBC/ Siemens/ Veolia (Kiewit/ Herzog/ Stacy &
Witbeck/ HNTB)
• Final Proposals received – May 14, 2010
• RTD Board selection – June 15, 2010
Technical Evaluation
• Technical Proposal Criteria (40 points)
– Technical Approach
• Quality of solution; efficiency of O&M; safety;
integration; sustainability
– Quality of Team and Approach
• Commitment to safety; quality assurance; ability
to meet schedule and budget; proposed revenue
commencement; experience and key personnel
– DBE/SBE Approach
– Value Added Proposals
Financial Evaluation
• Financial Criteria (60 points)
– Financial Proposal
• Net present value of service payments made by RTD for
the entire project (Phase 1 and 2) over the term of the
agreement
– Phase 1 Base Annual Service Payment
• Net present value of the service payments for Phase 1
only
– Quality of Financial Proposal
• Robustness, commitment and executability of proposal
– Priced Options
•
•
•
•
Additional rolling stock
Drainage improvements
Grade separation project
DIA bridge
Evaluation Organization
A total of approximately
Evaluation
Committee
120 people participated
in review and evaluation
of the proposals
Responsiveness
Subcommittee
Technical
Subcommittee
ATC
Subcommittee
Stakeholders
Group
Financial
Subcommittee
Technical
Approach
Working Group
Quality of Team
and Approach
Working Group
Financial
Working Group
DBE/SBE
Approach
Working Group
Value-Added
Working Group
Options Working
Group
Keys to Evaluation Process
• Subject matter experts reviewed the relevant sections of
each proposal
• The results of the evaluations flowed through the
structure to the Technical Subcommittee
• The Evaluation Committee received reports from:
– Responsiveness Subcommittee
– ATC Subcommittee
– Technical Subcommittee
– Stakeholders Group
– Financial Subcommittee
• The technical evaluation was completed prior to receipt
of the financial proposals
Lessons Learned Report
• The report was provided to:
– Secretary of Transportation
LaHood
– FTA Administrator Rogoff
– Governor Hickenlooper
– RTD Board
– APTA
• Copies are available on the
RTD website
www.rtdfastracks.com/ep3_25
22
Michael Lipinski
Denver Transit Partners
Design/Build Project Manager
Denver Transit Partners Team
RTD
Concessionaire
Denver Transit Partners, LLC
Fluor/Uberior(Lloyds)/John Laing
Design/Build Contractor
(Fluor / BBRI)
Operations & Maintenance
Contractor
(Fluor / BBRI / ACI)
Design/Build Subcontractor
Rolling Stock Supplier
(Fluor/Ames/BBRI)
Hyundai-Rotem USA
Eagle P3 Project Schedule
Eagle P3 Project to Date
Began Pursuit
Mid-2008
Contract
Award
June 15, 2010
Financial Close – Phase 1;
Phase 1 Notice to Proceed
RTD East Rail Line
Groundbreaking
August 2010
Phase 2 Notice to
Proceed –
RTD Gold Line
Groundbreaking
August 2011
East Rail Line Update
Current Progress
• 60% Systems design (traction
power & catenary)
• UPRR Design in final approval
process
• 65 – 100% on Civil Design
• Real property – most properties
appraised
• Major construction to begin Fall
2011
• Long haul fiber relocation by early
November
DTP's Best Value Criteria Approach
Denver Transit Partners is committed to having a fair and
transparent process in the distribution and awarding of
contracts for the designing, building, operating and
maintaining of our project: the East Rail Line, Gold Line, an
initial segment of the Northwest Rail Line and the Commuter
Rail Maintenance Facility.
DTP's Best Value Criteria Approach
DTP evaluates and awards contracts based upon
Best Value Criteria, using the following for help in
assessing bids:








Capacity/Work Experience
Safety Record
Price
Schedule Commitment
DBE/SBE Utilization
Bonding Capacity
Insurability
Commitment to RTD's Workforce Initiative
Now (WIN) Program
Doing Business With DTP
Doing Business With DTP
Step 1
Step 2
Step 3
Step 4
• Step One: Go to www.denvertransitpartners.com
• Under the Contracting Section, click on "Doing Business with DTP"
• Then, download the "Contractor-Vendor Notice of Interest Form"
• Fill out the form completely and return to opportunities@dtpjv.com
• Or mail the form to 1670 Broadway, Suite 2700, Denver, CO 80202
• You will be sent a pre-qualification package
• Fill out the package as completely as possible and return with a copy of your DBE and/or RTD
SBE certification
• If you are not registered in iSqFt, you will also receive an invitation through iSqFt to get
registered
• You will receive bid opportunities based on your work codes through iSqFt
iSqFt Program
• Denver Transit Partners selects iSqFT Program
• iSqFT comprehensively and efficiently distributes
packages to qualified bidders
• iSqFT will assist with distribution of all bid
opportunities
• Program allows for same time release of general
information
iSqFt Program
• Through iSqFT, qualified contractors and vendors can
quickly access bid packages, specifications, drawings
and documents
• Program allows administrator to track the following:
 Who's viewed the document
 Who's downloaded the document
 Who's responded to the document
• Registration is easy and user friendly
Thank You!
For more information:
• www.rtd-fastracks.com/ep3_2
• www.facebook.com/RideRTD
• www.twitter.com/RideRTD
• www.denvertransitpartners.com
Questions?