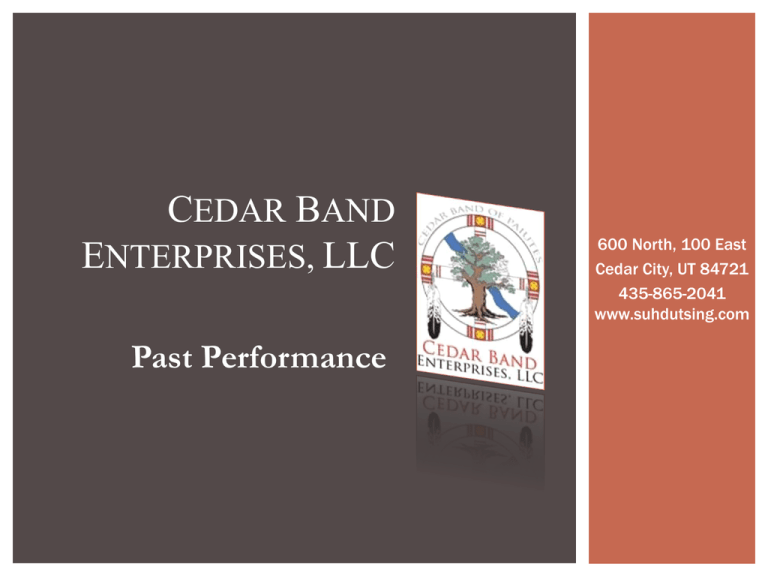 CEDAR BAND
ENTERPRISES, LLC
Past Performance
600 North, 100 East
Cedar City, UT 84721
435-865-2041
www.suhdutsing.com
ADVISORY SERVICES/COST ANALYSIS
Financial Analysis Support: Work for the
Bureau of Land Management's Information
Resource Management activities included cost,
overall financial, and contract analysis.
Chief Information Officer Advisory Services:
Included IT capital planning and investment
control, business case leadership, and Capital
Planning and Investment Control Guide creation
and coordination.
Acquisition and Financial Advisory Services:
Activities associated with the American Recovery
and Reinvestment Act, including management,
analysis, and administrative support.
COMPUTER FACILITIES MANAGEMENT SERVICES/
SYSTEM SECURITY
CBE companies have provided computer facilities management services and/or
systems security planning, testing, and verification for:
FIBER CABLING
Wireless and Fiber Cabling: Part of this $8 million
contract included Engineering, Furnishing, Installing
and Testing (EFI&T) fiber and wireless
communications at the U.S. Army's Dugway Proving
Ground (DPG). Work was in several phases,
supporting various technologies over 16 task orders.
Copper and Fiber Cabling: Terminated, spliced, and
installed 900 pair copper cable and 96 pair fiber
cable at various locations for the U.S. Army at Fort
Campbell.
Copper and Fiber Optic Cabling: Installed-- at the
Tinker AFB Aerospace Complex (AC)—the copper and
fiber optic cables between the appropriate buildings
and installed all station wiring at Cat. 5E or better.
INFORMATION ASSURANCE, PLANNING, AND DATA ENTRY
Information Planning: For the U.S. Pacific Command (PACCOM),
conducted effects-based planning, maintained day-to-day situational
awareness, and fully leveraged the collaborative information
environment to enhance Command & Control (C2) capabilities.
DIACAP: As part of the Voice-over Internet Protocol (VoIP) contract for
the Tinker AFB AC, provided the services required to complete the DoD
Information Assurance Certification and Accreditation Process (DIACAP)
Certification & Accreditation (C&A) of the proposed configuration.
Data Entry and Assurance: Since 2007, have maintained a staff that
processes handwritten catalog orders into an electronic format (96%
accuracy or better). Also develop software programs and security
measures to ensure secure and virus-free information transmittal.
Information Assurance: For the University of South Florida's (USF's)
Program Management Office (PMO), analyzed, mitigated, and managed
the risks of their Student Information System, transcripts, admissions,
academic, and financial data.
IT MANAGEMENT, SECURITY, AND SUPPORT
IT Security and Support: For this 5-year, $6.1 million contract, created
and maintained user accounts, troubleshot software issues, and
responded to system outages for the U.S. Census Bureau's Integrated
Development Environment of the Corporate Metadata Repository (CMR).
IT Management, Security, and Help Desk Support: Managed and
maintained the USF PMO networks—including Oracle, Banner, Network
Management, EDI (electronic data interchange), and PeopleSoft General
and Financial Systems—for USF's 42,000 students and staff. Also
managed the help desk for these services.
Certification & Accreditation Support: For the Department of the
Interior's Office of the Solicitor, work included system security review
and verification, creating a Security, Testing, and Evaluation Plan
(ST&E), risk assessment, and incident response planning.
IT Security and Support: Provided material and services—design, planning,
and hardware/software (HW/SW) acquisition—to ensure the security,
flexibility, and efficiency across the Storage Area Network (SAN).
IT STAFFING
Among the CBE family of companies is Suh'dutsing Staffing Services, a company dedicated to providing
mid (3-5 years) to senior-level (6-10+) experienced IT professionals. CBE staffing support has included:
Staff Augmentation: For various contracts ($22.3 million total)—in
HW/SW, SANs, data communications infrastructure, tech product
acquisition, etc.—provided 25 staff over multiple TOs in Kansas City,
Seattle, Silver Spring (MD), Boulder (CO), and three Virginia locations.
Full-Time Staffing: Over a three-year, $2.4 million contract, provided
six full-time Help Desk employees to deploy, upgrade, set accounts,
troubleshoot, and resolve hardware and software issues related to
PCs, printers, and network access.
Other Suh'dutsing Staffing Services clients have included:
OPERATIONS SUPPORT
Exercise Operations: Provided USARSO Program Management, Computer-Aided Command Post
Exercises and Analysis, Seminar Game Support and Analysis. Command, Control, Communications,
Computers, and Intelligence (C4I) Systems Support and Analysis.
Network Operations, Defense Logistics Agency: Maintenance of the
network, computers, training rooms, as well as the software and
hardware for all servers and computers at their Ogden, Utah location.
PROGRAM MANAGEMENT
CBE companies have provided multiple, simultaneous project oversight for several clients, including:
SYSTEMS INTEGRATION, MAINTENANCE, AND SECURITY
Systems Integration, Maintenance, and Security: After
design/build of a USCENTCOM War Room, was responsible
for integrating audio, video, video teleconferencing, control
and communications systems, as well as for planning,
testing, and verification.
Systems Integration Testing: After installation of VoIP
Phone System at the Tinker Aerospace Complex,
conducted pre-shakedown, shakedown, operational,
endurance, failover, and installation testing.
Systems Maintenance: For the Census Bureau's CMR
applications, was responsible for accepting change reports,
then creating impact analyses or effort assessments,
scheduling change activities, and executing system changes.
Systems Administration and Integration: Setup,
configuration, and testing of new software; setup and
integration of web sites into the existing structure; and
migration of physical machines into virtualized platforms.
TELECOMMUNICATIONS
CBE established Suh'dutsing Telecom in 2008 to build on the telecommunications work of
Suh'dutsing Technologies. Our companies have provided:
Wireless Telecom: On
this 5-year, contract,
performed cabling,
installation/termination,
telecom infrastructure
support.
Telecom System
Integration: Ensured
that the VoIP system
conforms to Air Force
Instruction (AFI 33-111)
standards for voice
systems management.
OTHER SERVICES
Computer Systems Installation (Humvee): For U.S.
Army TACOM Life Cycle Management Command,
headquartered in Warren, Michigan,
Control Systems: For Space and Warfare Systems
Command (Charleston, SC), services included
access, phone circuits, web portal, and telephony.
Data Migration: For the Commander Navy
Installations Command.
OTHER SERVICES (CONT'D)
Enterprise Strategy: For the Ninth Air Force U.S.
Central Command Air Forces (CENTAF), Shaw AFB,
planning, strategy & support of IT architecture
Land Mobile Radio: For seven locations at Voyageurs
National Park, MN, and Buffalo River, AK,
rehabilitated and upgraded of the existing radio
systems to a narrow band digital systems.
Technical Advisory Services: For Unmanned
Aircraft Systems (UAS) for the Office of the
Secretary of Defense.
Web Portal Design: Work included site requirements
& specs, information architecture, development,
testing, deployment, and post-design support. Work
for the VA involved developing a web-based e-Portal
allowing users to browse or search service and
benefits information.
THANK YOU FOR CONSIDERING
CEDAR BAND ENTERPRISES!
Questions?