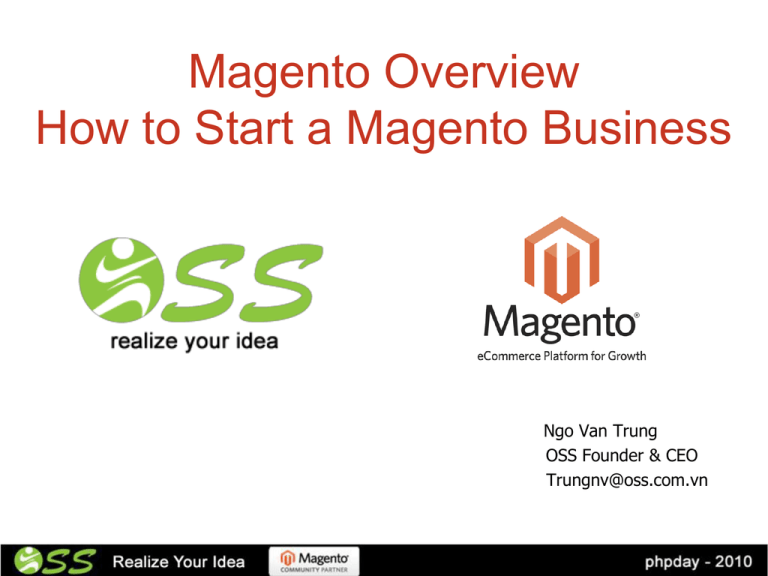 Magento Overview
How to Start a Magento Business
Ngo Van Trung
OSS Founder & CEO
Trungnv@oss.com.vn
Agenda

Introduction

Architecture Overview

Introductory Features and Functionality Demonstration

How to Start a Magento Business?
Magento
Company
Platform
•Founded: 2001
• 60,000+ Merchants
•115+ employees (and continuing to grow)
• Translated into 60+ languages with strong
world-wide traction
•Headquarters: Los Angeles, CA
•Increasing Revenues and Profitable Every Year
• Named in 2009 Forrester Wave™ of B2C
eCommerce Platforms
• Named in Forrester's 2010 Market
Overview: Global eCommerce Solutions
Report
"Magento is the world's fastest growing eCommerce platform."
Vizio
Fox
Flexibility with Enterprise
Support and Functionality
Architecture
• Extensible and Upgradeable Architecture
•Architecture Maintains Upgradeability with Customizations
•Core
•Local
•Community
• Complete Flexibility on Design Look and Feel
•MVC Architecture
• Core API opens platform for integration
•Supports both SOAP and XML RPC protocols
•Catalog
•Customer
•Order
Structural and Content Blocks
Templates and Design
Features and Functionality
•Site Management
•Multi-Store Management
•Search Engine Optimization
•Catalog Browsing
•Product Browsing
•Marketing and Promotion Tools
•Checkout
•Reporting and Analytics
Site Management
• Content Staging and Merging
• Restrict Access per Store(s)
• Multi-Lingual and Currency
• Upgrade Management
• Admin Roles and Users
• Content Testing and Management
Multi-Store Management
• Flexible Management for Many Business Uses
• Multiple Brand Sites
• Localized Versions of Sites
• Main and Micro-Sites
• Private Sales Sites
• B2C and B2B
Search Engine Optimization
• 100% Search Engine Friendly
• Search Engine Site Map
• URL Rewrites give full control of
URL's
• Meta-information for products and
categories
• Auto-generated Site Map for display
on site
• Auto-Generated Popular Search
Terms Page
Catalog Browsing
• Dynamic Attribute-Based Catalog for
Flexibility
• Layered Navigation
• Product Comparison
• Recently Viewed and Compared
• Product Reviews and Ratings
• Landing Pages, Banners and Personalized
Content
• Configurable Sorting
Product Browsing
• Configurable Attribute Based Detail Pages
• Multiple Images and Zoom
• Reviews and Ratings
• Product Tags
• Flexible Display Options
•Simple (one SKU)
•Configurable (Style Displayed with Selection)
•Grouped (Multiple SKU's can be displayed/ordered)
•Bundled (Custom Configures Product or Kit)
•Downloadable and Virtual
Marketing and Promotion
Tools
• Rule-Based Promotions
• Customer Segmentation
• Personalized Content Display
•Private Sales
• Rule-Based Association of Upsells, etc.
Checkout
• Dozens of Payment Gateways
•Alternative Payment Methods (PayPal, Google
Checkout and Checkout by Amazon)
• One-Page Checkout
• Checkout as Guest
• Use Existing Account
• Ship-to-Multiple Addresses Checkout
• Real-time rates from Major carriers
•Store Credit and Gift Cards
Reporting and Analytics
• Dashboard view and Reporting module
• Logging of Administrator Actions
• Integrated with Google Analytics and
Website Optimizer
• Reports configurable and exportable
•Sales Report
•Abandoned Shopping Cart Report
•Most Purchased Products Report
•Search Terms Report
•And more
How to Start a Magento Business?
•Is it easy to build an extension?
•What is the most important?
•Sell your extensions on magento-connect.
•Sell your extensions on Magestore.com
Is it easy to build an extension?
What is the most important?
http://www.magestore.com
Thanks For Listening!