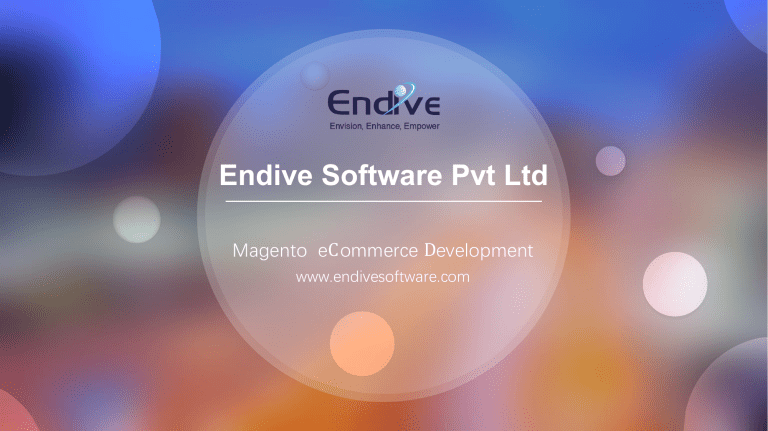 Endive Software Pvt Ltd
Magento eCommerce Development
www.endivesoftware.com
Magento eCommerce Development
At Endive Software, we provide expert & rich optimization of Magento for online store
management maintaining our eCommerce solutions to our customers. We are becoming experts
in custom made Magento eCommerce development such as Magento design, customized
Magento development, eCommerce website development or shopping management, CMS
development, call to action graphics & image editing and furthermore options by using the
methods of Magento. We give customers a single combination of Magento platform with
expertise and skillful of our Magento eCommerce developers will produce seamless integration
to create it unique. The Magento Platform merges the adaptability of open source technology
with specific industry features to give retailers unique control over online market operations and
obtain the online sales growing.
Benefits of Magento eCommerce Development
Product
Datasheets
Brand
Awareness
SEO
Friendly
Super
Analytics
Global
Customer
Reach
Consumer
Insights
Our Expertise
 Magento Template Integration and Customization
 Magento Theme Development and Customization
 Magento Modules Development and Customizations
 Magento Extensions Development and Customizations
 Magento
Development
 PHP . and PHP .
 Framework and Scripting AJ AX, XML, J avaScript libraries
like jQuery, Ext J S and Prototype J S
 Database MySQL . and MySQL .
 Smarty
Hire Magento eCommerce Developers
Master in Premium theme design &
development
Expertise to get your business goals
& income target
Search engine friendly work
Expertise in eCommerce and
mCommerce for niche enterprises
Since our inception in 2008, we have been giving committed certified Magento
eCommerce Developers to those who need to hire for their eCommerce website
development requirements. They are very strong in ecommerce website design &
development, integration & customization, maintenance & support. Why several
customers hire our Magento developers for their ideas and why they are satisfied
with our work is considered below.
What We Provide
 100% Full "Customized" and Mobile Responsive Design
 Usability User Centric Design
 SEO Friendly with Website Optimization
 PSD to Magento Conversion
 Magento Template Customization
 Magento Theme & Template Development
 Magento Plugins and Extension Integration
 Magento Online Store Development
 Magento eCommerce Store Setup Online with Configuration & Deployment
 Custom Shopping Cart Development Solutions
 Custom Payment Gateway Integration Solutions
 Custom Template Design and Development
 Custom integrations such as Google base
Why Endive Software for Magento Development Services
The end to end
eCommerce
solutions with
Agile
Methodologies
Agile
Development
with Magento
best methods
and standards
Customers
ensure for the
quality services
in fast delivery
time
Giving
solutions as
per your
business
requirements
Customers to
find high
grade rankings
in the search
engines
Manageable
and Reliable
Payment
Gateway
Integration
Provide the
better
shopping
experience to
the customers
Reach Us
Address:
2220 Meridian Blvd,
Minden, Nevada, USA 89423
www.endivesoftware.com
+1 (941) 312 2199
sales@endivesoftware.com
Thanks for reading
Q&A
www.endivesoftware.com
Every time, We will try the best for you.