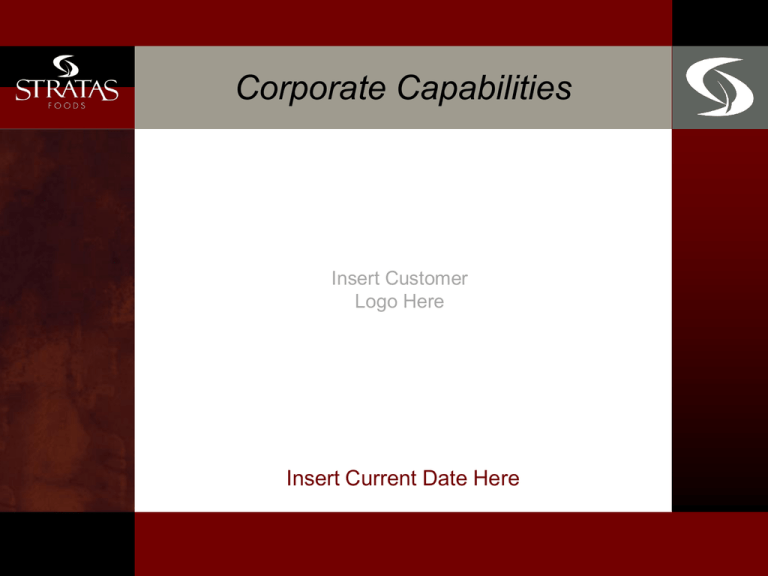 Corporate Capabilities
Insert Customer
Logo Here
Insert Current Date Here
The New Stratas Foods
• 50/50 joint venture between ADM and ACH
• Separate company/free standing
• Financial strength from parent companies
– ADM traded on the NYSE
– ABF (ACH parent) traded on the London Stock Exchange
• Largest packaged oil company in North America
• Over 200 years of combined experience
Founded 1902
Founded 1883
2
Connected to ADM North American Processing
Soybean Crush
Canola Processing
Flaxseed Processing
Sunflower Processing
Cottonseed Processing
Corn Processing
Peanut Processing
3
Logistics Enhanced by Multiple Plants
• Shortens freight distances across the country
– Minimizes "food miles" which is a sustainability goal
• Provides a secure source of supply
– Remaining plants can increase production during down
times at any single facility
4
Stratas Supply Chain
Sherway - Brampton, ON
Brampton, ON
Quincy, IL
Hillside, NJ
Decatur, IL
Fresno, CA
OHL - Edwardsville, IL
Memphis, TN
Valdosta, GA
Stratas Foods Manufacturing/Distribution
Distribution Center
Corporate Support Center
Oils & Fats Processed
Source Oils
Modifications
• Soybean Oil
• Refining, bleaching, and
deodorizing
– Traditional, High-Oleic, and Low-Lin
• Canola Oil – Traditional & High-Oleic
• Hydrogenation
• Corn Oil
• Interesterification
• Cottonseed Oil
• Fractionation
• High-Oleic Sunflower
• Winterization
• Mid-Oleic Sunflower
• Blending
• Peanut
• Crystallization
• Palm Olein
• Flaking
• Palm Stearine
• Palm Kernel
• Coconut
6
Industry Leading Tech Center
• New centralized Tech Center provides best-in-class
venue for product testing
• Brings product development, QA, Analytical Testing,
and the Pilot Plant under a single roof
– Increases our overall lab space by about 30%
• Facilities on-site:
– Demonstration kitchen
– Fry lab
– Bakery lab
– Pilot Plant
– Analytical testing
7
The Experts in the Science of Fats & Oils
• 17 Research resources in our Tech Center
• Experts in the science of frying
– Chemistry of fats and oils
– Causes of frying oil breakdown
– Proper oil maintenance procedures, including filtering
• Deliver expert advice on fryer cleaning
• Continually testing Stratas frying oils, along with the
latest oilseed innovations
8
Risk Management Team
Position
Key Managers
SVP – Risk Mgmt & Procurement
Ray Richard
Commodity Risk Director
Brian Owens
• Expertise in the fundamental and technical drivers of
commodity markets
– Stratas has its own economics staff and research team
– Dedicated to fulfilling market needs of many customers
• Integrated linkage with world-wide, full-service brokerage
(ADMIS)
– Offices in Chicago, London and Hong Kong
– Provides research support and streamlined execution
• Sophisticated understanding of the rules surrounding
hedge accounting
• Market guidance and information
9
Market Watch
Weekly "snapshot" of various oil markets. Summarizes crop and market
information in a format that's quick and easy to understand.
10
Stratas Corporate Structure
Branded
Custom
Foodservice
Ingredients
Store Brands
Foodservice
• Frymax®
• Shortening
• Custom Label
• Custom Label
• Mazola ZT®
• Liquid Oil
• Packer Label
• Packer Label
• Whirl®
• Pan Spray
• Prep®
• Trisun®
• Sweetex®
• Fenix®
• Primex®
• Custom Blend®
• Nutex®
• Dritex®
• Mazola®
• Liquimix®
• Sterling®
• Nutri-Lipids
• Distributor Label
11
In Summary…
Stratas Foods is setting a new
standard for Customer Service and is
committed to providing the highest
quality edible oils in the food industry.