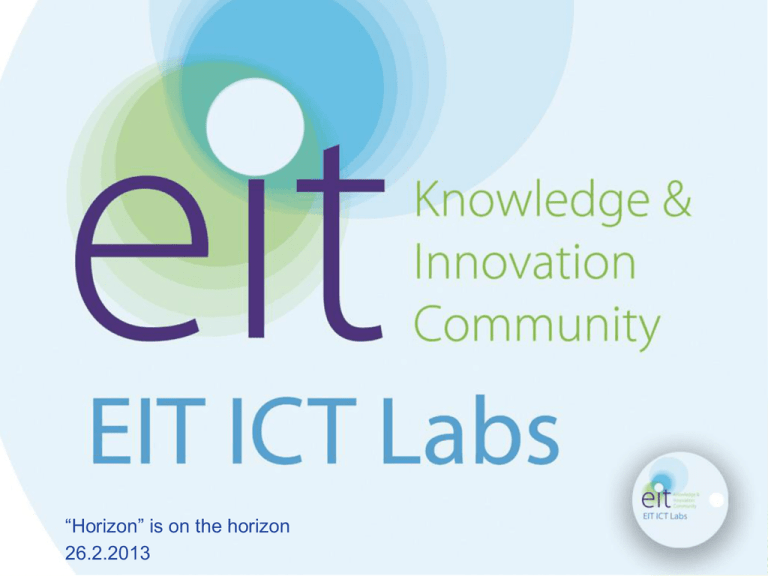 "Horizon" is on the horizon
26.2.2013
EIT ICT Labs
Kai Huotari
Co-Location Centre Manager
EIT ICT Labs Helsinki
Agenda
-
EIT initiative
Our Mission
The Way We Operate
The Helsinki Node
How To Get Involved
EIT Initiative
Tackling the European Paradox
The European Paradox refers to the presumption that EU member states play a leading
global role in terms of top-level scientific output, but lag behind in the ability of
converting this strength into wealth-generating innovations.
 The EIT was established as a new EU instrument for promoting innovation in Europe:
from idea to product, from lab to market, from student to entrepreneur.
 It does not replace other existing EU initiatives (e.g. EU Framework Programmes), but
adds to them by setting its focus on bringing research results to market
EIT ICT Labs General Overview | Page 5
The EIT and its KICs
 The European Institute of Innovation
& Technology (EIT) was legally
established in 2008 as an independent
agency within the EU
 It funds Knowledge and Innovation
Communities (KICs)
 Official call and selection of the first
three KICs in 2009
KICs
 First KICs fully operational in
December 2010
Climate KIC
EIT ICT Labs General Overview | Page 6
EIT ICT Labs
KIC
InnoEnergy
Our Mission
Our mission is to turn Europe into a global
leader in ICT innovation, creating value and
jobs for Europeans
Innovate across Education, Research and
Business
Creating a new breed
EIT Master
of entrepreneurs
Schools
MSc
Enabling excellent individuals
and multidisciplinary teams to
develop breakthrough ideas
Schools & Camps
Education Research
Experience Labs &
Living Labs
CrossSectoral
Mobility
Test Beds &
Co-location Centres
Simulation Tools
Business
Supporting innovators all the way to the market
Innovation
Radar
The Way We Operate
Co-Location Centres
European Innovation Hotspots
 EIT ICT Labs operates from Co-location
Centres (CLCs) in 6 nodes
 CLCs are places where individuals from
different types of organisations and
cultures work together face-to-face and
move forward effectively towards KIC
goals
 CLCs are equipped with state-of-the- art
communication technologies that facilitate
cross-node collaboration
Madrid
EIT ICT Labs unites European top ICT
players from academia and industry
Universities
Core Partners
Research Institutes
Core Partners
Companies
Core Partners
 Aalto University
 3TU / NIRICT, comprising TU Delft, TU
Eindhoven, University Twente
 TU Berlin
 Université Pierre et Marie Curie
 Université Paris-Sud 11
 Institut Telecom
 KTH
 DFKI
 Fraunhofer
 INRIA
 Novay
 VTT
 SICS
 Deutsche Telekom
 SAP
 Siemens
 Philips
 Nokia
 Alcatel-Lucent
 Orange France Telecom
 Ericsson
Affiliate Partners
 Karlsruhe Institute of Technology (KIT)
 Luleå University of Technology
 Lund University
 Saarland University
 Stockholm University
 Tampere University of Technology
 TU Darmstadt
 TU München
 Turku Center for Computer Science (TUCS)
 University of Helsinki
 University of Nice Sophia Antipolis
 University of Oulu
 CIE-Center for Internet Excellence
 CWC-Center for Wireless Communications)
 University of Rennes 1
 University of Tampere
Associate Partners
 Imperial College London
 University College London
 Eötvös Lorand University of Sciences (ELTE)
(Budapest Associate Node)
Affiliate Partners
 Max Planck Institute
 CWI
 Embedded Systems Institute (ESI)
 Holst Centre
 TNO-ICT
 Digiteo
 Acreo
 IT Center for Science (CSC)
 Cap Digital
 COMICT
 Images & Réseau
 KTH Chalmers Capital
 Point One
 Oost VC
 SITRA
 System@tic
 Technology Circle Twente
 3TU Innovation Lab
Affiliate Partners
 EICT GmbH
 Opera Software ASA
 Logica
 Hermia Ltd
 Futurice Ltd
 Electrum Foundation
 Secured Communication Systems
 Technopolis Ventures
 STING
Associate Partners
 Intel labs Europe
The Catalyst-Carrier model is key in our
approach
Specific Innovation
Catalyst
€
co-funding
EIT Funding
Call of Activities 2013 | Page 13
Carrier
€
complementary
funding
Non-EIT Funding
Catalysts 2013
Common Catalysts
KIC Management
lead the KIC to make it a leading force in ICT
Co-Location Centres
lead nodes and CLCs towards world-class
Action Line Management
lead an action line towards its goals
Workshops and Conferences
consolidate goals, plan joint work, share
results, create networks, gain visibility
Activity Management
lead an activity towards its objectives
Education Catalysts
Project Proposal
catalyse ERB carriers matching our strategy
Research Catalysts
I & E Education for MSc Programs
integrate robust entrepreneurship education
for EIT ICT Labs M.Sc. programs
Open Source Booster
catalyse industrial take-up of open source
flagship projects
I & E Education for PhD Programs
integrate robust entrepreneurship education
for EIT ICT Labs doctoral programs
Patent Booster
intensify creation of new patents
Professional Training
provide professional training to industry
Doctoral Training Centre
integrate doctoral training with industry
Quality Assurance and Accreditation
assure quality of educational programs
Summer and Winter Schools and Camps
provide intensive educational events
Student Mobility
coordinate student mobility
Thematic Alignment of Technical Majors
align the content M.Sc. programs with SIA
Test Beds, Testing Platforms &
Simulation Tools
integrate joint hardware or software
platforms to experiment and validate
technologies or applications
Experience & Living Labs
test and modify product and service designs
with real users and use contexts
Standards Booster
foster impact and ensure sustainability of key
results
Entrepreneurial Research
stimulate entrepreneurial research in the
community
Best-Practice Benchmarking
integrate global best-practices to create a
self-re-enforcing innovation ecosystem
Mobility Program
foster inter-node and inter-domain mobility of
educators, researchers and innovators
Business Catalysts
Innovation Radar
create business intelligence of the future
Strategic Coaching
coach start-ups towards growth strategies
Access to Finance
ensure capital availability for all stages
Technology Transfer
increase the flow of technologies from
academia to companies
Technology Scouting
seek opportunities for business incubation
Business Modelling
provide techno-socio-economical modelling of
a business domain
Soft Landing
help SME's to grow to European level
Entrepreneurial Talent Scouting
link entrepreneurs to innovators
Action Lines for Societal Challenges
In Smart Spaces we will create intelligent environments that facilitate everyday practices, create richer
user experiences and enhance the users' awareness of local opportunities in a resource and cost efficient
way.
In Smart Energy Systems we address the issue of increasing energy efficiency via ICT enabled power
grids, as well as energy efficient ICT solutions - green ICT.
In Health and Well-being we will improve the quality of everyday life via the development of ICT enabled
services supporting a cost effective sustainable healthy lifestyle, as well as ambient assisted living.
In Digital Cities of the Future we improve the living conditions for citizens in large urban conglomerations
via ICT enabled solutions in the areas of security, pollution, transportation, and resource management (e.g.
water).
In Future Media and Content Delivery we develop of a powerful and open ICT infrastructure, capable of
delivering rich data-intensive media and content storage services, at competitive costs, across
administrative domains, ensuring quality of service.
In Intelligent Transportation Systems (under construction) we enhance services for people using all
kinds of transportation systems.
EIT ICT Labs Master School & Doctoral
Programme
Helsinki Node
The Helsinki Co-Location Centre
 The Helsinki CLC is on Otaniemi Campus, a hotspot hosting many of our partners
'Open Innovation House' on
Otaniemi Campus
 Office space: 800m2 (starting September 2012)
 Proximity of EIT ICT Labs partners
 Open Innovation House: Nokia Research Centre, Helsinki Institute for Information
Technology HIIT, AppCampus
 On Otaniemi Campus: Aalto University, VTT, Technopolis, CSC
EIT ICT Labs General Overview | Page 18
Our CLC is situated in the middle of the Finnish
Innovation Hotspot
3
T
Otaniemi
Keilaniemi
Tapiola
Helsinki Node Core Partners
Aalto University
Nokia
VTT
Helsinki Node Affiliate Partners
Universities
• University of Helsinki
• University of Oulu
• University of Turku
• Åbo Akademi
• Tampere University of Technology
• University of Tampere
Business ecosystem & Companies
• Centre for Scientific Computing (CSC)
• Hermia Ltd.
• Business Oulu
• Technopolis Ventures Ltd.
• Forum Virium
• Futurice Ltd.
EIT ICT Labs Helsinki Team
Marko
Turpeinen
Director
Kai Huotari
Co-location Centre
Manager
Suvi Lavinto
Operations &
Marketing
Manager
Minna
Pikkarainen
Business Dev.
Antti Aarnio
Head of Business
Development
Martti Mäntylä
CSO EIT ICT Labs
Katri Sarkio
Doctoral School
Coordinator
Päivi Saarinen
Henna Sandvik
Financial
Coordinator
Assistant
Controller
Soili Adolfsson
Assistant
Sami Jokela
Business
Developer
EIT ICT Labs Helsinki Start-ups
Polqu
Smart Spaces
Health & Wellbeing
How To Get Involved?
How to get involved in EIT ICT Labs?
How to get involved in new EIT KICs?
 Find a good consortium
 Identify your expertise
 Be active
Thank you
for your attention!