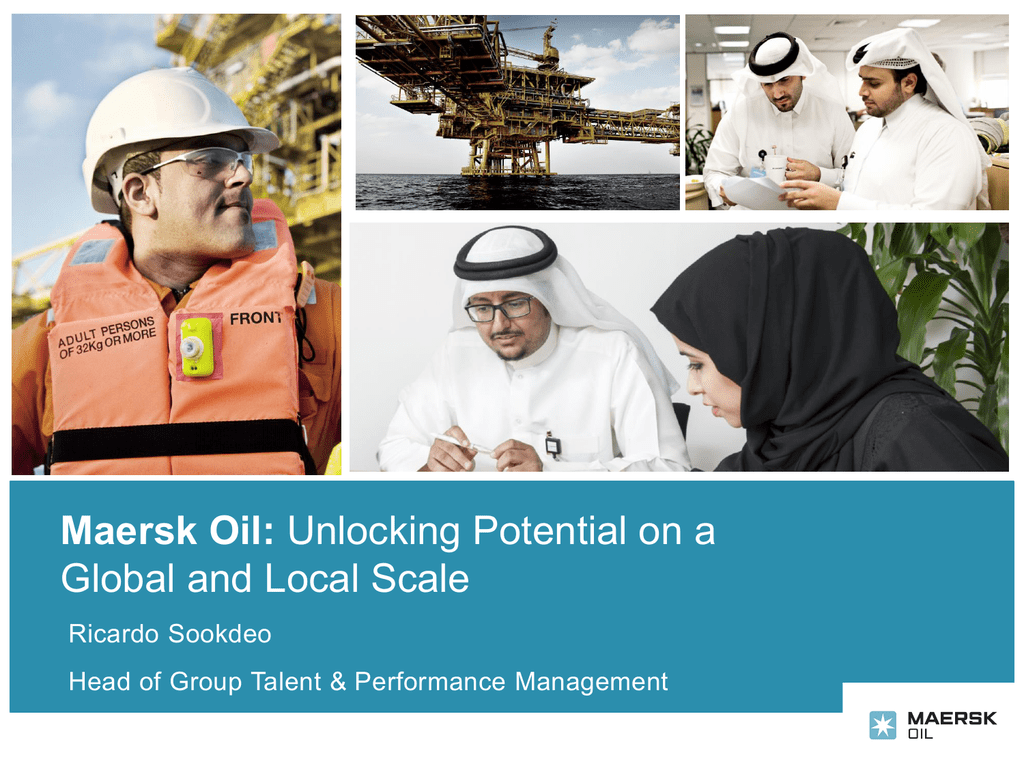 Maersk Oil: Unlocking Potential on a
Global and Local Scale
Ricardo Sookdeo
Head of Group Talent & Performance Management
A.P. Moller-Maersk: Group overview
2
3
4
1
Companies of particular strategic importance:
•
Operate mainly in the shipping and energy
industries
Shipping
Energy
•
130 countries wordwide
•
Approx. 121,000 employees globally
1: Maersk Line
2: APM Terminals
3: Maersk Oil
4: Maersk Drilling
•
2012 revenue: USD 59 billion
Maersk Oil: from local to global player
Expansion of geographical focus
2002
2014
Norway
UK
Denmark
Kazakhstan
Algeria
Qatar
Kazakhstan
USA
Algeria
Angola
1992
Denmark
Brazil
Kurdistan
Qatar
Abu-Dhabi
The Al Shaheen field
Qatar's largest offshore oil development
A central role in
Qatar's energy mix
Developing one of the world's most
complex oil fields in partnership with
Qatar Petroleum for 21 years
Contributing one third of Qatar's oil,
300,000 bpd
Over 1.4 billion barrels produced to
date
Safely delivered $9billion field
investment, on time, on budget
Qatar's largest offshore operator; 800
employees offshore; 700 onshore; 25%
Qatari workforce
Title of presentation |
Specialists in applied
technology
Maersk Oil Research & Technology
Centre
•
$100m Investment over 10 years
•
Horizontal wells
•
Carbonate EOR (Enhanced Oil
Recovery)
•
Offshore environment
Local training & knowledge-sharing
•
Close cooperation with universities in
Qatar and worldwide
•
Lectures, seminars and workshops
Unlocking human potential
Global experience, local impact
Title of presentation |
Global Reach
Global Experience
Global Opportunity
Strategy
Capabilities
Specialist Talent
'Assignmentology'
• Experiences rather than
positions
• Taking lead on projects
• Exposure to people, clients,
networks
• Tailor-made hypercare
Transitioning through
Leadership Pipeline
4
3
2
1
Development philosophy - 70/20/10 Approach
Real responsibilities – real career development
70% on-the-job
experience
• 'On-the-job'-challenges, taskforces, special projects,
mobility assignments, targeted stretch experiences
• Mentoring, coaching, counselling, shadowing, frequent
feedback from peers, exposure to core people,
interaction with leader
20% feedback
• Good fit with capabilities related to leadership,
personality and to some extent practical skills.
• Books, seminars, workshops , e-learning, podcasts.
10% courses
• Project planning, MS Excel, typewriting, basic economics
• Good fit with narrow skills-gaps.
Qatar Case Study
Talent identification framework – local adaption
Segmentation of workforce
Potential
Develop
in current
position
1 band
2 bands higher
higher
within 2-6
within 2 years
years
Performance over 3 years
The 'Talent Pool'
Highest
30%
Middle
60%
Lowest
10%
Identify employees
with potential to grow
in the organisation
Qatarization Development Framework
1. Assess & Review
Segmentation Framework
Leadership talent pool
2. Discuss
Career Review
Career Development
Career Planning
• What to do next?
• How to fill identified gaps?
Annual meetings
LEAD
SUPPORT
EXTERNAL
SUPPORT*
Coach
Q'zation
Technical specialists
M'ger Employee
Managerial
Technical
Job Grade 64
Vice
President
Advisor
Specialist
Job Grade 63
Job Grade 62
Senior
Principal
Specialist
Senior
Director
Job Grade 61
Director
Senior Lead
Specialist
Job Grade 59
Job Grade 58
Job Grade 57
Bi-Annual Follow-up
Principal
Specialist
Job Grade 60
Team Leader
LEAD
SUPPORT
EXTERNAL
Lead Specialist
Team Leader
Senior Specialist
Job Grade 56
Job Grade 55
Job Grade 54
Specialist
Job Grade 53
Job Grade 52
Junior Specialist
M'ger Employee
Coach
3. Execute
Q'zation
70/20/10 Approach
Transitional development: Shadow support
Learning the role
Taking responsibility
Qatari 'employee'
shadows leader
Qatari assumes
leadership role
Being a leader
Leading a team
Accelerated Development
Transitional development support
Cross-posting – international
experience
Executive Leadership
Development Facility Rolighed, Denmark
Unique challenges
Engaging environment
Rewarding careers
Building a legacy in Qatar
The past
The future
• Aim to quadruple
• 40% increase in Qatari
Qataris in leadership
leaders in past 2 years
and senior specialist
• 50% increase in Qatari
roles before end 2017.
employees with university
degrees
• 20% increase in Qataris
Future
within technical
disciplines
Heritage
Thank-you for your attention.