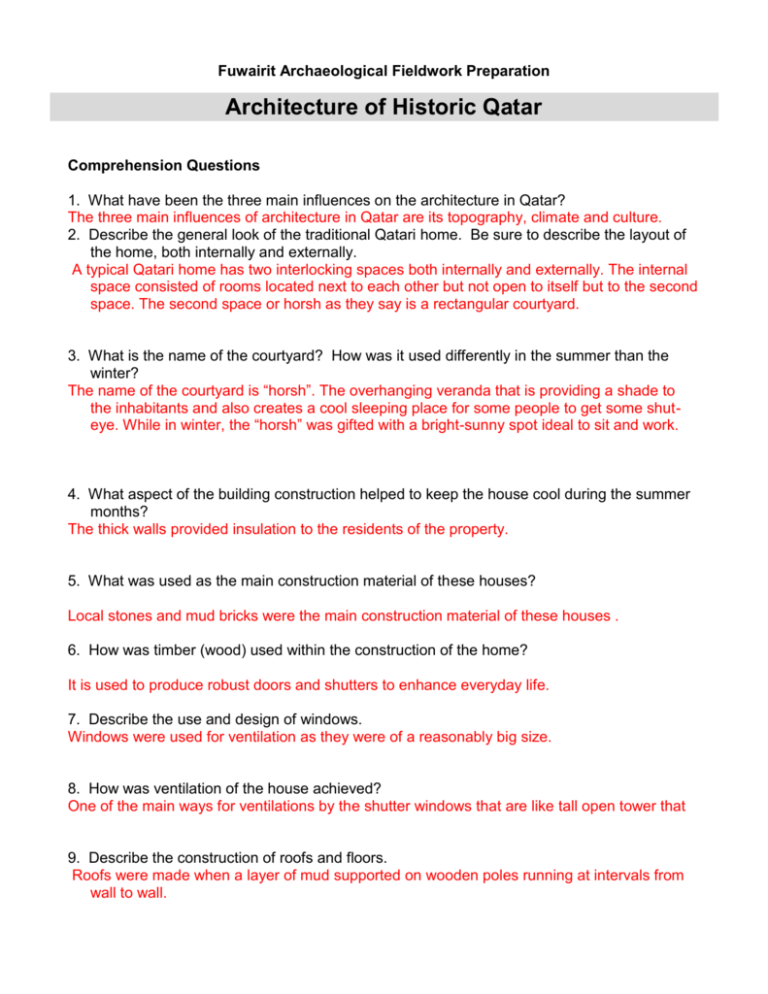 Fuwairit Archaeological Fieldwork Preparation
Architecture of Historic Qatar
Comprehension Questions
1. What have been the three main influences on the architecture in Qatar?
The three main influences of architecture in Qatar are its topography, climate and culture.
2. Describe the general look of the traditional Qatari home. Be sure to describe the layout of
the home, both internally and externally.
A typical Qatari home has two interlocking spaces both internally and externally. The internal
space consisted of rooms located next to each other but not open to itself but to the second
space. The second space or horsh as they say is a rectangular courtyard.
3. What is the name of the courtyard? How was it used differently in the summer than the
winter?
The name of the courtyard is "horsh". The overhanging veranda that is providing a shade to
the inhabitants and also creates a cool sleeping place for some people to get some shuteye. While in winter, the "horsh" was gifted with a bright-sunny spot ideal to sit and work.
4. What aspect of the building construction helped to keep the house cool during the summer
months?
The thick walls provided insulation to the residents of the property.
5. What was used as the main construction material of these houses?
Local stones and mud bricks were the main construction material of these houses .
6. How was timber (wood) used within the construction of the home?
It is used to produce robust doors and shutters to enhance everyday life.
7. Describe the use and design of windows.
Windows were used for ventilation as they were of a reasonably big size.
8. How was ventilation of the house achieved?
One of the main ways for ventilations by the shutter windows that are like tall open tower that
9. Describe the construction of roofs and floors.
Roofs were made when a layer of mud supported on wooden poles running at intervals from
wall to wall.
10. Compare the construction of these historic homes to the construction of modern homes in
Qatar. How are they similar? How are they different? (Consider the building materials and
architectural styles)
As time passed, technology and resource became more and is still essential for people to live.
The range of materials used is of a wide variety nowadays and is I think safe to say better
than what they had in previous times.