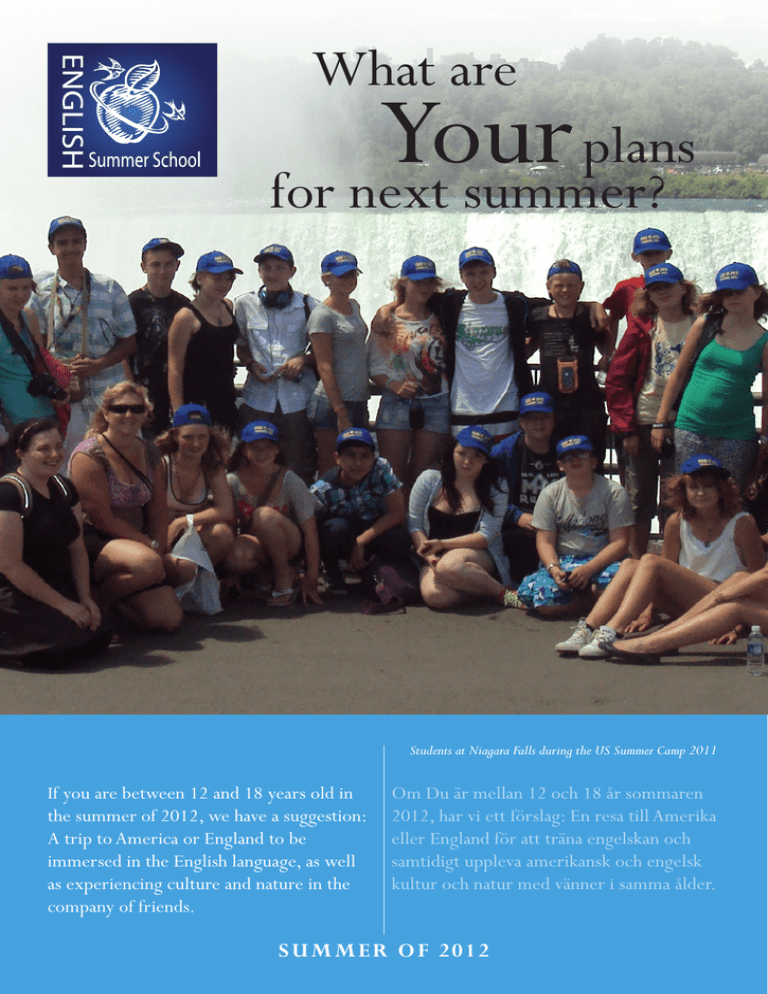 What are
Your
plans
for next summer?
1
Students at Niagara Falls during the US Summer Camp 2011
If you are between 12 and 18 years old in
the summer of 2012, we have a suggestion:
A trip to America or England to be
immersed in the English language, as well
as experiencing culture and nature in the
company of friends.
Om Du är mellan 12 och 18 år sommaren
2012, har vi ett förslag: En resa till Amerika
eller England för att träna engelskan och
samtidigt uppleva amerikansk och engelsk
kultur och natur med vänner i samma ålder.
SUMMER OF 2012
Summer Camp in the USA
- Now including Niagara Falls and New York City
Jamestown, in Chautauqua County, Western
New York, is "The real America". Here we
started our first Summer Camp in 2011. It
was a great success.
171 Swedish students participated. More than 9 out of
10 said, in an anonymous questionnaire, that they would
recommend the program to a friend who asked. You can
2 read some student voices in this brochure. On our web
site, you can also see a little film from the 2011 Summer
Camp.
Jamestown, i Chautauqua County, Western
New York, är "det riktiga Amerika". Här
startade vi vårt första Summer Camp 2011.
Det blev en stor framgång.
171 svenska elever deltog. Mer än 9 av 10 förklarade i en
anonym utvärdering att de ville rekommendera programmet för en vän som frågade. Ni kan läsa elevröster senare
i broschyren. På vår hemsida finns också en liten film från
sommaren 2011.
Jamestown is located all the way to the west in the state of
New York, close to Lake Erie, one of the Great Lakes. It is
a true summer paradise. The landscape resembles Sweden,
with gentle hills and valleys and clean waters. Jamestown
is built on the hills surrounding lovely Lake Chautauqua.
One can easily understand why many who emigrated from
Sweden came to this region. Jamestown became the third
largest Swedish settlement in America, next to Minnesota
and Chicago. Even today, a large part of the population
shows pride in having Swedish roots.
Jamestown ligger längst västerut i den vida delstaten New
York, nära Lake Erie som är en av De Stora Sjöarna. Det är
ett sommarparadis. Landskapet påminner om Sverige, med
vänliga berg och dalar och rent vatten. Jamestown byggdes
på höjderna ovanför den vackra insjön Lake Chautauqua.
Det är lätt att förstå varför många svenska som utvandrade
bosatte sig här. Jamestown blev den tredje största bosättningen för svenskar, efter Minnesota och Chicago. Än idag
är en stor del av befolkningen stolt över att ha svenska
rötter.
Still, there are many things to discover which are different
from Sweden. Less than two hours away are the mighty
Niagara Falls. Even closer to Jamestown, you will find mile
after mile of vineyards along the shores of Lake Erie. This
is the leading and oldest grape juice district in the US. Rolling hills and seemingly endless rows of grapes combine
to form an irresistible summer landscape. The longitude is
the same as Rome, Italy, with a warm summer climate. The
Amish population settled in the region long ago, maintaining a traditional way of life. They are easily recognized by
the use of horse and buggy, and their clothing. Before the
arrival of the Europeans, this region was dominated by the
Iroquois Confederation of Indian Tribes, among them the
Senecas.
Likväl finns det mycket som är annorlunda än i Sverige.
Mindre än två timmar bort dånar de mäktiga Niagarafallen, ett av världens stora under. Ännu närmre, längs
Lake Erie, sträcker sig mil efter mil av vingårdar. Här finns
Amerikas största distrikt för vindruveodling för främst
juice. Breddgraden är ungefär samma som Roms, med
ett varmt sommarklimat. Amish-befolkningen bosatte sig
också i den här regionen för länge sedan. De bildar ett
starkt och intressant inslag med sitt gamla sätt att leva,
verka och klä sig – bland annat med häst och vagn i stället
för bil. Innan européerna kom, dominerades regionen av
Seneca-indianer.
3
The Hillside Suites –
where we live
Ms Barbara Bergstrom, the founder of Internationella
Engelska Skolan, lives in Chautauqua County during the
summer with her husband, Dr Hans Bergstrom. They are
both involved in the local community and have developed
a close cooperation with Jamestown Community College
(JCC).
JCC is one of the colleges within the State University of New
York (SUNY) system. The campus is simply incredible. We
are able to utilize the complete facilities for our summer program. Everything – ranging from the indoor swimming pool
area to exercise facilities to the student café, classrooms and
outdoor areas for different kinds of sports – is at our disposal.
Best of all, we are able to rent the residence halls, newly built
in old English style. "Hillside Suites" is a place for students to
live and learn together. Living arrangements offer a suite of
four separate bedrooms, full kitchens, a large living room in
the middle and two ample bathrooms.
Barbara Bergström, grundaren av Internationella Engelska
Skolan, bor sommartid i Chautauqua County med sin
man, Dr Hans Bergström. De är engagerade i det lokala
samhället och har utvecklat ett nära samarbete med
Jamestown Community College (JCC). JCC är en del av
New Yorks universitetssystem. Campuset är underbart,
särskilt sommartid. Vi kan utnyttja alla dess tillgångar för
vårt Summer Camp – från swimming-pool till studentkafé,
klassrum och gräsmattor för sport.
Bäst av allt, vi kan hyra studentbostäder på Campus. De är
nästan nybyggda och i en behaglig engelsk stil. De kallas
"Hillside Suites". Här får våra elever bo. Varje lägenhet
består av fyra separata sovrum, fullt utrustat kök, ett stort
vardagsrum och två badrum med dusch.
Schedule & Activities
4
Programmet för de nära två veckorna är rikt och varierat.
Inriktningen är att ungdomarna ska få pröva och utveckla
The program for the close to two weeks of stay will be
sin engelska framförallt genom att höra och använda
rich in variety and purpose, exciting and a lot of fun. The
språket i det verkliga livet. De får också kunskaper och
emphasis is on improving English by hearing it and using it,
intryck från liv och kultur i USA. Vi behåller det mest uppwhile introducing life and culture in America at the same
time. We are keeping the best from last year, while adding skattade från 2011, samtidigt som vi lägger till några nya
inslag. Den erfarenhet vi vann 2011, startåret, tar vi vara
some new elements.
på för att göra US Summer Camp ännu bättre 2012.
An excursion to the Sheriff´s Office and learning about
crime and police work in America was a big success 2011,
which we hope to repeat 2012. An excursion to the Alleghany Mountains, with a cowboy cook-out under the open
sky, is part of the program.
A campfire at sunset at Lake Chautauqua, practicing the
drums at Infinity music studio, meeting with Seneca Indians telling their history are other events we plan to keep.
Besök hos Sheriffen för att få veta mer om brott och
polisarbete i USA var en stor succé 2011, som vi hoppas
kunna behålla. Bussutflykt till naturreservatet Alleghany
Mountains, med "Cowboy cook-out" under öppen himmel
likaså. Samling runt lägerelden i solnedgången vid Lake
Chautauqua, möte med historien om Seneca-indianerna,
träning på instrument på Infinity musikstudio är andra
programpunkter vi lägger in även 2012.
5
Close to campus is the fantastic Roger Tory Peterson
institute on nature studies, which we shall visit.
Nära JCC Campus finns det fantastiska Roger Tory Peterson Institute för studier av naturen, som vi besöker.
We plan to add a connection also to the Amish community,
trail riding on horseback, meetings with American
youngsters to establish long-lasting friendships, sports,
excursions to typical American malls, etc.
Vi planerar lägga till möte även med Amish-befolkningen
och dess kultur, på stark önskan från eleverna. Ridning i
naturen (för dem som så önskar), amerikanska sporter,
besök i typiska amerikanska "malls", möten med
amerikanska ungdomar för att finna nya vänner är annat
vi tänker utveckla. Programmets höjdpunkt är förstås när
vi tar den gula, amerikanska skolbussen till Niagara Falls.
Detta är en livsupplevelse. Dagen vid fallen avslutas med
en två timmars shoppingtur på det världskända Niagara
Falls Fashion Outlets.
The high point of the program is, of course, when we take
the bus to Niagara Falls. This is an incredible and "must
do" experience. The day at Niagara Falls will end with two
shopping hours at the world famous Niagara Falls Fashion
Outlets.
After some ten days based at JCC, we go back towards
New York. Students will have at least one full day on
Manhattan, before going back to Sweden. A boat ride
around Manhattan, with a close-up look at the sky-scrapers
and the Statue of Liberty, will be followed by free time
feeling the atmosphere of the amazing city of New York.
Efter cirka tio dagar med JCC som bas, tar vi bussen åter
mot New York City. Vi planerar för en heldag, minst,
på Manhattan innan vi tar flyget åter till Stockholm.
Båttur runt Manhattan ger en bra vy av skyskrapor,
Frihetsgudinnan och nya Freedom Tower, som rest sig från
ruinerna av World Trade Center. Ungdomarna får också
gott om tid för att helt enkelt uppleva atmosfären i denna
väldiga men samtidigt vänliga världsstad.
Summer School in England
This year we are pleased to be able to offer an exciting
new summer school in England.
Students taking part in the trip will stay in traditional
English halls of residence on the charming Cheltenham
Park Campus at the University of Gloucestershire.
Cheltenham is conveniently located less than a hundred
miles from London and an ideal base for touring into the
Cotswolds.
Students taking part will have the chance to experience
English culture and history including Britain's part in the
Roman Empire and, more than 1,000 years later, the work
of William Shakespeare in nearby Stratford-upon-Avon.
The English Summer School in England during 2012
comes at a very exciting time as Olympic fever grips the
UK and people throughout the country buzz about the first
Olympic games to be hosted there since 1948.
6
Our students will have the chance to enjoy a range of
sports including traditional English pursuits and those
which will feature in the London 2012 Olympic Games.
All of these activities will, of course, be carried out in
English as the students have the chance to practice the art
of conversation with English people throughout their time
in the UK.
Originally an Anglo-Saxon settlement, Cheltenham - from
the middle English word Celtenhomme, 'the town under the hill' - was the site of a monastery as early as 803.
Alfred the Great wrote admiringly of the peace of the settlement on the banks of the River Chelt, and by the 13th
century Cheltenham was noted for its fairs and markets.
In 1716 the town's sudden rise from obscurity began
when - according to legend - a flock of pigeons discovered
a spring on the site of what is now the Ladies College. The
locals, noticing that the pigeons seemed to thrive, tried the
waters for themselves and found that they eased many of
the disorders that afflicted 18th century man.
Amongst the early visitors to take the spa waters were
distinguished people like Handel and Samuel Johnson.
The weather in the Cotswolds region is mild throughout
the year and the warm Gulf Stream in the Atlantic Ocean
creates year-round constant temperatures. During summer
months, from April to August, the average temperature
reaches a pleasant 80F (26C).
Vi har glädjen att 2012 kunna öppna sommarskola även i
England. Vi har kommit överens med det välrenommerade
University of Gloucester om att få använda dess campus.
Det ligger i Cheltenham, vid ett Nalle Puh-landskap
benämnt Cotswolds, ett naturskyddad område med enastående skönhet. Det är också känt som "Hjärtat av England".
Cheltenham är Englands bäst bevarade stad med det tidiga
1800-talets arkitektur, som bland annat utmärks av vackra
balkonger i järn, små torg och terrasser. I dag är staden
känd världen över för sina trädgårdar, fina affärer och
restauranger samt festivaler för musik och litteratur.
Anglo-Saxarna, som kom från norra Tyskland, bosatte sig
här. Staden går tillbaka till tidig medeltid. 1716 blev staden
vida känd sedan en flock av duvor upptäckt en källa, som
tycktes bringa hälsa till både duvor och människor. Bland
tidigare besökare på detta Spa var kompositören Georg
Friedrich Händel och författaren Samuel Johnson.
Vädret är milt året runt, tack vare Golfströmmen. Sommartid är den normala temperaturen behagliga 26 grader.
Cheltenham ligger på bekväma 15 svenska mils avstånd
från London och är idealiskt för utflykter till Cotswolds,
de romerska ruinerna vid Cirencester och Stratford-uponAvon, William Shakespeares födelsestad.
Engelska Sommarskolan, UK, startar en sommar då hela
England upptas av de Olympiska spelen, som äger rum i
London för första gången sedan 1948. Deltagarna får pröva
på olika sporter, däribland de traditionellt engelska.
Alla aktiviteter sker på engelska och på ett sätt som tränar
engelskan. Eleverna kommer också att kunna använda sin
engelska i praktiken, i kontakt med engelsmän och andra
ungdomar under sin vistelse i England.
7
Our students will stay in halls of residence at the Park
Campus of the University of Gloucestershire, which
provide attractive and clean living spaces with all the
facilities they would expect.
The halls are set in a beautifully landscaped environment while all rooms are single study bedrooms and
are equipped with a wardrobe, drawers, chair, desk and
bookcase. Dining kitchens, or general purpose rooms,
are equipped with fridges, freezers, microwaves, cookers,
toasters, kettles, cupboards and ironing boards.
Ungdomarna kommer att bo i traditionella och mycket
attraktiva studentrum på det charmerande Park Campus,
University of Gloucestershire. The Park Campus är så
grönt som namnet antyder och studenthusen ligger i ett
naturskyddat område med hela 30 acres av land.
The location is perfect for the attractions which students
will have the chance to visit during their stay in England,
all of which are just a short coach journey away.
Alla sovrum är enskilda. I gemensamma utrymmen finns
kyl, frys, mikrovågsugn, etc. Vi får också använda lokaler
på universitetet.
Schedule & Activities
All the world's a stage
All the world will be a stage for students when they visit
Stratford-upon-Avon, birthplace of world-famous English
playwright William Shakespeare. Students will have the
chance to watch a Shakespeare play performed by those
best-placed to show it, the Royal Shakespeare Company.
To make sure students get the most from the experience,
they will be given the chance to read and talk about the
play before they arrive at the magnificent custom-built
theatres in Stratford.
But while watching a Shakespeare play performed by
8 professionals is one thing, our students will also have
a chance to learn from them during a theatre workshop. Actors will work with the students to explore the
characters of Shakespeare looking at their motivations,
their language and how the roles can be interpreted.
Walk in the footsteps of the Romans
Before the first invaders from Scandinavia made their mark
on what is today the United Kingdom, another force had
conquered much of the islands.
The Roman Empire included most of what is England
today, all the way up to Hadrian's wall.
Cheltenham and the surrounding areas played host to the
Roman invaders, and today the area is a treasure trove of
artefacts showing what life was like in Roman Britain.
Students on the trip will have the chance to see one
of the largest Roman amphitheatre in Britain, built in
Cirencester, which would have provided entertainment for
the citizens of the empire after it was constructed around
1,800 years ago. Holding 8,000 spectators, it would have
been the Globen of its day.
We will visit Chedworth Roman Villa, a site including a
roman water shrine and bath house, where day-to-day life
would have been lived in the fourth century. The nearby
Corinium Museum shows some of the most interesting
Roman artefacts which have been found in the area,
shedding light on life in Britain nearly 2,000 years ago.
Lära känna Shakespeare
När vi en dag besöker den charmerande staden Stratfordupon-Avon, får eleverna uppleva en Shakespeare-pjäs på
engelska, framförd av the Royal Shakespeare Company på
stadens magnifika teater.
För att få ut mesta möjliga av föreställningen, kommer vi
att gå igenom pjäsen i förväg och tala om den. Våra elever
får därtill vara med om något som är få andra förunnat:
en "theatre workshop", där skådespelare tillsammans med
eleverna undersöker karaktärerna i Shakespeares pjäser,
deras motiv, deras språk och hur rollerna kan tolkas.
I Romarnas fotspår
Vikingarna var, som vi vet, i England med sina raider.
Men tidigare än så var romarna där. Det romerska
imperiet inkluderade huvuddelen av England. Cheltenham med omgivningar fungerade som bas för de romerska
ockupanterna. I dag är området en rik fyndplats för
föremål som visar hur livet var på romartiden.
Våra elever kommer att göra en utflykt till en av de största
romerska amfiteatrarna i England. Den ligger i Cirencester
och byggdes för 1 800 år sedan. Med plats för 8000 åskådare, samlade för underhållning, var den sin tids Globen.
Vi kommer också att besöka Chedworth Roman Villa,
ett slags badhus från 300-talet. Näraliggande Corinium
Museum visar några av de mest intressanta romerska
lämningarna från området, som kastar ljus över livet i
England för nära 2000 år sedan.
Den uråldriga Forest of Dean
Puzzlewood heter en märklig plats, som människor besökt
från järnåldern fram till i dag, då den har utnyttjats som
miljö för TV-program som Doctor Who och Merlin.
Denna underbara plats har en unik förmåga att inspirera
filmskapare, fotografer, artister och författare. Våra elever
får också uppleva den och lära sig en del om skogen, den
särpräglade geologin och dess vackra, naturliga, grottsystem i sandsten.
De märkliga Clearwell Caves
Våra ungdomar får gå djupt under jord in genom några
av Storbritanniens mest komplexa och äldsta naturliga
grottsystem. De går mer än 4 500 år tillbaka i tiden, när
människor letade efter jordfärgämnet ockra. Tunnlar följs
av makalösa öppningar.
En dag i London
The ancient Forest of Dean
Puzzlewood has stood the test of time as it has been visited
and worked in by people from the Iron Age to the present
day when it has been used as a location for TV shows
including Doctor Who and Merlin.
Students can learn about the history of the forest,
its unique geological features and a beautiful natural
underground cave system in limestone.
This stunning location is also the ideal place to inspire any
budding film-makers, photographers, artists and writers.
The mystery of Clearwell Caves
Students will journey deep underground in some of
Britain's most complex and oldest extensive natural cave
systems, dating back well over 4,500 years, when Neolithic miners dug for ochre pigment. Students will discover
atmospheric ancient caverns with an exciting and intriguing past and walk through eerie iron ore workings and
tunnels, following in the footsteps of generations of miners
that cut their livelihood from the rock.
A day in London
We plan to take the train into London to spend one day
in this city of the world, particularly in world focus this
Olympic year. Perhaps we will go to a musical together.
Most of all, students will experience the lively city of London, less than two hours by train from our campus.
Participants will also enjoy shopping visits to Cheltenham
itself, and a visit to Cirencester heated outdoor pool which
will see them enjoy exclusive use of the pool with lifeguards on hand to make sure the trip is as safe as possible.
Vi planerar för att ta tåget in till London för att under en
dag uppleva denna världsstad, i synnerhet världens centrum under olympiaden. Vi hoppas kunna gå på musikal
tillsammans. Viktigast är kanske ändå att få uppleva det
febrila gatulivet i London, inklusive dess affärer. London
ligger mindre än två timmar med tåg från Campus.
Utomhuspool
Deltagarna i Engelska Sommarskolan får också tillfälle till
shopping i staden Cheltenham. Och vi besöker den uppvärmda utomhusbassängen i Cirencester, där våra elever
får exklusiv tillgång till poolen. Badvakter finns till hands
för största möjliga säkerhet.
9
Elevröster från US Summer Camp 2011
This trip has been one of the best in my life! I´ve
met so many different people during this trip,
and everybody has been so nice to me. I have had
the opportunity to meet very sweet friends, and
I am actually not that shy of speaking in public
anymore. Thank you!
94%
/Boy, 15 years old
91%
Amazing experience, fantastic group, fun, good
planning.
/Girl, 15 years old
It has been so nice! An experience for life. And
a lot of memories I´ll never forget. All the people
we have met have been so nice and kind. I really
liked my group and all leaders. Two weeks have
past so fast. The cowboy ranch and Niagara Falls
were two of the best things
10 /Girl, 15 years old
My English has improved tremendously and I
have had a really terrific time here. I don´t want
to go back to Sweden.
/Boy, 15 years old
The leaders and teachers have been great and I
really don´t want to go home.
/Girl, 15 years old
(155 av 171 deltagande elever) svarar
obetingat "ja" på frågan "Skulle Du
rekommendera resan för en vän som frågar
inför nästa år?" Ingen, noll procent, svarar
"nej" på denna fråga.
❝
I am really glad that I decided to go on this trip!
/Girl, 16 years old
av de 171 elever som deltog i US Summer
Camp 2011 gav det toppbetyg (4 eller
5 på en femgradig skala) i en anonym
utvärdering.
Mycket på det här lägret har överträffat vad
jag förut trott att jag skulle få uppleva. Jag har
minnen och vänner jag aldrig vill glömma.
/Flicka, 15 år
Jag tycker det har varit väldigt roligt de här två
veckorna. Vi har varit på så många roliga utflykter och det är så fint här! Vi har lärt oss mycket
och har haft kul med ledarna. Ledarna var väldigt
bra också!
/Flicka, 14 år
Det här var mitt livs största händelse!
/Pojke, 13 år
Ledarna har varit super!
/Flicka, 15 år
Jätteroligt, många roliga utflykter.
/Flicka, 12 år
Steel drums session at the Infinity music studio
I thought this experience was amazing. It was
worth the money because of all the friends and
wonderful things we have done and seen. I would
absolutely recommend it to others and when I
come home I am going to thank my parents 50
times for this! Some things, like Niagara Falls
and the baseball game, are memories I´ll never
forget!
It has been a wonderful experience to be here. I
have met such a cool group of friends, and that is
all because of this summer school program. It has
been one of the best experiences in my whole life.
/Boy, 15 years old
This trip has been a fantastic experience and I´ve
learned a lot. It has been two really enriching
weeks and this trip will always have a place in
my memory.
/Girl, 15 years old
p
Man märker när resan går mot sitt slut hur
mycket man har mognat som person. Och hur
många trevliga människor man har mött!
/Pojke, 15år
Det var den absolute bästa resan som jag någonsin gjort, med nya erfarenheter och " a whole
bunch of new wonderful friends". Engelskan har
dessutom också förbättrats. Tack! Hade jag kunnat, hade jag stannat två veckor till med samma
grupp.
❝
/Boy, 14 years old
– students during the 2011 US Summer Cam
/Flicka, 15 år
Det borde vara fler veckor. För två veckor går
extremt snabbt. Man vill stanna längre.
/Flicka, 14 år
11
Getting to the USA
12
Going to the USA
Att resa till USA
We plan for five groups of students – ages 12-18 - going to
JCC in the summer of 2012. The first group is scheduled
to travel on Monday, June 18th, and the last group on
Monday, July 16th. Each group will consist of 30 young
people for flight #903 with SAS, departing 10.25am from
Arlanda, Stockholm, to Newark, New Jersey. Students will
be accompanied by teachers from our schools. On arrival
at Newark, there will be a comfortable bus waiting for our
students, ready to drive across the beautiful New York state
landscape toward the west.
Vi planerar för fem grupper av elever, i åldrarna 12-18,
sommaren 2012. Den första gruppen planeras avresa från
Arlanda, Stockholm, måndag den 18 juni 2012 och den
sista gruppen måndag den 16 juli. Varje grupp rymmer 30
ungdomar, som tar SAS-planet 903 kl 10.25 på förmiddagen från Arlanda till Newark, NJ. Två lärare från våra
skolor följer med varje grupp, som ledare. När en grupp
anländer till Newark, väntar en bekväm buss för att köra
genom det vackra, vida amerikanska landskapet västerut.
This is the very first contact with the real America, its vastness and sense of freedom. After spending the night at the
charming Radisson Hotel in Scranton, PA, and getting a
good night´s sleep, the journey continues on Tuesday morning. Upon arrival at JCC at around noon, the students
will receive lunch, be officially admitted to the college, receive ID tags and make themselves at home in their rooms
and on campus.
Vi tillbringar första natten på Hotell Radisson i Scranton,
PA, och får ett första intryck av en typisk amerikansk stad.
Efter en god natts sömn fortsätter bussen tisdag morgon.
Gruppen ankommer till JCC vid lunchtid tisdag. Eleverna
får då lunch, ID-kort och en första orientering och kan så
göra sig hemmastadda i sina lägenheter på Campus.
Getting to the UK
13
Going to the UK
Att resa till England
Students taking part in the summer school in the UK will
depart from Arlanda airport on Wednesdays. They will be
accompanied by leaders from our schools to Heathrow
airport in London.
Elever som deltar i sommarskolan i England avreser från
Arlanda onsdagar. De följs av ledare från våra skolor till
Heathrow airport, London.
Upon arrival, a coach will be waiting for the groups to
drive them past Windsor, through Berkshire and Wiltshire,
past Reading and Swindon and on to Gloucestershire,
which will be home to our students for the next week.
The journey will quickly leave London behind and take in
the woods and rolling fields of rural England in the summer time. By late afternoon or evening, our students will
have arrived at campus and can settle in.
The return journey will be made the following Wednesday.
For the schedule, see the next page.
När de landar, väntar en buss för att ta gruppen förbi
Windsor, genom Berkshire och Wiltshire, förbi Reading
och Swindon och vidare till Gloucestershire, som blir
deras hem för den kommande veckan.
Bussen lämnar snabbt London bakom sig och tar eleverna
genom det böljande vackra engelska sommarlandskapet.
Sen eftermiddag/kväll anländer eleverna till campus och
kan inta sina rum.
Hemresan sker onsdag en vecka senare. För reseschema, se
följande sida.
Avresedagar sommaren 2012
14
US Summer Camp
UK Summer School
Grupp 1 Måndag den 18 juni – hem 2-3 juli
Grupp 1 Onsdag den 27 juni – hem 4 juli
Grupp 2 Måndag den 25 juni – hem 9-10 juli
Grupp 2 Onsdag den 4 juli – hem 11 juli
Grupp 3 Måndag den 2 juli – hem 16-17 juli
Grupp 3 Onsdag den 11 juli – hem 18 juli
Var vänlig uppmärksamma att grupperna 4 och 5
som tidigare fanns i broschyren har tagits bort
Registrering, med val av önskad avresedag, sker enklast via www.engelska.se/summerschool
Enligt vår erfarenhet är konkurrensen hårdast om de tidiga avresorna. Vi ber er ange alternativ till
förstahandsval samt överväga även avresor som sker i juli.
Praktiskt
Var vänlig ange önskad period på anmälningsformuläret, enklast via
vår hemsida www.engelska.se/summerschool. Vi försöker tillgodose
förstahandsval, men om många väljer samma period kan ni komma att
få annan avresedag. Vi behöver också ta hänsyn till sammansättningen av
varje grupp ifråga om ålder och kön. Vi reserverar oss för mindre ändringar i reseavgångar; om sådana mot förmodan skulle inträffa, kommer
vi att informera er i god tid. Vi planerar för 30 deltagare för varje period
till USA. Vid färre anmälda än 20 för en viss kursperiod förbehåller vi
oss att ändra resplanerna för den perioden. För UK gäller en planering
för 60 deltagare per avresa, med motsvarande förbehåll vid färre än 35
anmälda.
Kostnad
Kurskostnaden, allt inkluderat (se nedan), är 18 000 kronor för USAresan. Till den kommer reskostnad Arlanda-Newark-Jamestown tur och
retur på 8 000 kronor. Totalt: 26 000 kronor.
För Englandsresan är kurskostnaden 9 500 kronor. Till den kommer reskostnad Arlanda-Heathrow-University of Gloucester tur och retur om 4
000 kronor. Totalt: 13 500 kronor.
Vid tidig bokning och inbetalning av anmälningsavgift senast 20 januari
2012, utgår en rabatt på 1 000 kronor på kursavgiften! Den blir då
17 000 kronor för USA-resan och 8 500 kronor för Englandsresan. Vid
anmälan av mer än en elev utgår en extra rabatt på 1 000 kronor per
familj för USA-resan och 500 kronor för Englandsresan.
Vi har gjort en särskild överenskommelse med SAS om fördelaktiga
paketpris för både USA och England. Till flygbiljetten kommer resa med
coach (bekväm buss) till och från respektive campus. Både flyg och buss
ingår i den ovan angivna reskostnaden.
I kursavgiften ingår studentrum, måltider, närvaro av ledare även kväll
och natt, lektioner, program och utflykter, inklusive inträden. Vi har
bakat in praktiskt taget allt i ett paketpris, så att ungdomarna inte ska
behöva trassla med en massa extrautgifter utöver de personliga.
Trygghet
Campusmiljöerna är mycket lugna och trygga, med många vuxna
närvarande. Från English Summer School kommer vi hela tiden att ha
stor närvaro på plats. Erfarna lärare från Sverige följer varje grupp under
hela vistelsen, som gruppledare, från avresa till hemkomst på Arlanda.
Därtill anlitar vi lokala krafter som "interns" (som regel ungdomar under
lärarutbildning).
Eleverna kommer att kunna ha tillgång till kommunikation via Internet
och mobiltelefon.
Vi säkrar också att det vid behov finns snabb tillgång till sjukvård. I
sådana situationer avdelar vi självklart en ledare som följer med eleven.
I god tid före avresan kommer vi att be er lämna mer detaljerad information, såsom om särskilda kostvanor, allergier och sjukdomshistoria som
vi behöver känna till. Vi kommer att be om fullmakt från föräldrarna inför eventuellt behov av vård. Deltagarna får under loppet av våren 2012
mer råd och direktiv inför resan, om sådant som visum, lämpliga kläder
samt när och var vi ses på Arlanda.
Reseförsäkringar
Även om vi köper en basförsäkring för campustiden i USA,
rekommenderar vi starkt att varje deltagare också ser till att ha
en fulltäckande individuell reseförsäkring samt även överväger
avbeställningsskydd. Vi kan som arrangör inte ta ekonomiskt ansvar
för saker som förlorats, eller för vårdbehov som har samband med
"pre-existing conditions". De försäkringar vi tecknar täcker främst
olyckor och enklare vård. Många kanske redan har kompletterande
försäkringar, till exempel som del av hemförsäkring. Annars kan vi
rekommendera Europeiska reseförsäkringar. För mer information,
vänd er till Europeiska reseförsäkringar, tel 0770-456 900 eller
www.europeiska.se. För deltagarna i Englandsresan vill vi påminna
om att EU-medborgare har rätt till nödvändig vård i annat EU-land,
däribland Storbritannien. Beställ Europeiska sjukförsäkringskortet
(EU-kortet) via www.forsakringskassan.se. Vi rekommenderar likväl
komplettering med privat reseförsäkring.
Intyg
Efter genomgånget program i USA kommer Jamestown Community
College att utfärda ett särskilt certifikat till varje elev. Eleverna kan också
behålla sina ID-kort som minne.
Deltagarna i Englands-resan får ett intyg från English Summer School.
Anmälan
Tidig anmälan ökar chansen att komma med på den avgång ni önskar i
första hand. Vänta därför inte med att anmäla deltagande.
Efter att ni som vårdnadshavare har anmält ert barns deltagande sker
följande: Vi skickar en bekräftelse tillsammans med ett inbetalningskort för anmälningsavgiften på 2 000 kronor (den dras av från kursavgiften vid slutbetalningen). Genom betalning av anmälningsavgiften
bekräftar ni att ni tagit del av och accepterat de villkor vi beskriver i
denna broschyr. Kring årsskiftet skickas inbetalningskort på reskostnaden för dem som anmält sig – 8 000 kronor för USA-resan, 4 000
kronor för Englandsresan. Den resterande kursavgiften, med avdrag för
rabatter, inbetalas mot faktura senast 30 april 2012. För dem som betalt
anmälningsavgiften senast 20 januari, och därmed får rabatt, blir denna
slutbetalning 15 000 kronor för USA-resan, 6 500 kronor för Englandsresan.
En eventuell avbeställning skall sändas skriftligen till "English Summer
School", Nytorpsvägen 5A, 183 53 Täby. Anmälningsavgiften på 2 000
kronor återbetalas inte, ej heller den kostnad för bokad flygbiljett som vi
som arrangör bundit oss för (för UK 10 % fram till 27/2, 40 % fram till
27/5, 100 % därefter; för US 10 % fram till 16/2, 40 % fram till 16/5,
100 % därefter). I övrigt följer vi de regler som anges i Konsumentverkets Allmänna villkor för paketresor. I enlighet med Resegarantilagen
upprättas också finansiellt skydd för kunderna genom resegaranti ställd
till Kammarkollegiet.
Övrigt
Kursinnehållet är preliminärt och vi förbehåller oss att göra ändringar
i förhållande till uppgifter i broschyren, självfallet med syftet att skapa
bästa möjliga program och upplevelser för våra ungdomar.
Eventuella klagomål under kursperioden ska framföras till den personal
som finns på plats för English Summer School. Om rättelse inte kan
erhållas på plats, ska skriftligt klagomål framföras till English Summer
School senast 30 dagar efter avslutad resa.
Alla elever måste ha pass som är giltigt under resan. Storbritannien ingår
inte i Schengensamarbetet utan kontrollerar pass, även för medborgare
inom EU. För inresa till USA krävs för svenska medborgare att man
enkelt ansöker om inresetillstånd via hemsidan http://esta.cbp.dhs.
gov. Den som inte är svensk medborgare uppmanas att själv kontrollera huruvida visum behövs eller inte. För deltagande i vårt US Summer
Camp krävs inget studerandevisum; vanligt turistvisum räcker.
Arrangör
Ansvarig arrangör för den resa som beskrivs i denna broschyr är English
Summer School AB (organisationsnummer 556823-4271), som är ett
självständigt dotterbolag till Internationella Engelska Skolan i Sverige
AB. Adress: English Summer School, Nytorpsvägen 5A, 183 53 Täby.
Observera att sommarskolan genomförs helt fristående från den vanliga
skolan. Vi vänder oss i första hand till målsmän till IES-elever, men även
andra elever är välkomna.
15
Thank-you to everyone who contributed pictures to this brochure including: Ms Mhairi Hastie Smith, www.gonyc.com,The Royal
Shakespeare Company, www.londongb.com, Cirencester heated outdoor pool and Mr David Broadbent.