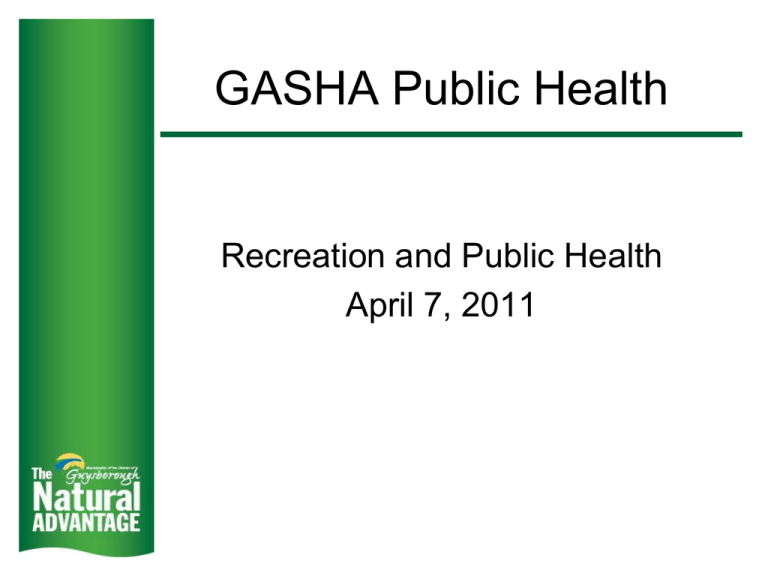 GASHA Public Health
Recreation and Public Health
April 7, 2011
Public Health Board
Recreation Director was the first
Chair of the Guysborough
Community Health Board when
the Health Boards were first
established.
Hearts in Motion
• Partnered with GASHA to
provide program in Guysborough
(2009) and Hazel Hill (2010).
Working to create future
programs.
• At completion of program,
Guysborough Municipal
Recreation continued delivering
the service.
TEAM
• TEAM (Teaching Eating and
Activity Management to Families)
is a family program that helps
families make healthy choices
everyday.
• Now is part of the school
curriculum at Fanning Education
Centre and Canso Academy.
PACY
• Physically Active Children and Youth is an
after school program for children grade K-8.
• Provides an opportunity for children to be
active and participate in a number of
activities with their peers.
• Fitness testing is done at the beginnning and
end of the program utilizing FitnessGRAM.
• Have brought in Public Health nutritionists to
talk to children and parents about healthy
eating.
Other Programs
•
•
•
•
•
•
Wellness Classes
Moms in Motion
Action for Menopause
TOPPS
Weight Watchers
Grade 12 Students-Preparing Healthy,
Cost Efficient Meals
• Making Healthy Lunches
Improving People's Health
Recreation offers a number of programs
to help residents lead a healthy active
lifestyle.
• Zumba
• Boby Bar
• Walking Clubs
• Step Class
• Yoga
• 30 minute workout
Municipal Physical Activity
Plan
• Five year plan approved by
Municipal Council in 2007.
• Ongoing initiatives to enhance
opportunities for citizens to
participate in physical activity
programs and services
(structured and unstructured).