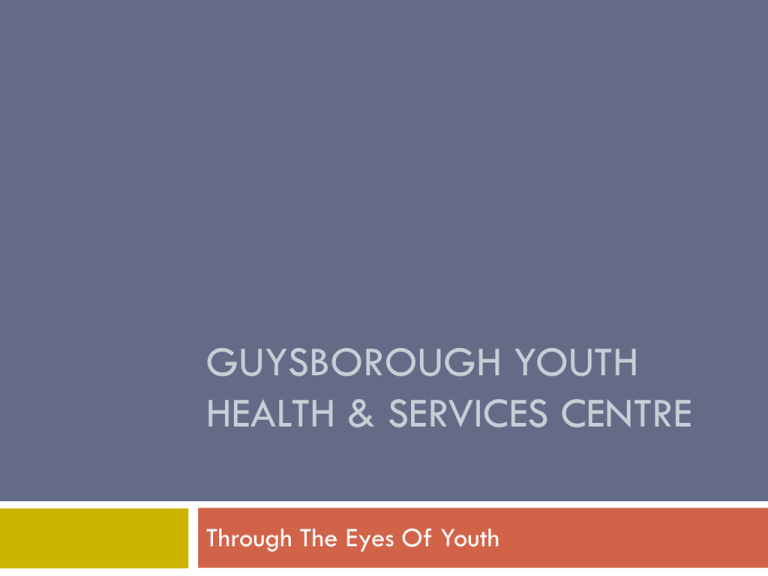 GUYSBOROUGH YOUTH
HEALTH & SERVICES CENTRE
Through The Eyes Of Youth
Vision
All children and youth have
opportunities to build assets
that help them grow up
healthy, happy, caring and
responsible
Mission Statement
The Youth Health Centre uses a
strengths based
approach to develop healthy
relationships with
youth and engage them in
leadership
opportunities, personal
skills/values
development and supportive
programs and
services/agencies.
Committee Terms of Reference
Preamble
 The Guysborough Youth Health and Services
Centre Community Committee will function to
support and guide the work of the Youth
Health and Services Centre. The philosophy of
this committee is in keeping with the values and
beliefs of the Guysborough County Community
Health Board
Committee Terms of Reference
Purpose
 To assess the assets and issues of the youth in
Guysborough in order to assist in the planning of
program and service opportunities, in accordance with
professional and legislative standards
 To promote community awareness of the Guysborough
Youth Health and Services Centre and support the vision
and mission of the Centre
 To provide input on operations
 To undertake regular review of committee purpose and
guidelines for operation
 To assist with other duties as required
Sub-committees





GSA (Gay Straight Alliance)
Green Team
SADD (Students Against Destructive Decisions)
Speak Out
Grade 6 Service Learning
Opportunities



Conferences
 Leaders of Today (LOT)
 Department of Community Services Youth & Alcohol Symposium
 GSA Youth Symposium
 Heartwood
Focus Groups
 The Truth About Tanning
 Speak Out (Grades 6-8)
 Stand Up Against Bullying
Joining and Leading Initiatives
 National Day of Remembrance and Action on Violence Against Women
Ceremonies
 Department of Education and Health Promotion & Protection DVD Proposal
 Health Promotion Boards
 Canadian Cancer Society
 National Non-Smoking Week
Networking












Municipality of the District of Guysborough Recreation
Department
MADD Chapter of Guysborough County
Kid's First
RCMP
School Advisory Council (SAC)
Guysborough Academy's Student Council
African Youth Group "Kujichagulia"
Addiction Services
Women's Resource Centre
School's Plus
St. Francis Xavier Nursing Students
Guysborough Community Health Board
Welcoming Environment!