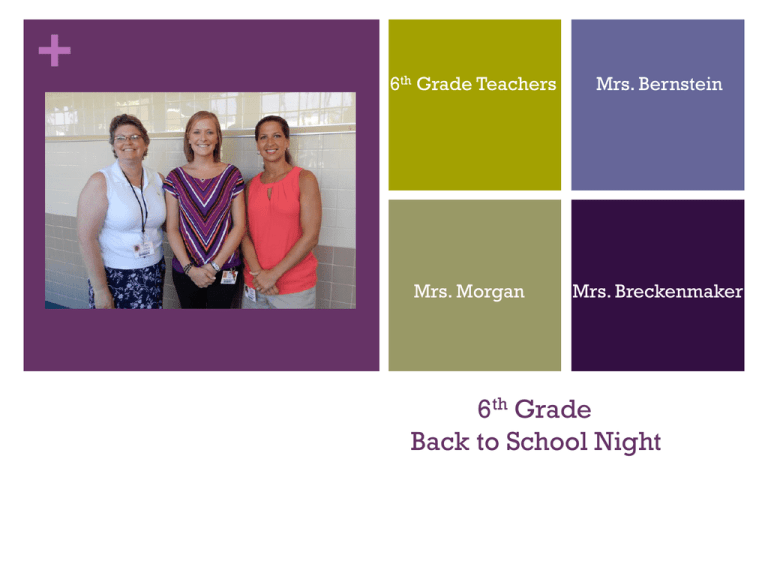 +
6th Grade Teachers
Mrs. Bernstein
Mrs. Morgan
Mrs. Breckenmaker
6th Grade
Back to School Night
+
Schedule

Homeroom

Specials/Computer

Content

LA: Writing,, Vocabulary, Grammar, Core Reading, Guided
Reading, Read Aloud, Word Study

RECESS/LUNCH

LA Enrichment/Interventions

Math
+
Language Arts

Writing

Word Study

Rev It Up Vocabulary

Grammar

Core…will be taught in thematic units with a culminating test
(standard based)

Guided Reading

20 Minutes Daily Reading

Dibels Goals WPM: 150, 151, 162 with 99% accuracy
+
Math

Rocket Math

Mountain Math

Math Core

Online Student Edition
-Tutorials
-Online Textbook
-Student Code: DEE77A6C37
+
Social Studies/Science


SOCIAL STUDIES

5 Themes of Geography

Northern & Southern Africa

Southern/SE/E/SW Asia

India

China and Its Neighbors
SCIENCE

Physical Science (Heat and Matter, Light, Color, and Sound)

Earth Science (Technology, Weather, Earth Processes, Universe,
Resources and Conservation)

Human Body (Control Systems, Drugs and Life Skills, etc.)
+
Homework/Grading

District Policy of about 30 minutes a night

NOT including projects, studying, or daily reading

5% of grade in all subjects

Only accepted the day the assignment is due

Grades are NOT given, they are earned!

Responsibility: students are responsible for their work and
belongings.
+
Late work

20% off each day

Lenient first marking period

Prep for middle school
+
Discipline

District Wide Policy combined with bullying to prevent
behavior problems

BE RESPONSIBLE, BE RESPECTFUL, BE READY

Warning, Parent conference, Principal conference

Bucket Fillers
+
Parent Conferences

November…you will receive more information after report
cards

Questions/Concerns.. Call or email us at any time!
+
General Info

BYOD (Bring Your Own Device)

Assigned Teachers/Assessments

Field Trips: Gretna Glen Ropes Course (October 18th),
Washington D.C. (District Date to be determined)…Need
Independent Parent Clearances if interested in chaperoning

Chorus/Musical

Track and Field
+
Thank You!

Thank you for being an advocate for your child!

Let's make this a successful year in 6th grade!

Return to your child's homeroom teacher immediately
following the presentation. We encourage you to visit all of
your child's teachers!