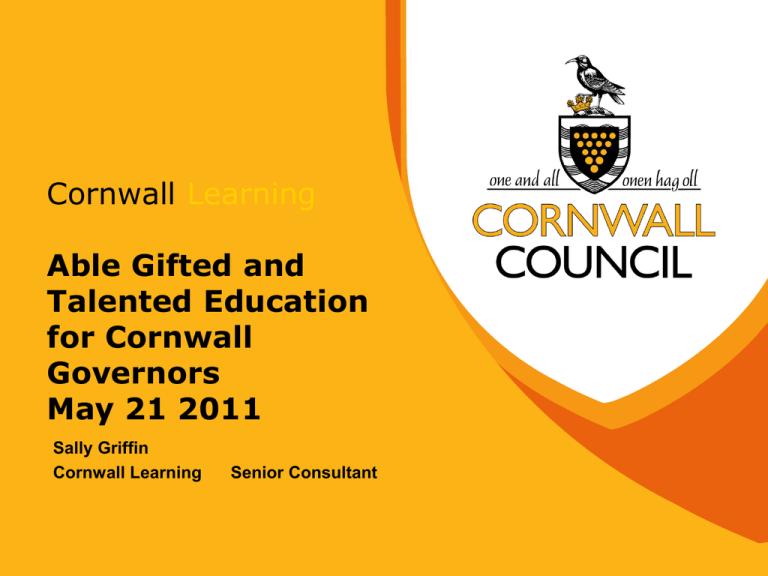 Cornwall Learning
Able Gifted and
Talented Education
for Cornwall
Governors
May 21 2011
Sally Griffin
Cornwall Learning
Senior Consultant
• Participants will explore guidance on
how to identify and provide for able,
gifted and talented learners
Cornwall Learning
Introductions…
• Sally Griffin
Senior Adviser
Cornwall Learning
Cornwall Learning
Supporting Education in Cornwall
Say hello to a stranger
• Tell them something that you are good
at…
• In England and Cornwall we are not very
comfortable generally telling people
what we are good at, or owning our
gifts, talents and abilities…
Discuss in 2's or 3's
• What does able gifted and talented
mean to you and maybe your school, if
you know…
New Ofsted Framework
• A new Ofsted framework will be piloted
in the summer term but will not impact
on us immediately.
• There is an expectation that the
achievement of able learners as a group
of students and a subset of other
vulnerable groups of students will
continue to be inspected.
Overall effectiveness: how good is the
school?
• Outcomes for individuals and groups of pupils
• Outcomes: how well are pupils doing taking account
of?
• Pupils' achievement and the extent to which they enjoy their
learning, taking into account
• Pupil attainment
• The quality of pupils' learning and their progress
• The quality of learning for pupils with special educational
needs and/or disabilities and their progress
• How effective is the provision?
• The quality of teaching taking into account
• The use of assessment to support learning
• The extent to which the curriculum meets pupils' needs,
including, where relevant, through partnerships
• The effectiveness of Care Guidance and Support
Pupils' attainment and Progress
• National test and examination results set against
national benchmarks
• Not CVA but value added information
• Progress in relation to similar schools and new
value added information for particular groups
e.g. buys/girls; looked after children; different
social and ethnic groups
• Primary % Level 5 attainment at KS2 including
representation of FSM and other vulnerable
groups.
• KS 2-4 Level 5+ conversion to A A*
• Future new tests
SEF
• No longer a requirement to complete the online
SEF but an expectation to self evaluate.
• What ever the school uses, it is the impact that
is appropriate evidence of effective provision.
(Increased participation, higher attainment etc)
• Outcomes for individuals and groups of
pupils:
• Use the IQS provides the information to
demonstrate good practice for the most able.
• How are we identifying tracking and monitoring
the progress of all students including the most
able
•
• Institutional Quality Standards
• Audit tool for schools to monitor
provision
Planning for stretch and challenge
• is
Not
• MOTS : more of the same
• Extra to do after you did what you could
already do
• IS
• Differentiated activity which stretches
challenges encourages creative thinking
and problem solving
The G&T Register
• The census
• Top 5% of the most gifted
(academically)
• + % talented = Total 10+%
• Some schools have also adopted an
inclusive register of all students and
recorded their gifts.
Renzulli's concept of giftedness...
• above average ability
• creativity
• task Commitment
• 2 types of giftedness
• A) good at tests and school work
• B) creative, non-conformist…not necessarily
good at school, original thinker, likes to do own
research.
Who are the able, gifted and
talented?
• Identification Guidance
• See Pack of resources
• What are the barriers to underachievement?
G&T population in line with school
population…
• Have you looked at your G&T cohort for
?
• Gender
• Birthday
• Ethnicity
• EAL
• Children in Care
• Socio- Economic Background
• SEN
• Traveller Children
• Child Carers
• Less appealing children…a judgement
call…
Looked after Children
• Where are they?
Have you checked
your cohort?
• Jeanette Winterson
• David Peltzer
• If a looked after child
is achieving age
related expectation in
difficult
circumstances they
should be considered
as able…
Jeanette Winterson was born in
Manchester, England, and
adopted by Pentecostal parents
who brought her up in the
nearby mill-town of Accrington.
As a Northern working class girl
she was not encouraged to be
clever. Reading was not much
approved unless it was the
Bible.
While she took her A levels she lived
in various places, supporting
herself by evening and weekend
work. In a year off to earn
money, she worked as a
domestic in a hospital
for the mentally ill.
She gained a place at Oxford.
Born with spina bifida
Tanni Grey is a
wheelchair-user,
and is considered to
be one of the most
successful disabled
athletes in the UK.
She holds 11
Olympic Gold
medals.
FSM
• Children who are FSM should be represented in
terms of attainment and achievement in the
same % of the AG&T register as those non FSM
• Why is this?
• There is no evidence that FSM children are less
able.
• See Rural Schools Information on the impact of
being in a rural school in terms of deprivation
Be aware: Able children who make
slower progress…tend
• not to share across a whole class
• to attempt questions only when they are
sure of the answer
• to prefer to discuss in small groups
• to be happy to leave work unfinished
• to be girls in maths
• to be quieter……………
Use of praise and labels
• Needs to be handled carefully…
Dweck Research
• Several hundred secondary children…10
problems to solve…most children did
well.
• Some were praised for their
intelligence…"you did really well, you
must be clever at this"
• Others were commended for their
effort…"that is a good score you must
have worked really hard….."
– What do you think the difference will
be when they are given a more
challenging task…?
• Students praised for their intelligence
shied away from more challenging tasks
whereas
• those praised for their effort did not lose
confidence when faced with harder
questions from which they would learn…
Carol Dweck
•
Professor of Psychology Stanford University
"People do differ in intelligence, talent
and ability. And yet research is
converging on the conclusion that great
accomplishment is typically the result of
years of passion and dedication…and not
something that flows naturally from a
gift."
• 30 Years of scientific investigation
suggests that an overemphasis on
intellect or talent leaves people
vulnerable to failure, fearful of
challenges and unwilling to remedy their
shortcomings
• Praising Children's innate abilities
reinforces this mind set which can
prevent them from living up to their
potential
• Studies show that teaching children to
have a "growth mind set" which
encourages a focus on effort rather than
on intelligence or talent helps make
them into high achievers in school and
in life
• Such children believe that intelligence is
malleable and developed through hard
work…they want to learn.
• Children with a fixed mind set were concerned
with looking clever and had negative views of
effort, believing that having to work hard at
something was a a sign of low ability. They
thought that a person with high ability did not
need to work hard to do well….
• So how do we get this message to our
colleagues?
CQS
and
IQS
• Audit tools to monitor provision and
record development in practice as
evidence for Self Evaluation of provision
for the most able.
• Most schools have appointed a Lead
Teacher to work with the Leadership
team to develop good practice
• See Rural Schools Information on the
impact of being in a rural school in
terms of deprivation
What's come out of
monitoring for one school
•
•
•
•
•
Checklist of what G&T provision looks like
TA and whole school staff training
Camera for G&T e learning logs
Cross curricular planning groups
Student voice ideas - practicals, go on trips, work outside,
•
•
•
•
•
Strength of character / resilience
Shared ID criteria
Mentor Support
Parents leaflet
Directory of local opportunities
discuss topical issues & lead younger students
Discussion and Questions
What can we do as governors, working
with the Lead Teacher and the
Leadership of the school?
• Contribute to Policy Writing ….stretch
challenge for all abilities?