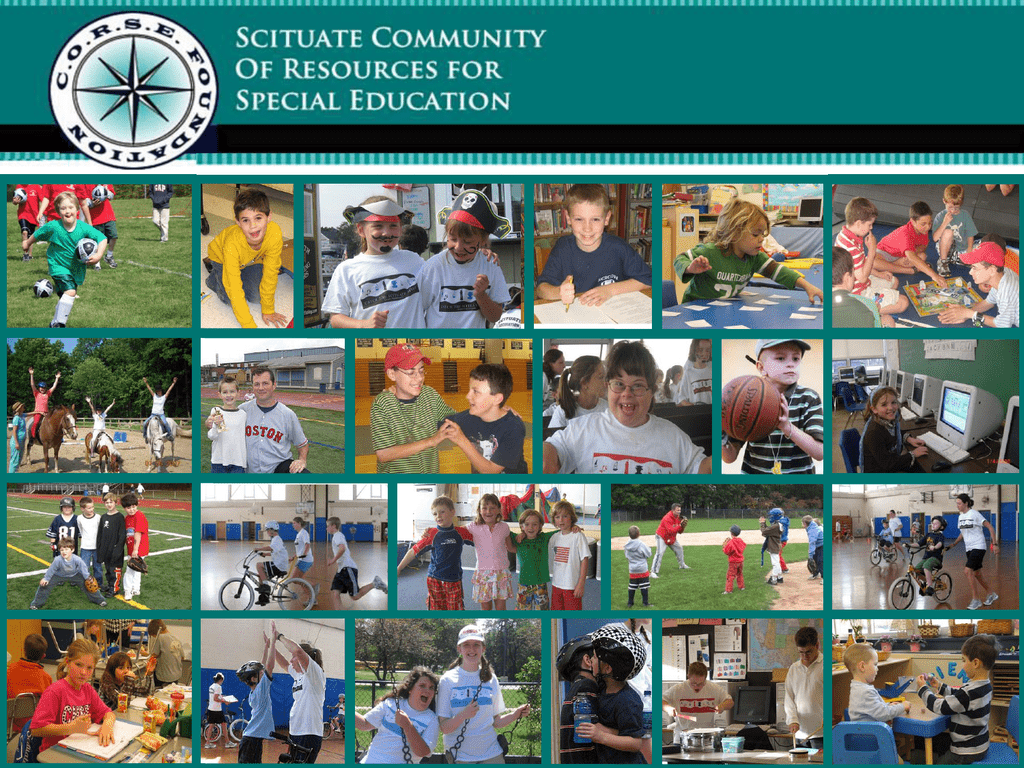 Our Mission:
To raise funds to provide the highest
quality educational, social and
recreational community experiences
so children with special needs can
reach their full potential.
Reality: Our special education population is on the rise.
• Tremendous national attention, but much of spotlight is on
researching the cause
• Town, state and federal budgets do not have sufficient resources to
provide necessary services and skills to these children now
• C.O.R.S.E. model can be adapted to communities throughout the
nation as a model of how parents, educators & community members
can collaborate to better serve this population
C.O.R.S.E. allocates funds for a wide range of supplemental
resources that benefit children, parents and educators:
• Integrated social development programs (PreK - High School)
• Integrated academic support programs
• All Stars sports programs (baseball, soccer, basketball, running, karate)
• Socially-based summer programs (youth, tween and teen)
• Specialty camps: Therapeutic Horseback Riding, Maritime Adventures,
Lose the Training Wheels
• Community affiliations: gymnastics, dance, swimming, tennis
• "Let's Go" Community Events: movies, boating, dining out & more
• Supplemental student services: music therapy, peer mentor programs,
scholarships
• Professional development programs for educators and staff
• Educational programs and resource materials for parents
• Equipment and technology supports
FACT: The special needs population requires costly, more
intensive services; it is the responsibility of parents
and schools to find ways to provide these services.
Through innovative collaboration with Scituate Public Schools,
Scituate Recreation and other community organizations, we are
able to:
• Fundraise for needed supplemental resources
• Develop customized programs to best meet children's needs
• Offer programs that are more affordable than costly private
Our innovative programming and resources:
• Help integrate children with special needs and their families
into their community, bringing inclusion opportunities to all,
those with and without special needs
• Strengthen student, parent and educator skills
• Build student confidence and engagement in social,
academic and recreational areas
• Provide these opportunities at an affordable rate despite the
program's instructor expertise and high staffing ratios
Volunteer board and membership
• Parents of children with special needs
• Parents with only typically developing children
• Staff from Scituate Public Schools & Scituate Recreation
Department
• Community members interested in supporting our efforts
Recognition
• Massachusetts Recreation and Park Association Program
Outreach Award (2011)
• Co-Founders named "Citizens of the Year" in Scituate (2009)
• Massachusetts Community Partnership Award from the
Federation for Children with Special Needs (2008)
• C.O.R.S.E. serves children with special needs,
ages 3-22
• Current statistics (February 2006-November 2014)
• Membership: 2,500+
• Programming/Resources Provided: >$620,000
• Programs: 290
• Student Registrations: 3,524
• Student Mentors: 725
Hull
Milton
Braintree
Hingham
Scituate
Norwell
Abington
Hanover
Marshfield
Hanson Pembroke
East
Duxbury
Bridgewater
Kingston
Children come from communities throughout
the South Shore, Framingham, Easton,
Cape Cod and as far away as New Hampshire,
North Carolina and Minnesota
Social Development Programs: Provide opportunities for children to learn
lifelong social skills in communication, cooperation, self-control and selfconfidence
•Circle of Friends
•Friends & Fun
•Computer/Scientific/Research Explorers
•Community Field Trips
•Middle School Integrated Best Buddies
with field trips
•HS Integrated Best Buddies
with field trips
•HS Traveling Tuesdays
•Social Skills Coordinator
•Peer Mentoring
Intensive
Academic Support Programs: Provide grade level appropriate skill
development in math, reading, writing and study skills
• Math Investigators
• Reading and Writing
• Tutorial Programs
Recreation Programs: Teach children how to access their own creativity,
develop physical skills, and play in a constructive and appropriate manner,
which increases self-esteem and self confidence.
• All Stars Sports Programs (Soccer,
Basketball, Baseball, Running, Karate)
• All Stars Camps: Youth, Tween,Teen
• Therapeutic Horseback Riding
• Lose the Training Wheels
Bike Camp
• Maritime Adventures
through Access Sport
• Gymnastics, Dance, Swim, Tennis
As Timmy's legal guardian, one of the biggest issues was finding
affordable and accessible after-school activities designed for students
with special needs. Thanks to CORSE, my grandson has had the
opportunity to try new things and to benefit from the skilled instructors
and specialized activities designed for fragile learners like him.
Therapists, doctors, and educators are always quick to point out to me,
"how far Timmy has come." A large part of his progress is due to his
experiences in CORSE programs which have enabled Timmy to learn the
social pragmatics that are so difficult for a child with autism.
Timmy is learning how to be a friend and how to have a friend.
What experience could be more valuable for a child?
--Timmy's Grandmother
"Not only can 30 children now ride a two-wheeler who
could not a week before, their self-confidence in
themselves visibly beamed during that week. They can
now engage in a typical children's activity that is so
important to childhood socialization and development.
Parents watched from the sidelines with tears in their
eyes and immense smiles on their faces, demonstrating
the overwhelming pride and joy they felt for their kids."
--Parent
What did I like most about the program?
How it makes my daughter Maggie feel about herself.
--Maggie's Mom
"Any program which has been offered through CORSE
has been incredible. My experience with CORSE has
shown me that they will only hold programs with the
proper staff, the proper support and the desire for the
children to learn new skills while having fun in the
process. "
--Parent
For more information:
• Visit our website: www.corsefoundation.org
• Contact us:
• [email protected]
• President: Tracy Johnston, 781-545-7736
Revised 2/13/14
Your generous donation to the
C.O.R.S.E. Foundation will
make a profound difference
in the lives of children,
parents and teachers.
Thank you!