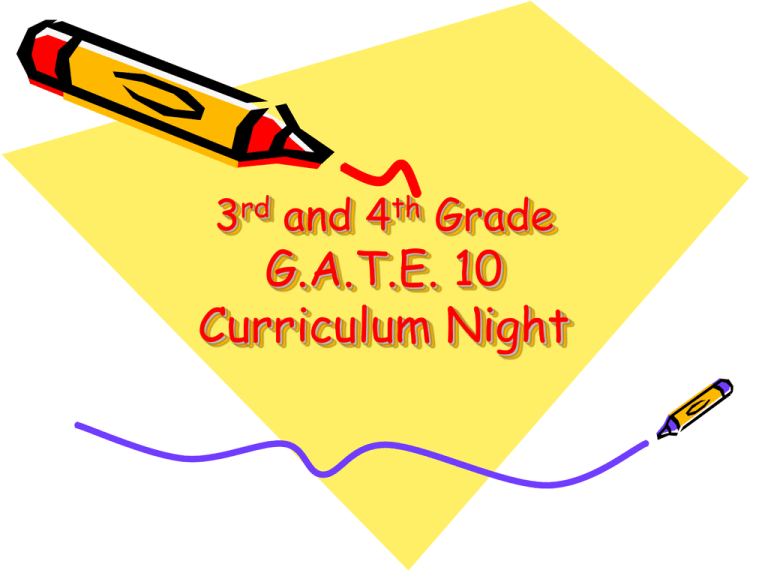 3rd and 4th Grade
G.A.T.E. 10
Curriculum Night
Questions
• If you have questions, please write
them on a sticky note, and place them
on the questions paper. We will
answer all the questions in a
newsletter by Friday, September
21st.
Mission Statement
The mission statement of the GATE 10
Program is:
We believe in persevering through the
rigor of true learning in order to:
expand individual boundaries, develop
character, and thrive in a competitive
world.
Integrated
Studies
3rd Grade Teacher: Leslie O'Daniel
4th Grade Teachers: Cyndi Anderson
(HES), Caroline Garcia (PES), Dallena
Nash (LES)
Curriculum Overview
• Parallels the standards (TEKS) of a regular classroom while
embedding rigor, depth, and complexity
• Integrated Unit Studies
–
–
–
–
–
Novels
Non-fiction
Art
Music
Social Studies
• Latin Stems
• Grammar
• Writing Workshop
Humanity Circles
• "Humanity" or "Literature" Circles are flexible
groups of students who have read the same book,
and meet weekly to discuss it.
• Books provided by the school.
• Humanity Circles…
•
•
•
•
•
•
•
Promote a positive attitude toward reading
Provide a choice and encourage responsibility
Encourage extensive/intensive reading
Invite discussions that lead to inquiry and critical thinking
Support responses from multiple perspectives
Foster interactions and collaboration
Nurture reflection and self-evaluation
– (Owen, 1995)
Third Grade
Universal Theme: Establishing Identities
within Various Communities
1.
2.
3.
4.
5.
Enduring Understandings:
We learn about ourselves by studying the lives of others.
My personal qualities can help or hinder the formation of
relationships.
What others think about (community) affects how we think
about ourselves.
In a culture where we are bombarded with other people
trying to define us, the individual has responsibilities to
various communities, who have responsibilities to us.
Parallels exist between our "growing" up and a community.
Outcomes
• Inspire Confidence
• Fostering Participation
• Build for Success
• Think with Depth and Complexity!
Homework in 3rd IS
• Given to students at the beginning of the
week
• Due the following Monday
• Spelling quizzes every Friday
• Schedule time for homework (30 mins. a day)
• Communicate homework in the weekly
newsletter
• Reading Log-15 minutes of reading daily; due
Mondays
Fourth Grade
• Universal Theme: There are many universal
adversities which results in universal adaptations.
– Journeys
• Esperanza Rising, by Pam Munoz-Ryan
• Explorers, Regions of Texas, Native Americans, Spanish
Missions
– Freedom
• Bud, Not Buddy, Curtis
• "Texas Rumblings and Ramblings,"-Changes within Texas
– Rebellion
• From the Mixed-Up Files of Mrs. Basil E. Frankweiler, by
Konigsburg
• Texas Revolution, Civil War, Annexation, Statehood, and
Oil Boom, Industrial Age to Present-Day Texas
A Day in the Life…
•
A typical class incorporates every subject. A day in the IS
classroom might include:
– Reading Workshop
•
•
•
•
•
A short read-aloud from a companion novel
Reflection (Reader's Response Notebook)
Reading Skill Lessons (Mini-lessons)
Literature circles
Ludic Reading
•
•
•
•
Writing Process
Grammar
Latin
Mini-lessons
– Writing Workshop
– Social Studies
• Integrated with Reading and Writing Workshops
• Primary and Secondary Sources
• Collaborative Learning
– Engaged students focused on reading, writing, conversation,
open-ended questioning, and connecting to the Depth and
Complexity icons. Homework is an extension of what we have
worked on and discussed during the day.
Outcomes of I.S.
• Inspire Confidence
• Fostering Participation
• Build for Success
• Making Connections Across
Disciplines
• Developing Metacognition (selfthinking) at a Depth and Complexity
level
Math
Teachers: Jaci Baxter (HES)
Sandra Dennis (LES)
Grant Kuneman (PES)
MATH BASICS
• Our curriculum is accelerated, focusing on
depth and complexity. In third grade, we
cover the 3rd grade TEKS and a majority
of 4th grade TEKS. In 4th grade, we review
4th grade TEKS and cover all of the fifth
grade TEKS.
• GT math classes meet everyday for 90
minutes.
Daily Math Lessons
• We teach the TEKS through problem
solving and hands on experiences.
– Examples:
• Manipulatives
• Analyzing data to determine meaning of
words and how to build conceptual
knowledge
• Variety of strategies
Independent Practice
Looks Like…
• Playing Math games
• Problem solving in groups, with a
partner, or independently
• Small group teacher sessions
• Journal reflections
• Practice applying skills at a deeper
level
Homework
• Problem solving:
3rd--"Stretch Your Thinking" questions
4th—Math Olympiad
Opportunity to share strategies and
attempts—
even unsuccessful ones—with
classmates on due date
• Skill review/practice as needed
• Daily fact fluency practice (3rd)
Expectation for improved success as the year
progresses
• Time commitment: Max. 20-30 mins per night
unless by choice
Report Card
Changes were made to the report card?
A few changes have been made to our report card this year based on the feedback we
received for parent and teacher surveys. We believe these changes make our system of
reporting your child's academic achievement even better!
Your child's progress will be reported on the standards set for each quarter. Documents
have been created for each content area with a breakdown of expectations for each
quarter. You will see your child's student achievement based on the end-of-year
expectations at the end of the school year.
How will we track student progress?
•
•
•
•
Rubric scores-amount of points earned out of the total points available for the
assignment Example : 4/6 on an assignment.
Checked worked sent home with rubric scores and teacher comments
Learning Goal reflections (sent home from IS)
Teacher anecdotal notes
• Informal assessments completed in class
• Assessments of learning objectives
Report Card
What are the Performance Indicators?
The performance indicators are used to report academic performance for each quarter.
•
E-Exceeds Standard (this level has been added to report to parents when their child
is exceeding the expected standard either during the marking period or at the end of
the school year.)
•
M-Meets the Standard (given when your child has mastered the standard)
•
N-Nearing Standard (given when your child is still working on the standard with
teacher instruction)
•
B-Below Standard (given when a student is working below grade level for a particular
standard.
What are the Behavior and Work Habits?
•
•
•
•
Behavior and Work Habits will be reported for each content area.
C-Consistently
O-Often
S-Sometimes
R-Rarely
Lovejoy Gifted Association
• The LGA is a not-for-profit advocacy group for all gifted
children in Lovejoy ISD. Membership is open to all persons
interested in the mission of the organization.
•
Academic Enrichment:
http://www.lovejoyisd.net/MP.cfm?P=6566
GATE 10
Thank you for sharing your brilliant
children with us this year!
Please do not hesitate to contact us if
you have questions throughout the
year, or write it on a sticky note if
you have one tonight.