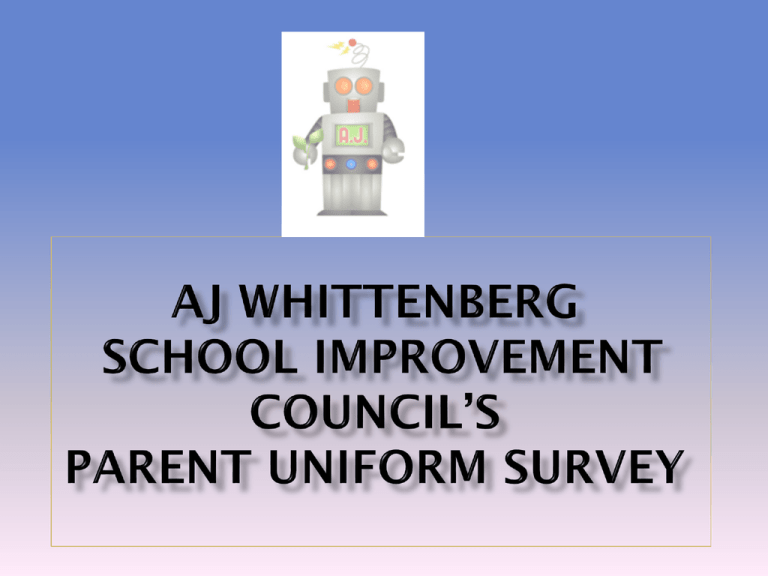 Do You Want School Uniforms?
160
140
120
100
80
Yes
60
40
20
0
Yes
No
No
2. Which uniform option would you prefer?
Which Option Do You Prefer?
B - purchased at the store of your
choice
Series1
A - one manufacturer or store
0
20
40
60
80
100
120
140
Which Color Shirt Do You Prefer?
Green
Navy
Grey
Light Blue
Gold
White
Red
Red
White
Gold
Light Blue
Grey
Green
Navy
0
20
40
60
80
100
120
140
Which Color of Pants Do You Prefer?
Gray
Black
Khaki
Navy
Black
Navy
Gray
Khaki
0
20
40
60
80
100
120
140
Parent Comments - Favorable
1.I think that the students should have uniforms, because it is one less stress for parents to figure out
what to put on their child the next day. Also, students will not feel like that have to dress a certain way to fit in,
because everyone will be in the same attire.
2.Girls wont compete with each other about clothing.
3.To keep the kids focus off what somebody has on and be all focused on learning.
4.Simplicity, less distraction for kids, character development.
4.Lessen the gap between kids who are not as fortunate as others.
5.Uniforms will keep them clean, disciplined and organized. They have organized and clean
environment with uniforms too.
6.Uniforms remove some marks of economic inequality. Uniforms can also reduce the distraction produced
in the classroom. I believe they can increase students self esteem and sense of belonging to something important.
7.Yes, because it shows them how to dress in the business world. Uniforms would be easier as a parent, less expensive.
8. Love the idea.
9.It cuts the cost of buying several different outfits
10.It is good for every student to be alike, especially on field trips.
11.Perhaps we could have "free Friday" to wear "everyday wear"
Parent Comments - Opposed
1.Students at this age should be able to show their individuality. Asking parents to buy two separate wardrobes in these economics times will
be a hardship for some.
2.Individuality- want to put child's cloths on him. Do not have money to buy these clothes – single mom. Hard enough paying bills and gas to
go to school and work etc. Provide vouchers to purchase these clothes for low income families. What happens if we can't get them? What will
the teachers/Personnel be wearing? When will it start? (Next Year?)
3.I think this would be an extra expense for parents. Kids already have their clothes and purchasing items to make up a uniform.
4.I volunteer regularly in my 2 children's classrooms at AJW and I don't notice a lot of discrepancies in the children's appearances. I don't see
what the big push is to have uniforms. We are not a private school and the goal should not be to make all the children look the same.
5.Would the teachers and staff and administration have to wear the uniforms? I am guessing probably not. The environment at AJW can be
safe and students be taught respect for themselves and other without having to wear uniforms.
6.Some children have to wear the clothes that are available to them. They do not have the choice of color or type.
7.I think choice is important. My daughter is hard to buy for because of her build and school uniforms might make shopping difficult.
8.Public schools shouldn't have to. Children should be allowed to be individuals.
9.I don't think they are necessary. I would prefer to be able to select my children's own school clothes and not be restricted to certain styles
and colors.
10.Uniforms don't allow children to express their individuality at all. They will feel like a number instead of an individual.
It is not appropriate for young girls to be in a skirt uniform, especially on the playgrounds. Uniforms are for jails.
11.Students should not be required to wear uniforms in a public school .