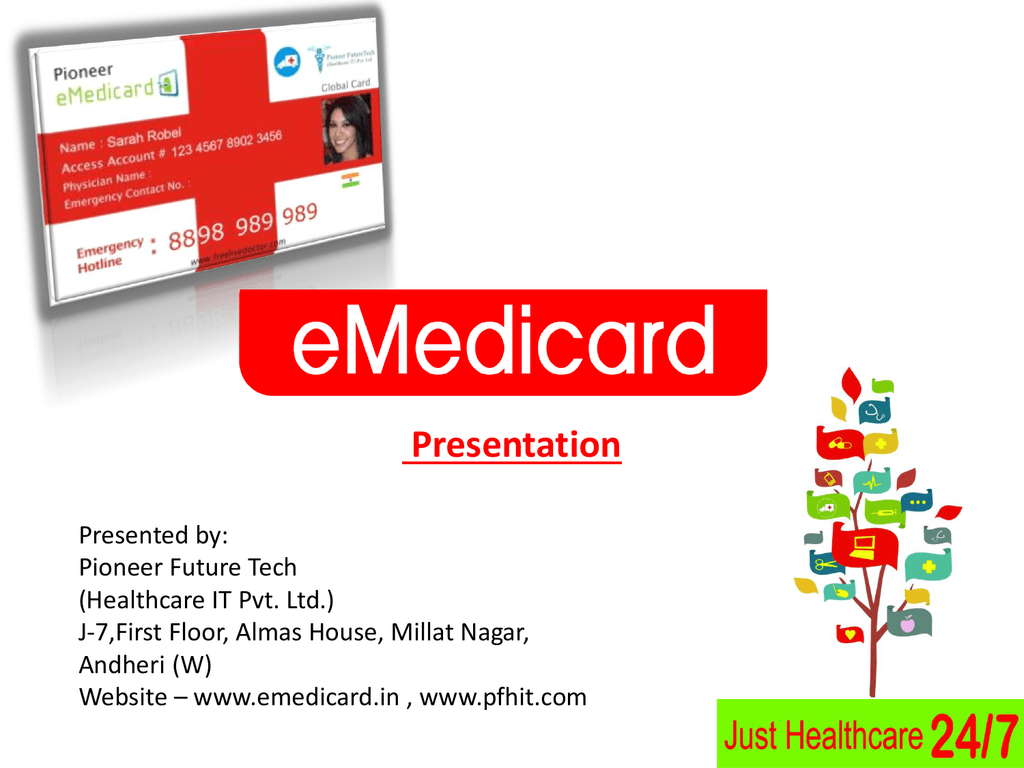 Presentation
Presented by:
Pioneer Future Tech
(Healthcare IT Pvt. Ltd.)
J-7,First Floor, Almas House, Millat Nagar,
Andheri (W)
Website – www.emedicard.in , www.pfhit.com
Who we are…
Pioneer Future Tech Healthcare IT is an healthcare
services provider with an expertise in delivering
innovative solutions to the challenges in healthcare
using eHealth, mHealth and call center based
approaches. We are working towards integrating
various available technology platforms into a single
delivery system that can integrate seamlessly with the
existing delivery system and provide state of art
healthcare solutions.
Team PFHIT
Dr. Abdul Mutalib
Khan
Founder & Chairman
Dr. Maaz Shaikh
Director & C.S.O.
Mohamed Muneeb
Khan
Founder & Director
Dr.G.D.Mogli
Director Planning
Dr. Grishma Patel
Co-Founder &
Director
Dhirendra Singh
Director - Quality
Assurance
John Gerlich
Director & C.T.O.
PFHIT – Where have we been…
Industry Pioneer – 10+ years in operation
(Pioneer Medicare Services)
1. Medical / Laboratory services
2. Supporting Pharmacovigilance in Clinical Research Organization
3. Catering to almost all major Insurance and corporate clients in India
4. Procuring IP & marketing rights from various mHealth players
5. Emergency Call Center with 24/7 doctor supporting
Spread & Presence
1. Operations at Hyderabad/Mumbai, India and setting up in UAE
2. Mobile Cure partnership with mCure Ltd based at Moscow
for Clinical Research
3. Distribution office at Accra, Ghana
4. Support team from Harvard School of Business
Our Vision, Mission & Values
• Vision
"To make an overall impact on the healthcare industry with
legitimate innovative solutions for practicing providers, patients,
and payers in accordance with meaningful use of eHealth &
mHealth of international standards"
• Mission
"To set up a world class company that creates and implements
products and services which will define the standards and become
benchmarks in the health care IT-services and self-care innovations
market"
• Our Values
"Develop and harbor a progressive organizational culture,
attitude and professional relationships which is profoundly visible
in the quality and character of our interaction with our colleagues,
clients, and collaborators"
Our Clientele
Our Clientele
•
•
•
•
•
•
•
•
Mr. Kapil Dev
Mr.Sunil Gavaskar
Ms. Pooja Bedi
Ms.Konkana Sen
Mr. Arshad Warsi
Mr.Ravi Kishen
Mr.Hiranandani
Mr.Parag Munot
What is
"e Medicard is a service that helps
manage your every day care for best
results, provides rapid medical attention
during times of emergencies and
medical crisis and helps you save on
medical expenses"
Benefits of
Free
Telephonic
Consultation
s 24X7
Hospital,
Pharmacy,
Organic
Food, Gyms
& Spas
Medical
Emergency
support
(First Aid &
Ambulance)
(Discounts)
Your
Health
Home visit
Diagnostic
Services at
Home &
Discounts
(On Call Dr)
24/7
Personal
Medical
Records
50% Credit
Facility on
Hospital Bills
How
can make a difference
in emergencies…
The
Medical
Support,
Guidance and
Counseling
Complete and
Accurate
Information
Impact
Reduction in
Expenses
Increased Engagement
in Maintaining Good
Health + Good
Academic Results
Convenience
in Accessing
Health
services
Overall
wellbeing of a
healthy
student
Healthy Lives …Competitive
Students
Why
& Healthcare for
schools….
• Overweight children and teens are more likely to develop
serious health problems such as high cholesterol, high
blood pressure, heart disease and type 2 diabetes .
• Poor Nutrition during childhood can have lasting effects
and impair cognitive development and school performance.
• Schools are powerful places to shape the health, education
and well being of our children.
• Inculcation the habit of eHealth from early age
brings in much more
Healthy Schools Program
We haves developed a holistic concept of "Healthy Schools" for
the schools who promote eMedicard to their students and their
families.
Healthy Schools Concept helps greatly in creating the relevance
of healthcare at an early age to avoid lifestyle related disorders
later in life like obesity, diabetes etc.
It involves parents to work towards providing innovative
healthcare options and activities through health education
programs & medical camps. Through "Healthy Schools" we
conduct FREE medical camps twice in a year which includes
check ups and consultation by General Physicians,
Ophthalmologists, Dentists and Nutritionists along with
Memory Improvement Programs, First Aid Trainings and many
other healthcare workshops at the school premises.
Roadmap…Healthy Schools
Phase I: Education and awareness about
eMedicard and "Healthy School" for both
parents, student & staff of the institute
through :
a. Pamphlets & brochures.
b. Health awareness work shops.
c. Public session presentations as drills or in assemblies.
d. School journals, news letters, daily calendars or on
notice boards.
e. RSS Feeds through eMails.
Phase II: Medical check up
(Health Risk Assessments) HRA
A. General check up by physician:
a. Health issues
b. Psychiatric issues
c. Physical Inabilities
B. Specialized check ups
a. Dental check up
b. Ophthalmic ( Eye ) check up
c. Dietician
C. Online Medical Data of all the students & staff for
eMedicard support center
D. Issue of eMedicard
Phase III : Implementation, Intervention &
Process
a. Create focus groups as per the Phase I results of HRA
b. Work shops, Consultations and Expert discussions
based on the focus group
c. Techniques for Memory Boosting and stress relief for
students parents and staff
d . Work shops for kids on first aid, CPR, Blood Pressure,
Etc
e. Training on rescue methods for fire, natural calamities
like floods, earthquakes, Etc
Health Insurance for Students
Along with the benefits of the e Medicard and the
Healthy School Program, we bring for your students a
Health Insurance with excellent features.
Insurance Features:
•
•
•
•
Death Compensation due to accident of the student
Death compensation due to accident of an earning parent
Hospitalisation expenses under mediclaim.
OPD expenses due to accident.
CUSTOMISE YOUR PRODUCT
Speak to our representative to know what
suits your needs and customise your
package.