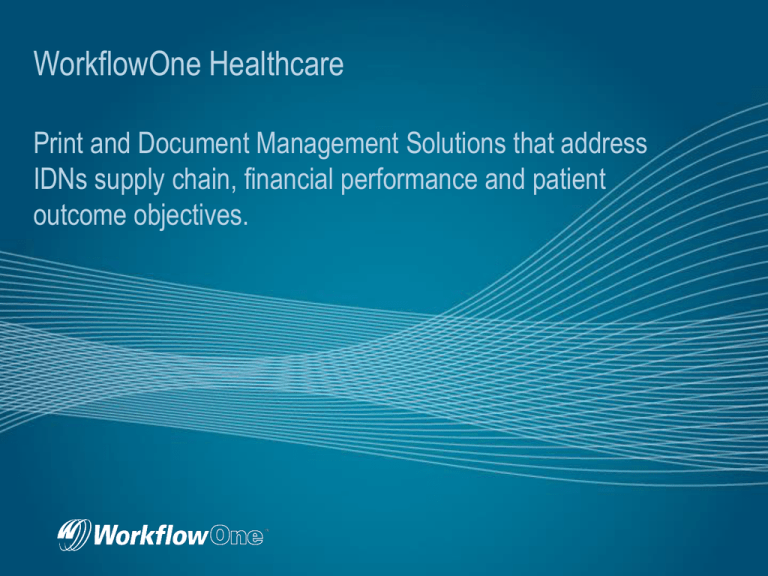 WorkflowOne Healthcare
Print and Document Management Solutions that address
IDNs supply chain, financial performance and patient
outcome objectives.
WorkflowOne Overview
WorkflowOne by the Numbers
Healthcare Highlights
 141 Year History
Fastest growing brand in healthcare
document management. Since 1999
WorkflowOne has grown over $120M
 2,500 Employees
 $800M Annual Revenue
 75 Sales and customer services offices
 17 Manufacturing Facilities
Dedicated healthcare sales and service
organization with over 700 healthcare
customers
 10 Print-on-Demand Centers
 24 Distribution centers
 300+ Certified Trade Partners
Endorsed Premier Supplier as well as
national contracts with the top 4 largest
GPOs in America
Highest customer satisfaction ratings in our
industry---95.7% retention rate
Print Lifecycle
Create
Source
Evaluation
and Review
Customer
Business
Archive
Issues
Produce
Report
Use
Store
Distribute
Lifecycle Stage
WorkflowOne Solution Description
WorkflowOne
Validation
Create
Brand Consistency; Version Control; Compliance (JCAHO, HIPAA, etc), EMR Readiness
and Document Security.
Case Study 2
Source
Optimize Current Assets; Leverage Spend; Optimize your Supplier Base; Compliance to
Purchasing Policies; Economic Order Quantities; Optimize Supplier Capabilities.
Case Study 13
Produce
Manage Demand; Ensure Product Quality: Make Production Decisions; Meet Production
Deadlines; Ensure Product Compliance.
Case Study 16
Store
Ensure Version Control; Reduce or Eliminate Obsolescence; Provide Climate Control;
Inventory Security; Optimize Inventory Turns; Provide Disaster Recovery.
Case Study 44
Distribute
Mitigate Freight Costs; Reduce or Eliminate Missed Shipment Deadlines, Damaged or
Missing components; Ensure Postal Regulation Compliance; Expertise in Co-Mingling
Requirements.
Case Study 38
Use
Streamline Product Usage; Determine Best Fits for Usage; Identify Opportunities for
New/Expanded Usage of Materials
Case Study 36
Report
Data Analytics; Results Measurement; Cost Savings Analysis; Usage History; Problem
Identification.
Archive
Evaluation & Review
Savings
Data Accessibility; Version Control; Reduce or Eliminate Storage Costs; Mitigate
Compliance Concerns; Manage Legal Retention Timelines; Confidentiality and HIPAA
Regulation Compliance.
Case Study 37
Strategic Direction; Timely and Consistent Communication; Standardization and
Consolidation of Forms, Eliminate Forms; Reduce the Total Cost of Your Program and
Improve ROI.
Potential Lifecycle Combined Savings
35%
Next Steps:
o Schedule Meeting to provide detailed WorkflowOne Solution Overview.
o Budget Assessment – Cost savings analysis based on "Print Lifecycle"
Please email or call:
Jim Dausch
NCI Consulting Group
972-922-5305
jdausch@nci-cg.com
Thank You!